2020 was a turbulent year that upended all the rules we've grown accustomed to.
Whether you are a business owner or digital advertiser, you likely had to re-think your marketing strategies and pivot several times throughout a rollercoaster of a year. As challenging as it was, looking back on 2020 search advertising statistics can provide avenues for the learning and growth you need to succeed in 2021, reaching your business goals.
The world, especially the online world, is constantly changing, and staying up to date is a crucial component of your business's digital strategy. As a pay-per-click (PPC) marketer, search advertising statistics are your trustworthy metrics that will help you identify market trends, set appropriate goals, and evaluate the success of your ad campaigns.
We've compiled a list of the top 25 search advertising statistics you need as a PPC marketer to stay ahead of the curve, make informed decisions, and succeed in 2021.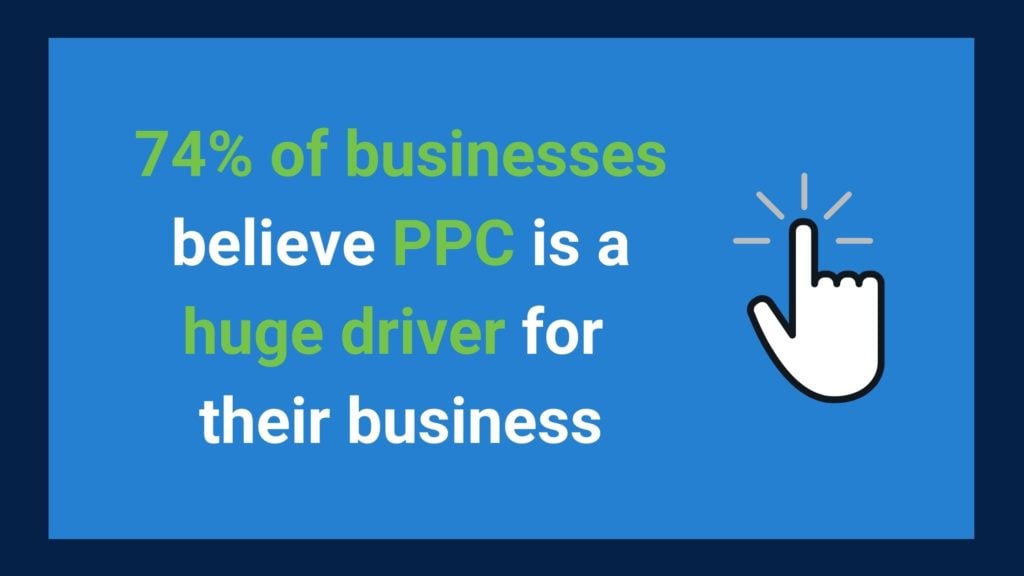 In case you had any lingering doubts: PPC advertising is worth your time, understanding, and investment. 74% of companies said that PPC is a "huge driver for their business" (Hanapin Marketing's State of PPC 2019-2020 report).
In mid-2019, mobile accounted for 50.71% of searches, sliding in ahead of desktop searches. This upward trend continued when the COVID-19 pandemic hit – the 2020 Ofcom UK benchmark found that over four-fifths of time spent online is now spent on mobile devices in the United Kingdom.
With more of us spending more time on our mobile devices than ever before, optimizing your ads for mobile is a smart strategy as we move further into 2021.
In fact, doing so would ensure you're keeping up with competitors. Mobile advertising is becoming increasingly popular – Statista projects that around $146 billion will be spent on mobile advertising by 2023.
Though ad fraud has been around for ages, protecting your business is more critical than ever. Nearly 50% of all internet traffic stems from bots, and many of them are out to hurt your PPC campaigns. (ClickGUARD, 2020)
If that stat didn't convince you that ad fraud is a pervasive issue, consider this: An individual ad fraudster can expect to make around $5-20 million per year. With ad fraud rings or corporations making multiples of that, ad fraud is more profitable than drugs and is estimated to be as much as $42 billion. (Forbes)
Understanding how ad fraud can hurt your business is the key to protecting it, as is having a trusted anti-fraud partner. Search advertising statistics like these are here to help you.
Google remains the dominant search engine. At the beginning of 2020, its average net market share was 70.38% on desktop, according to NetMarket Share. If you want to get your product or service in front of an audience, Google is the go-to giant.
And, according to Valve+Meter, a PPC campaign is more effective when used in conjunction with SEO. Search advertising statistics like these are useful tools to check out what's working for others.
According to Google, for every $1 spent on Google Adwords businesses earn an average revenue of about $2. Google Adwords is an effective and lucrative marketing tool.
Customers spend 10% more in a brick-and-mortar store if they clicked on the retailer's search ad before visiting (Valve+Meter, 2020). Search ads are a worthwhile investment for physical – not just digital – retailers.
The dating and personals industry clocks in with the highest PPC click-through-rates at a little over 6%. (Wordstream, 2020). Whether or not your business is in this field, industry benchmarks are a helpful tool to understand whether you're running a successful campaign or if you need to tweak your strategy.
Bing accounts for 33% of internet searches. Sure – Google AdWords currently sits on the search engine throne, but you might be overlooking one-third of your audience if you aren't optimizing for Bing.
Diversifying your advertising reach is a smart move to ensure you're not at the whim of one platform. Bing could open up your ad campaign to a wider audience while preventing you from being at the mercy of Google's trends, decisions, and pricing.
What is social listening? According to HubSpot, it is the monitoring of your brand's social media channels for any customer feedback and direct mentions of your brand or discussions regarding specific keywords, topics, competitors, or industries, followed by an analysis to gain insights and act on those opportunities.
Most social media marketers publish three to four times per week (HubSpot 2020). Your sweet spot might be slightly different, but if you don't yet have a rhythm in place, search advertising statistics show that this is a good number to aim for.
Search advertising stats are valuable tools. The above list may have solidified some things you already knew, challenged assumptions you may have had, or introduced totally new information for you to use in your PPC ad campaigns.
As you take these search advertising stats with you into 2021, consider the benefits of mitigating click fraud in the new year. Manipulation in the form of click fraud, click farms, fake followers, and buying "likes" to artificially boost engagement and harm competitors are shadowy practices becoming more commonplace, causing confusion for digital marketers about what's really happening in the online space and hijacking advertising campaigns.
If a company hasn't set up protections against click fraud, competitors can continually click on pay-per-click ads until the PPC daily budget is depleted, preventing real customers from viewing them. ClickGuard works hard to protect you from these dangers so you can focus on building a thriving business (with the help of these search advertising statistics!)