Google is no doubt the top search engine, the competition is not even close – in fact, it's responsible for 70% of worldwide searches, with Bing and Baidu at 13% each. The tech giant is so popular that most people say "just google it" when referring to executing a search – after all, it was added as a verb in 2006. With so much success, it's easy to forget about Google's humble beginnings and how it transformed over the years, through corporate restructuring and investing in other companies. In many ways, the history of Google is nothing short of inspirational.
However, with great power comes great responsibility (as Spiderman was told several times). Has Google done enough to wield its power in an honest, transparent, and ethical manner? In this series of articles, we will examine Google's top problems, how they affect marketers, and the strategies to overcome them.
Before we get into the problems, let's walk down memory lane and recap on how Google started and evolved over the years.
The Dawn of the Internet
Without the internet, there would be no Google, so it's worth considering the platform that allowed the tech giant to come into existence. The internet was first developed to be used for government purposes, with commercial use not allowed. However, there was no strict definition for commercial use, so ISPs (Internet Service Providers) started forming in the '80s.
In 1992, the Scientific and Advanced-Technology Act was passed by the U.S. Congress, which allowed the internet to be used by education and research communities. Shortly afterward the era of Web 1.0 set in motion an explosion of services that provided utility for the average person. For example, you could communicate instantly via email or find and view any website using software with a low learning curve – the browser.
The only way people could access websites was to enter the exact URL. Therefore, users needed a way of finding new information, and thus search engines were born.
Search Engines before Google
Before Google came along, a few search engines had a crack at the top spot. Here are 3 popular ones you might have encountered (or at least heard of):
WebCrawler
Created at the University of Washington by Brian Pinkerton in January of 1994, this search engine had 4,000 websites at launch. However, in 2001 it stopped using its own database. WebCrawler now aggregates data from Google and Yahoo.
Yahoo
Founded in 1994 with the search engine going live in 95. It was the most popular search engine when Google appeared on the scene, but now only holds a 2.51% search traffic share. Ironically, Yahoo had a chance to buy Google for $1 billion in 2002. However, by the time they decided to pull the trigger on the purchase, the price increased to $3 billion and no deal was made.
Ask Jeeves
Ask Jeeves launched in 1996 and quickly grew in popularity because of the "ask a question" format. It prompted users to execute searches using natural language. Also, the search engine had a personal feel. The idea is that you're asking Jeeves, the butler, for information.
However, due to strong competition from Google and other search engines, Ask Jeeves went out of service in 2006.
Other notable search engines before Google include AltaVista, Excite, Dogpile, and JumpStation.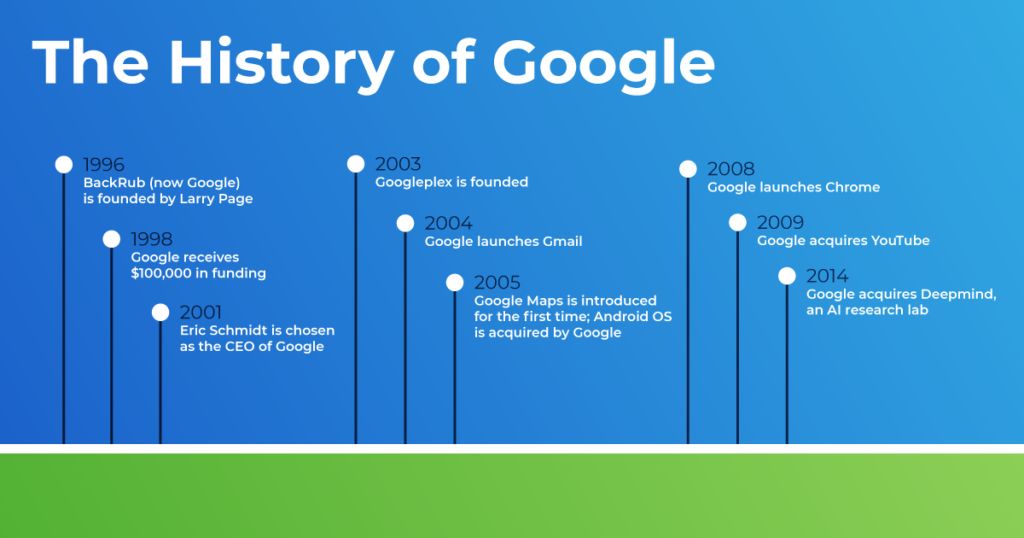 A History of Google from Its Inception
Now let's dive into the origins of Google. Surprisingly, not many people know the original name of the search engine – BackRub. Certainly not as catchy! The search engine started as a research project for Larry Page in 1996, who was enrolled in Standford's computer science program. There he met Sergey Brin and they created 2 fundamental technologies:
World Wide Web crawler that could determine how pages were linked;
PageRank algorithm to give each page a rating based on incoming links.
This was the foundation of the Google search engine and how it differentiated from others. It meant the quality of search results would be more relevant, allowing users to find the information they were looking for.
On September 4th of 1998, the company received $100,000 (from Andy Bechtolsheim, co-founder of Sun Microsystems) in angel funding and officially rebranded as Google. The name was derived from googol, which is a mathematical term used to describe a number with a 1 followed by 100 zeros.
A few years later in 2001, the Google founders needed an experienced leader to take up the leadership role and guide the company to success. Therefore, Eric Schmidt was chosen as the CEO and ultimately remained in that role for 10 years.
In July of 2003, Google moved their 1,000+ workforce into the Googleplex. A campus they created that is now their headquarters, located in Mountain View, California, United States. At the time, the facilities had 2 million square feet worth of office space.
Google at this point was still just a search engine. So how did it become the technological powerhouse that offers a full suite of cloud-based features?
How Google Has Evolved and Changed Over the Years
Google added several services and acquired companies to complement their search engine. The result you see today is an ecosystem that allows you to share documents, save files, send emails, and much more. 
Gmail: In 2004, Google launched Gmail with 1GB of storage space. The tool was originally designed to solve internal communication problems. However, after launching to the public, competitors were left scrambling trying to catch up. Gmail was faster and more responsive because it was built on the Ajax platform.
Maps: Google maps were first introduced in 2005 that allowed you to zoom in and offered step-by-step directions. However, in 2009 they launched their GPS navigation feature, which allowed anyone with a smartphone to navigate the roads. GPS manufacturers like Garmin and TomTom were not too pleased.
YouTube: In 2009 Google acquired YouTube for $1.65 billion. It proved to be one of the best moves in tech history, since YouTube has risen to become the top video sharing platform and a daily part of modern culture. With one move Google essentially won the battle for video traffic.
Chrome: Google launched the Chrome browser in 2008 with the help of Mozilla Firefox developers. Consequently, it took them just 4 years to propel the browser past Internet Explorer and Firefox. Currently, Chrome Is used by 65% of people with Safari in 2nd place at 19%.
Android: 2008 was a big year for Google since Android launched on the HTC Dream and Mobile G1. The mobile operating system was bought in 2005 and currently has a 73% market share. Today Android has comprehensive integration with Google services and offers some of the best notification features out there. 
Deepmind: Google's journey towards AI-based systems began on January 24th of 2014, when they acquired an AI research lab called Deepmind. Facebook was also after the deal but Google promised to oversee the technology with an independent ethics board.
However, as you'll learn in the next section, Google did not have a smooth ride with the AI community, or their own AI team.
Google's Business Model: Ethical or Not?
To improve the relevancy of search results Google has begun implementing AI-based systems. The search algorithm takes into account information about the searcher when showing results, which can potentially lead to biases. In fact, one study from MIT and Stanford University found that there are gender and skin-type biases in commercial AI systems.
You could say that it's no big deal, just part of the learning curve for new technology and Google will use its vast resources to correct these issues. Worryingly, Google's reputation is poisoned with the academic community – there has been a wave of protests and resignations.
The business model that has made Google rich beyond comprehension is PPC. They get money for each advertisement click. However, has Google implemented a fair system where advertisers get the best value for each click? Not really. For example, Google Ads Smart Campaigns promise to send more customers to the advertiser. In reality, the AI ends up sending a mixture of qualified and unqualified leads, which reduces the ROI. It's an issue because Google is not incentivized to improve the traffic quality, but they do benefit from more clicks.
Google's other major problem is the handling of data privacy. It's not evident that the company respects people's data privacy as indicated in 2010 by Eric Schmidt: "true transparency and no anonymity is the path to take for the Internet". Also, Google recently released details of their Chrome data harvesting practices and it's a shockingly large amount.
Google is in a tough position because advertisers using their platform rely on data to improve the targeting capabilities of their marketing campaigns. However, as vast volumes of data are used, more problems arise — such as disgruntled users or massive data leaks, like the one in 2018 that compromised the data of 5 million users.
Conclusion
Google is the top dog in several industries including search engines, video social media, PPC, and Mobile OS. They offer amazing services that have reshaped our world. However, their products are not without problems. It's a tricky tightrope to navigate. On the one hand, technological advancements like AI and big data, improve the quality of search results and allow users to receive advertisements that they might want to see. But at what cost are these advantages offered?
Understanding the shortcomings of Google's services and how to overcome them is a constant headache for marketers too. In the next article, we will dive into the invalid traffic problem: "Invalid Traffic, a Major Issue for Google".