Click fraud costs digital advertisers and businesses some real bucks. Statista estimates that the cost of digital ad fraud will surpass $44 billion by 2022. There are numerous types of costs associated with click fraud. You don't just lose advertising money, but it negatively impacts campaigns, ROI, and other performance metrics of your business. 
Using a click fraud prevention tool in 2020 for any campaign that is anything over a couple of thousand clicks monthly, is inevitable.
Businesses, small and large, use different click fraud protection tools to fight invalid clicks. Not all tools provide the same level of value. Selecting the right tool is critical and knowing how to find the right click fraud prevention tool is even more crucial.
This article will show you what elements to look for in a click fraud prevention tool and how to select the right tool for your business that will provide you with enlightenment in the form of actionable data-driven insights.
How to Find the Right Click Fraud Prevention Tool for Your Business?
Choosing the right ad fraud prevention tool will determine the success and ROAS of your advertising campaigns. The right tool must have all the following characteristics:
1. Suitable for Your Industry
Click fraud isn't the same in every industry. For example, the finance industry is considered an extra vulnerable industry to click fraud. According to Bloomberg, finance, family, and food are the top three most affected industries from PPC fraud. As much as 22% of all clicks are fraud in the finance industry.
These industries have a high cost per click and the search volume is very high. The average Google search CPC for the finance industry is $3.44:
Couple this with staggering search volume, it gets easier for fraudsters to hide. You lose hard-earned money in the process if you aren't covered by a decent click fraud detection tool that can handle such high traffic keywords and industries.
The click protection must align with your market, buyer personas, advertising strategy, and culture. There has to be a mutual fit between the two.
For example, if you are in the B2B industry and focus on account-based advertising, you'll need a fraud prevention tool that offers you a customized solution with dedicated click forensics so you can achieve data-driven insights with your click fraud tool.
The right tool for your business is one that works seamlessly in your industry and market, and should definitely be considered a "one-size fits all" notion.
2. Data-Driven Insights
The core function of a click fraud prevention tool is to block or filter fraudulent clicks. This means it will block fraudulent traffic to your landing page. You must know data and numbers on how your tool is filtering traffic, if not you'll be in complete darkness as to the real facts.
You need data-driven insights from your click fraud detection tool to see what it is doing on your behalf and how it is doing it. There are several ways a tool can use to detect fraud and invalid clicks:IP addresses
IP Address
Java script tags
Real-time traffic analysis
Custom rules and tags
Post click analysis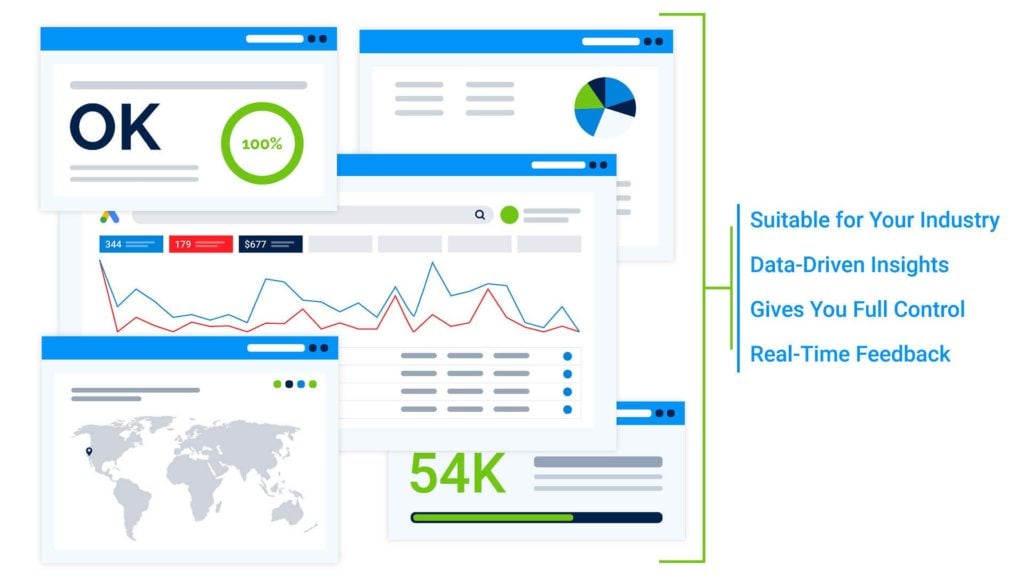 Whatever technique your tool uses, you must know it. You need to understand how it blocks traffic and is it really blocking invalid clicks. In the event your tool gets it wrong, it will do more harm than good. Here is simple put how it could be actually frustrating your efforts:
1. It will compromise with invalid clicks
2. It could obstruct potential customers by blocking the real clicks
This is why it is essential to have access to data as to what it is doing and how it is doing it. The right tool will provide you with all the details including:
1. The logic/reasoning of how invalid clicks are identified and blocked
2. Log data that lets you see all the blocked clicks so you can check it manually or have it verified externally.
Accountability is as valuable as trust
A data-driven click fraud protection tool that uses real-time account-specific data to filter clicks works best and should be your top priority. Tools that detect and block invalid clicks via IP might end up blocking valid PPC clicks too as real users might have their IP address associated with a data centre that your tool has blocked.
3. Gives You Full Control.
Tools claiming to leverage AI and machine learning are not respecting your right to have insights into every rule, function and
How flexible is your click fraud protection tool? Does it give you access to all the settings and lets you create custom parameters for traffic filtration?
Having access to data and insights isn't equivalent to having control over how the tool works. These are two different things. You don't just need data-driven insights, but you must be able to control, tweak, and alter everything.
If the tool uses a set of algorithms to detect and block fraud clicks automatically and doesn't let you customize settings, you aren't in control here. Rather, your tool controls you – and your advertising campaign.
This is what's referred to as keeping you in 'darkness'.
On the other hand, a fraud protection app that doesn't just show you full data and insights into what it does but gives you full control over everything is a perfect choice.
Here is the thing: The more control and customization you have on the tool, the better. After all, you are using it to block paid traffic and this is something you can't give another tool full access to - where you don't have control over your own advertising campaign or clicks.
4. Real-Time Feedback
The way how the click fraud protection app shows you data, insights, and reports is an important factor to consider. The dashboard has to be user-friendly and easy-to-use.
Having a fancy dashboard that lets you create reports with a few clicks isn't enough. The depth of data you get access to via dashboard is important. It must provide you real-time account activity related to traffic, total clicks, filtered clicks, and detailed forensic activity.
Here are a few essential elements that you expect to see in the dashboard:
1. Real-time reporting
2. Forensic activity
3. Post-click analysis
4. Click sources
5. Traffic details
6. Filtration logic
A fraud protection tool that shows you full insight on every single click in the dashboard is a perfect choice. Click-level data will show you that the tool uses a robust analysis and filtration technique and it has details of every single click including IP, location, device, browser, etc.
Real-time feedback helps you make important decisions on time. In case the tool updates data after a few hours (or days), your approach to fraud detection will be reactive. With real-time data and feedback, your approach will be preventive that will help you make the right decisions at the right time to minimize damage.
My Final Thoughts For Click Fraud Tools
There are two types of click fraud prevention tools. I am going to recap the analogy:

What would you prefer, darkness or light?
Ones that keep you in darkness by not showing you data and by limiting your control. You don't know much about the technique used by the tool to block invalid clicks and even if you know, you can't control or customize it. Do you like the feeling of being totally in the dark? No control, and most importantly no data-viz?
Then there is ClickGUARD, a click fraud protection tool that keeps you in the light by giving you full access and control to data, insights, and customization. You know what the tool is doing, how it is doing it, and how to make well-informed decisions. At the end of the day, we all want to be winners fueled by performance? Then you need data, insights and adaptiveness, that's what the ClickGUARD tool can give you. I like to call this value.