With a staggering $209.49bn ad revenue in 2021 (a huge leap from the approximate $146bn registered in 2020), Google is more than just a digital advertising network.
It's a mammoth. The biggest online advertising network in the world.
Unfortunately, though, Google isn't always what it's cut out to be. While there are a lot of great opportunities for businesses to leverage Google Ads, there is also a risk associated with it. Click fraud, or malicious clicks on ads, can take up your budget and cripple your campaign's performance.
Click fraud isn't an occasional blip in the matrix either — it's an issue estimated to reach $100bn in 2023.
Here's how ClickGUARD can help you beat this problem, so you can tap into the unleashed power of Google Ads to drive better quality traffic on your site.
Made for Google Ads
ClickGUARD was created for the Google Ads platform. We know it inside out and we're ready to help you:
Stop fraudulent clicks
Eliminate waste
Optimize traffic quality
Get more sales
Get better leads
Maximize profitability
Moreover, we also support the full range of your advertising and business goals:
Google Search Campaigns
With 8.5 billion searches per day, Google Search offers unbeatable opportunities to all kinds of businesses. Because of this, search ads are constantly under attack by various malicious sources: competitors, click farms, bot networks, scrapers and more.
ClickGUARD protects and optimizes your search campaigns in the following formats:
Expanded text ads
Dynamic search ads
Responsive search ads
Google Display Network Campaigns (GDN) Ads
Google Display Network (GDN) has the biggest inventory of websites and other placements that advertisers can use to distribute their banners, multimedia and video ads. ClickGUARD offers dedicated tools and features that deal with fraudulent and low-quality traffic coming from the Display Network.
We support the following Google Display Network ad formats:
Responsive display ads
Image and animated ads
Dynamic text ads on the GDN
Interactive ads
Google Shopping Campaigns
Shopping campaigns help retailers promote their inventory and get more qualified traffic, store visits and sales. This type of campaign relies on Merchant Center product data, not on keywords. Google takes all product data details into consideration and shows the most relevant products to customers that are searching online.
As with other campaigns and ad networks, Shopping campaigns are highly likely to be targeted by fraudsters or competitors. Therefore it is important to keep them secure. ClickGUARD supports the following Shopping ad formats:
Product shopping ads
Showcase shopping ads
Local catalog ads
Google Video (YouTube) Campaigns
YouTube is the second-biggest search engine after Google, with almost 2 billion monthly active users. Around 50 million users are content creators who upload almost 600,000 hours of video to YouTube every day! Video ads reach a big and versatile audience.
It comes as no surprise that even PPV (pay per view) ads are getting hammered by nefarious sources. Bot networks deliver hundreds of millions of fraudulent impressions every single day, resulting in hundreds of millions of advertising dollars wasted annually.
Display video ads
Overlay ads
Bumper ads
Sponsored card ads
Google App Campaigns
App campaigns allow you to promote your apps across Google's largest properties including Search, Google Play, YouTube, Discover, Google Display, AdMob, Google Discover, search partner networks, and thousands of publishers who host app related content or ads.
App campaigns also provide the least control of all campaign types leaving the advertiser highly susceptible to abuse from both search and display partner networks.
ClickGUARD monitors campaigns in mobile app installs, as well as in-app actions.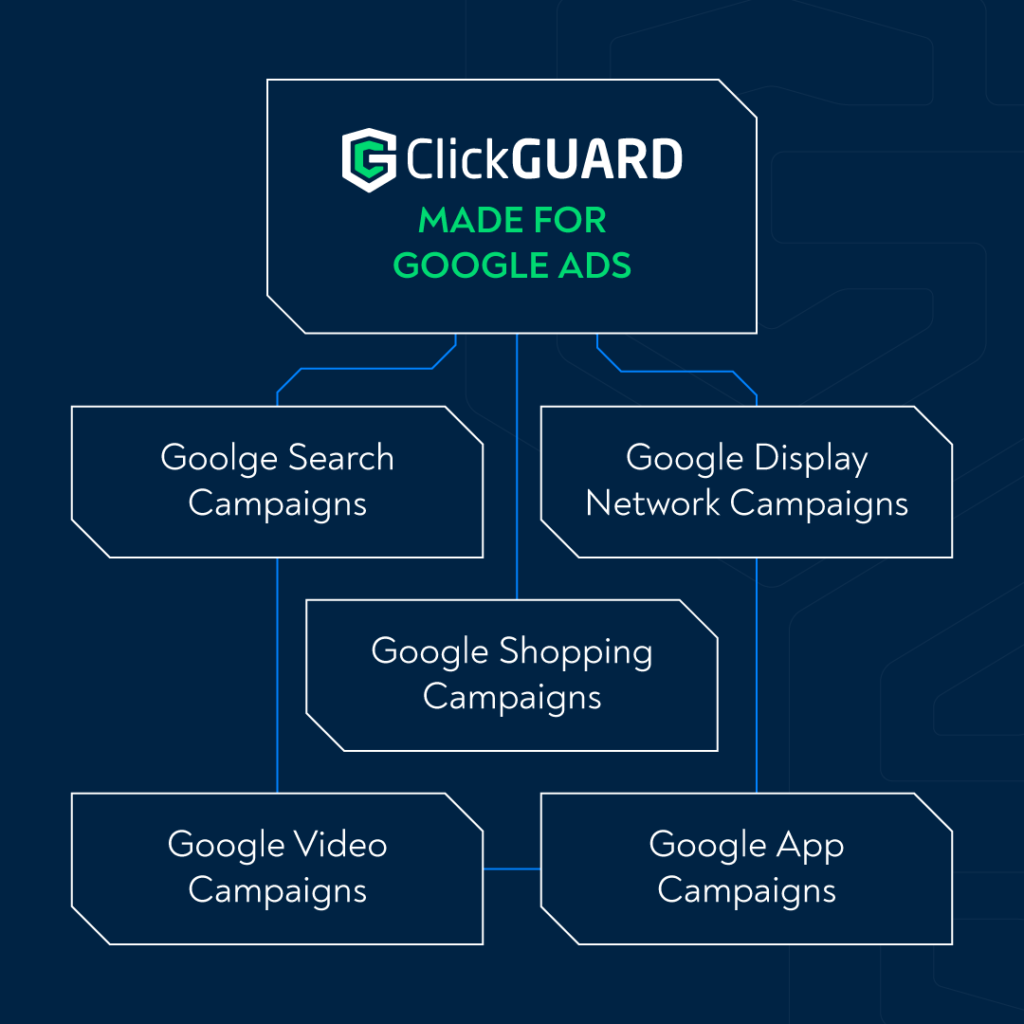 More Than Click Fraud
Generally, when people think of click fraud, they think of bots and competitors. However, it's much more complex than that. These are just the tip of the iceberg – there's a lot more to wasteful clicks than just fraud.
Sometimes, Google Ads waste is generated by inadvertent clicks or bad GDN placements. Other times, it's based on an incentive-driven action on AdSense websites. And other times, it's due to a combination of all 3.
ClickGUARD was built to protect Google Ads agains all types of bots, fraud, and waste. In other words, our tool enables you, the advertiser, to run ads knowing that the clicks you pay for come from real humans (with actual buying intent.)
So far, we've:
Protected 65,000+ campaigns
…in 107+ countries
…Helping advertisers like you save more than $94,000,000
Built for Leading Google Ads Professionals
ClickGUARD is designed for data-driven PPC professionals who seek to understand, control, and be fully accountable for every click on their Google Ads accounts. We help elite PPC professionals gain every possible advantage needed to dominate their markets.
Click Fraud Protection
Stops click fraud and prevents wasting money on all other types of useless clicks with fully automated protection.
Click Quality Optimization
Helps you identify and optimize for the quality human clicks that bring results and really move the needle.
Fully Integrated
ClickGUARD works with all the tools you know, use, and love — so it all works together in a seamless, hassle-free way.
Conclusion
Google Ads has become an incredibly effective and powerful tool for driving traffic to websites, increasing brand awareness, and boosting conversion rates for brands in all sorts of industries. Unfortunately, if you let fraud, click waste, and bots plague your Google Ads budget, you won't get very far — and that's exactly where ClickGUARD comes in!