How do you ensure your Google Ads agency's success? There are surely many tips and tricks on successfully growing and scaling a Google Ads agency, but one of the most essential ones is: focus on communication and reporting. Communicating effectively, reporting on your actions, and holding yourself accountable, as well as making data-driven decisions are all key to meeting Google Ads agency success.
Not convinced? Studies show that 86% of both employees and executives link team communication as one of the delimitating factors between success and failure.
Read on to learn more about communication and reporting — as well as how it can influence your Google Ads agency's success.
Communication and Reporting: Essentials You Must Keep in Mind
There are many factors that can contribute to a Google Ads agency's success — and yes, communication and reporting are among them. Furthermore, planning ahead, positioning your business, building customer relations, and building a great team – these are all factors that can make or break a company.
Among the decisive factors for Google Ads agency success, communications and reporting are particularly important. Especially in the digital environment in which you are operating, transparency – which is achieved through communication and reporting – is essential. Without it, you won't be able to gain trust and establish yourself as a reliable company.
As a digital marketing agency, you have the responsibility of maintaining both communication and reporting on two levels:
a) With your customers
b) Within your team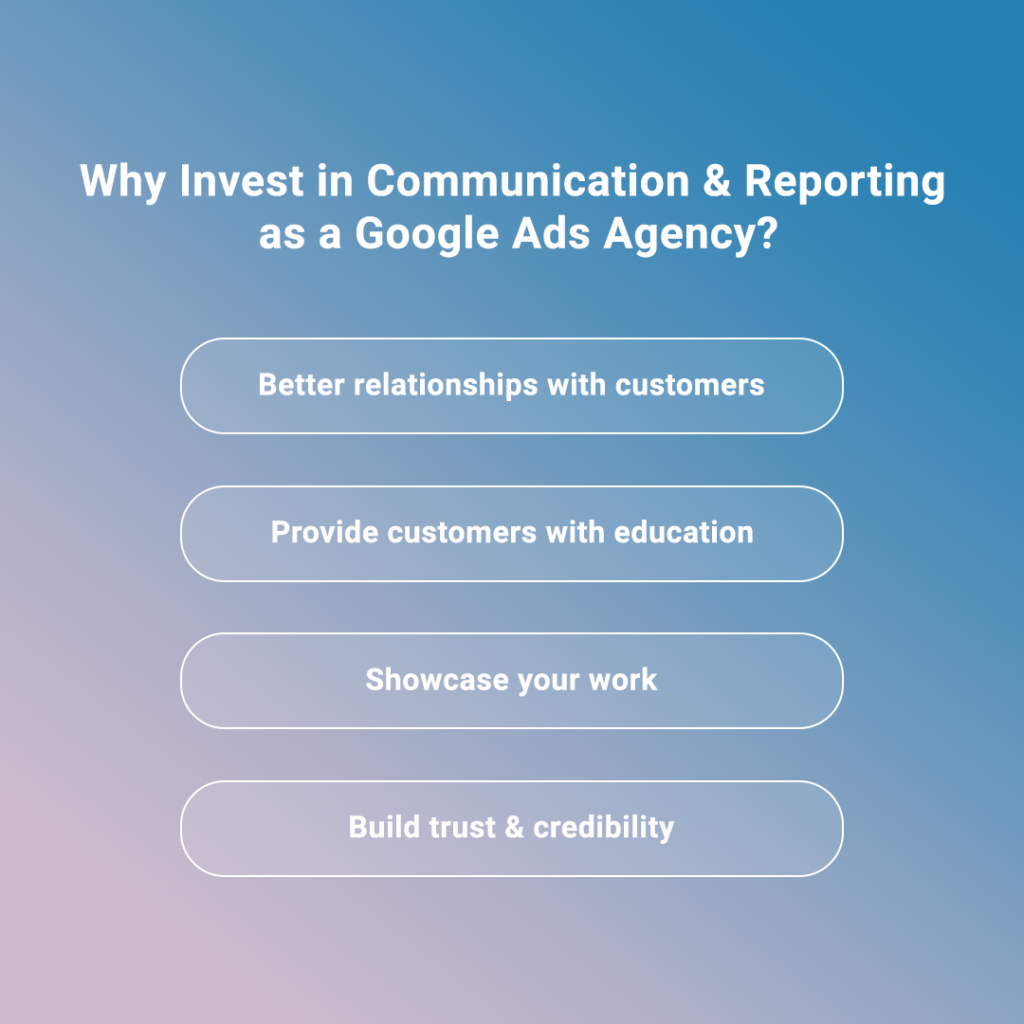 The Benefits of Effective Communication and Reporting for Google Ads Agencies
Gaining those first paying customers is an important milestone in the life of a digital agency. But Google Ads agency success only comes to those who manage to effectively nurture those relationships.
Building a long-term business relationship based on trust and common goals is more beneficial than developing short-term relationships with several short-term customers.
Here are 4 ways efficient communication and reporting to your customers can help your business:
Build solid relationships with your customers
The client-agency relationship is like any other relationship: it needs communication to be efficient. At the same time, constant and thorough reporting can strengthen existing communication. Presenting your customers with detailed reports can help you both communicate more efficiently, and strengthen your business relationships.
Your agency should be able to communicate on all relevant aspects of your customers' campaigns. Of course, the cost is important, but so is attribution. For example, if you are using ClickGUARD, you can share post-click analytics to help your customers better understand how each campaign is performing and if their campaigns are threatened by click fraud.
Educate customers on appropriate marketing strategies and trends
Many customers will expect their marketing agency to make the best decisions for them. However, you won't be able to make any decision without your customer's approval. How can you make sure your customers can support you in making the best decisions?
Focusing on communication and reporting can help your customers understand your marketing strategies and your proposals. Agency clients will be more open to trying out new ideas if they understand, based on facts and numbers, what works and what doesn't.
Showcase your work
You may be proud of your work and your customers may be happy with the results you are getting for them. However, for your sake and your customers, you should at times take a step back and evaluate your work. Reporting can be very useful in this regard, as it can show your customers how successful your work is. After all, you want to achieve that Google Ads agency success, don't you? What better motivation than sharing your performances!
Build trust and credibility
Communication and reporting can also help you build credibility as a digital marketing agency. Whenever you can justify your actions and show exactly how you have helped your customers, you gain more trust and credibility.
And as we have already pointed out, trust is important in all long-term relationships. As our own customers have pointed out, reporting has helped them earn client trust and ensure Google Ads agency success with their customer base.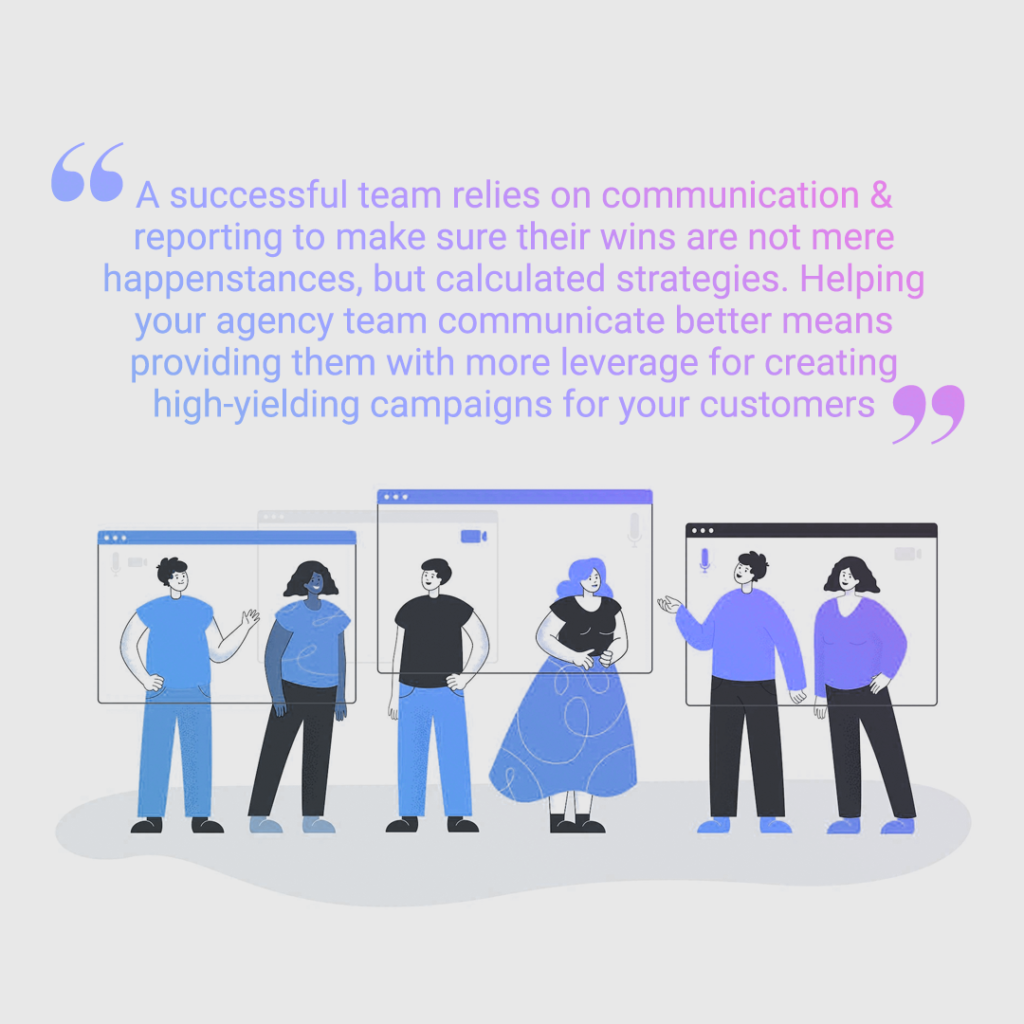 Internal Communication: How and Why
Communication and reporting are also essential for creating efficient teams. On the one hand, efficient communication helps keep your work focused. And on the other hand, reporting helps keep everyone on the same page and working towards a common goal.
Here is how communication and reporting can lead to Google Ads agency success:
Build a successful team
A lack of communication and reporting can lead to confusion and frustration. Team members may feel that they don't have all the information needed to do their work – or simply get confused about their goals and priorities. You can avoid that through communication and reporting.
Employees that feel that they are trusted and part of a big team will generally feel happier and more motivated. They will be on the same page and generally work better together.
Empower your team
Employee satisfaction also relies on the feeling that they are trusted and appreciated. Bilateral communication is needed to achieve that. A work culture that is open to communication and reporting will also encourage its employees to share information and ideas. Lines of communication should be established to allow everyone to freely communicate with their colleagues and superiors.
Support growth and innovation
If employees are encouraged to openly communicate ideas without fear, they are far more likely to bring their innovative ideas to the table. At the same time, any growth project relies on communication. Growth usually involves many changes and positive change cannot be supported without efficient communication within a team.
Google Ads Agency Success Tips
If you've read up to this point, you are probably already convinced that communication and reporting are important for Google Ads agency success. But what else should you keep in mind, when growing your Google Ads agency?
Encourage teamwork
If you want to grow your business, you won't be able to do it on your own. You will eventually need to build a team to help you grow. You will not be able to achieve Google Ads agency success without teamwork. That is why it is essential to invest in building a good work culture and a strong team.
Build long-lasting client relationships
Gaining new clients is good, holding on to existing clients is better. Don't focus your efforts on always bringing in new customers. Try instead to nurture the relationships you have with your existing customers. In the long run, this can be beneficial for both parties.
Write a good (business) plan and stick to it
In order to get somewhere, you need to know what your destination is. You also need to identify the best route to get there. In business, that translates to good planning. This will ideally take the form of a well-crafted business plan, in which you define your vision, your services, and your goals. A business plan can be a "secret ingredient" in scaling your Google Ads agency. You can read more about this, together with other agency growth secrets, in our dedicated blog post.
All in all, your Google Ads agency's success can be influenced by many factors – from the niche you are working into your ability to brand your business. But it is unlikely that you will succeed without including communication and reporting in your company culture. Your success will depend on your ability to build lasting relationships – with team members and customers alike.