Are you still on the fence about the effectiveness of Facebook Marketing? Then you've come to the right place to learn about the top reasons why it's a powerful addition to any marketing toolkit. As mentioned in the previous article, "History of Facebook Ads in the World of PPC", there are a few flaws, but it's not all bad. For example, as you will see in this article, the Cost of Acquisition in Facebook Ads is a pretty good strong point of the platform).
Facebook's ad network is constantly growing, which is a great sign of opportunity. In 2020 the Q2 revenue exceeded $18 billion, an 11% increase over the previous year. Was this because of rising ad costs? No. In fact, ad costs have decreased, which means advertisers are getting a better deal.
Let's take a look at some of the top reasons why Facebook Ads could be a viable customer-generating platform for your business.
Benefits of Using Facebook Ads
Facebook offers various advantages that make it too good to pass up regardless of the flaws. Read on for a summary of the main ones to help you decide if the platform is a good match for your business.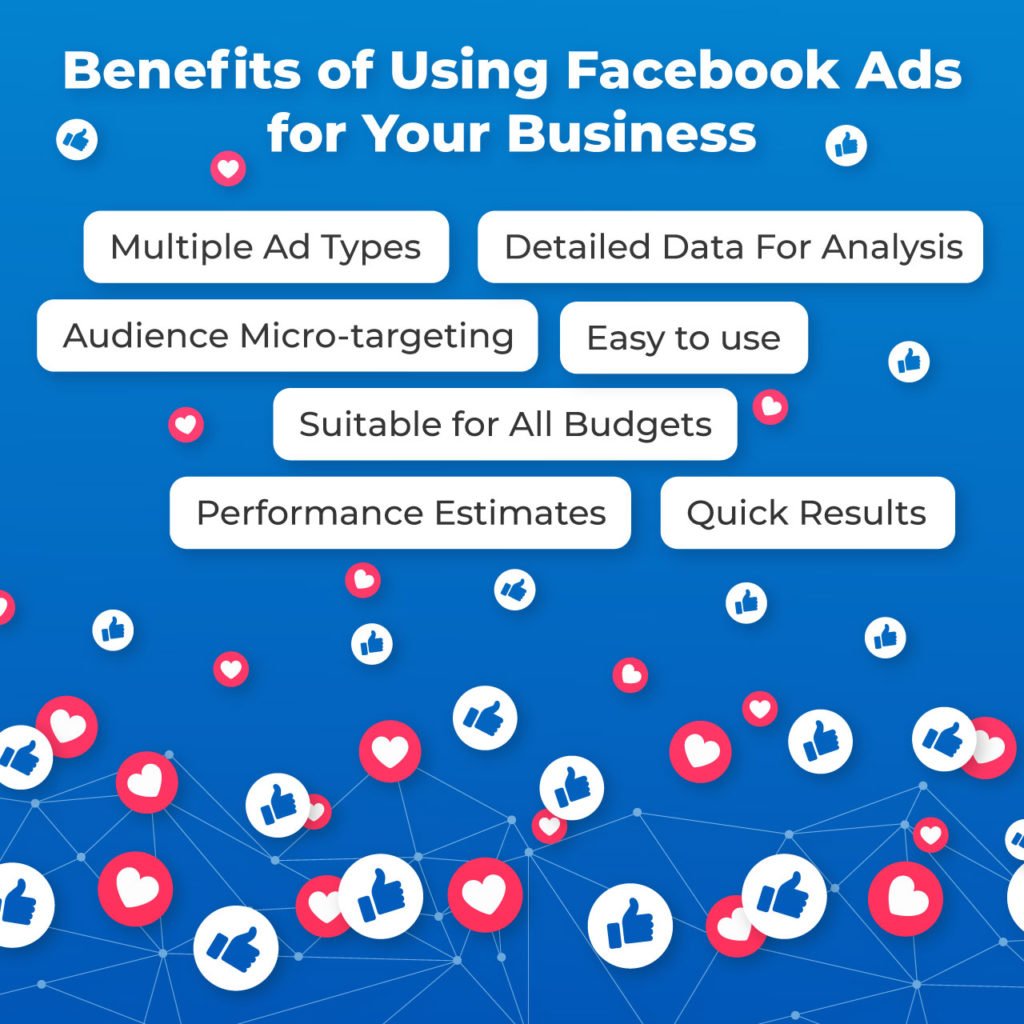 The choice of ad types is vast, with options not offered on other ad platforms. Here is a summary of the most common ones:
Messenger: place your advertising between Facebook Messenger App messages.
Video: upload your videos to be used in Stories, on your page or posts.
Photo: images with a caption that are cheap and effective.
Collection: showcase several products in one ad using the collection ad and viewers can interact with each one.
Carousel: scroll through 10 static images to check out various products.
Playables: show off your app or game with a demo or preview. These are interactive giving the user a test drive.
Stories: these are similar to user-created stories in terms of format type. Stories ads can be static images or videos.
Each ad allows marketing teams to achieve different objectives. For example, a carousel could be used to trigger purchases towards the end of a sales funnel. Whereas, Stories ads are great for building brand recognition because they can include broad content.
Marketers understand that getting in front of the right audience while avoiding poor quality traffic is the key to a healthy ROI. In fact, a report by McKinsey showed that audience segmentation leads to more sales.
Facebook offers some of the best tools for narrowing the scope of your ads to specific audience segments. It includes breaking audiences down by language, gender, age, job title, location, interests, political affiliation, behaviors and major life events. The level of detail is a game-changer for marketers that understand their target customer on a granular level.
The Ads Manager Tool is free and available for any business. Also, you can set daily budgets and configure marketing campaigns that will take a small chunk out of your budget. However, the true cost of succeeding with Facebook ads differs based on industry, ad types and available budget. Generally speaking, the CAC (Customer Acquisition Cost) is excellent across many industries and when compared to other marketing channels. This figure refers to the amount of money required to spend before you generate a sale from a new customer.
Once your ad setup is complete they go live once the Facebook team approves them, which is typically within 24 hours. Therefore, it takes only a day before you can showcase your offer in front of potentially thousands or millions of people.
It's an excellent strategy if you want to see results fast – maybe because you have tight financial deadlines or cash flow is a significant bottleneck in your business.
Detailed Data For Analysis
Do you love analyzing marketing data to find areas for improvement? Then you'll feel right at home with what Facebook Ads Manager offers. The complexity of their reporting features gives you a breakdown of performance based on demographics such as devices, locations and gender.
Also, the attribution reposts help you figure out the vital touchpoints of the buyer journey. It clues you in on the important areas of improvement. Finally, the ad comparison feature helps with A/B split testing. You can constantly improve ads to get the best marketing bang for your buck. With A/B testing you can focus on precise demographics that yield the best results.
You don't need multiple years of experience in marketing to figure out the Facebook ad platform. The tools and support available, both at Facebook and content creators are amazing. Therefore, you can solve an issue you're facing by running a few simple searches. 
The step-by-step process of creating an ad is intuitive and designed for the non-technical person in mind. Furthermore, you can create ads from 3 locations:
The Ads Manager mobile app
Ad creation page on Facebook
Business page by clicking on the Business Manager menu
Want to know what outcome you're going to get if you adjust the parameters of your ads? Facebook doesn't have a crystal ball to tell you the exact performance numbers, but they can give you insightful estimates. You can get insight into video views, post engagement, page likes, conversions, offer claims, lead generation, landing page views, app installs, and event responses.  
Cost of Acquisition in Facebook Ads: A Majorly Attractive Point
The Cost of Acquisition (CAC) cost of Facebook ads is competitive compared to other industries. 28% of advertisers shared that their CAC was lower than $5 and another 28% shared it was between $6-10. That means if you sell products greater than $10, you'll be making a profit.
You might be thinking, "But Google is the number 1 used website, so it must be the better marketing platform". Like all platforms, Google has specific advantages. Low CAC is not one of them – especially when you compare it to Facebook's. That's because Google Ads are based on searches, whereas Facebook Ads are about the audience. The better micro-targeting capabilities mean you only market to the audience that's likely to be interested in your offer
The relatively low CAC of Facebook ads means you can justify spending huge marketing budgets on advertisements. In fact, if you aren't using Facebook ads to their full potential, then you're leaving money on the table and hindering the growth of your business.
As a marketing campaign progresses, the CAC should go down. It reflects well on your customer service, sales, and marketing departments.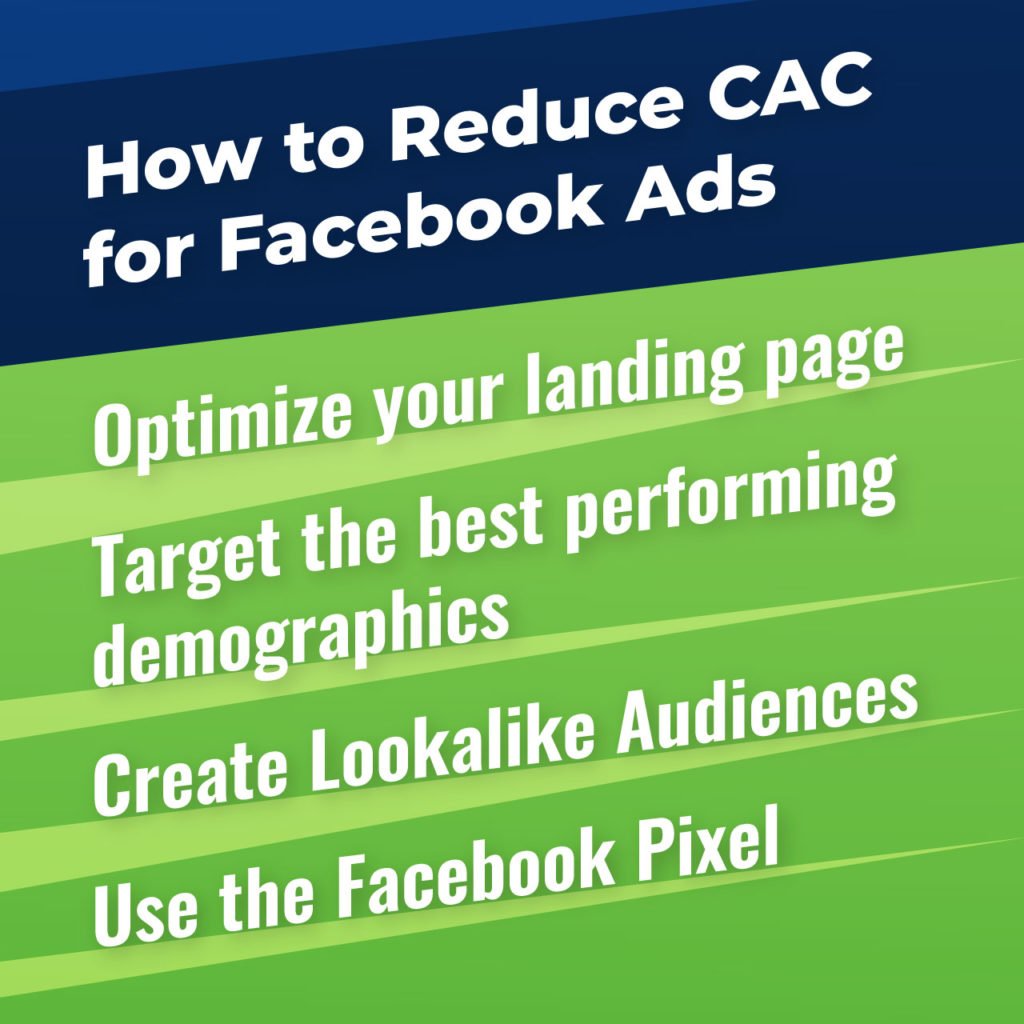 You can reduce the CAC on Facebook by:
Optimizing the landing page: instead of throwing the kitchen sink at your landing page consider going for a minimalist approach. You'll avoid cluttering the page with distracting elements that can overwhelm the visitor. Also, make the offer understandable with a clear call to action that's placed above the fold.
Best performing demographics: don't waste marketing spend on audience segments that aren't responding. For example, if 90% of the sales come from the 20-40 age group, then consider eliminating the other age groups from your marketing campaign.
Lookalike audiences: Facebook has a feature that will allow you to target an audience similar to those already buying your products. It uses proprietary technology to give your business leads.
Facebook Pixel: this is a short snippet of code that can be inserted into your website. The aim is to track visitor interests and cart abandonment. The harnessed data comes in useful when executing segmented marketing campaigns.
Are Facebook Ads a Good Idea for You?
Now that you've read the positives of Facebook marketing and the impressive CAC advantages, you're probably wondering if it's the right choice for your business. Every business is different in terms of the available marketing budget, primary goals, industry, and stage of evolution. Those looking to launch and get their brand recognized might have different needs than a multinational corporation looking for expansion opportunities into new markets.
The magic of Facebook Ads is that it's suitable for any business because of the comprehensive set of ads, empowering tools and massive audience. You can dabble in a few low-cost ads to learn the lay of the land and scale the marketing spend as your business grows.
Before investing in a new marketing channel you need to think about the long-term success of the venture. After all, the most successful marketing campaigns will not come initially, but as you learn the ropes and build upon the foundation. Facebook is here to stay and users are rabid fans of the platform. For example, the average Facebook user logs in 8 times per day, and 69% of adults in the US are on the platform. It means Facebook is not going away anytime soon so the best time to get started was yesterday. 
Facebook is unquestionably one of the top platforms for marketers to attract new customers. However, it's worth knowing the problems and limitations of Facebook Ads to avoid losing money. In the last article of this series, "Tackling Click Fraud in Facebook Ads", we will be examining the ongoing click fraud and why using the block audiences feature could be counter-productive.