Starting a digital marketing agency is one thing, growing it is another. Exciting projects and interesting clients – we bet that is something that you, as a (future) digital agency owner, appreciate. But your entrepreneurial journey won't stop at starting your agency and getting those first customers. No, your next challenge will be to figure out how to scale your digital marketing agency. If you are in need of a few tips and tricks, you are in the right place. Read on to uncover 9 digital marketing agency growth secrets.
The Digital Marketing Agency Business Plan
Before getting into some agency growth secrets, let's take a step back and talk about an essential document for your business: your digital marketing agency business plan. Putting down such a plan will help you:
Define your vision
Define your services
Get your objectives straight
Be realistic
Plan for growth
A digital marketing agency business plan should help you define your business (with its vision and mission), your services (present and future), your ideal customers, your objectives (which should be SMART). At the same time, it should help you keep yourself accountable for your plans and goals. And it should include some ideas on how to scale a digital marketing agency.
Digital Marketing Agency Growth Secrets: 4 Scaling Challenges
Of course, there will be challenges associated with scaling a digital marketing agency. You may face some particular challenges, depending on your chosen niche. For example, your audience may need to be educated on the benefits of doing PPC campaigns or social media marketing.
However, keep in mind that there are some common challenges that an agency will face when scaling:
Getting new customers
Increasing profit margins
Finding the right partners and team members
How to market your digital agency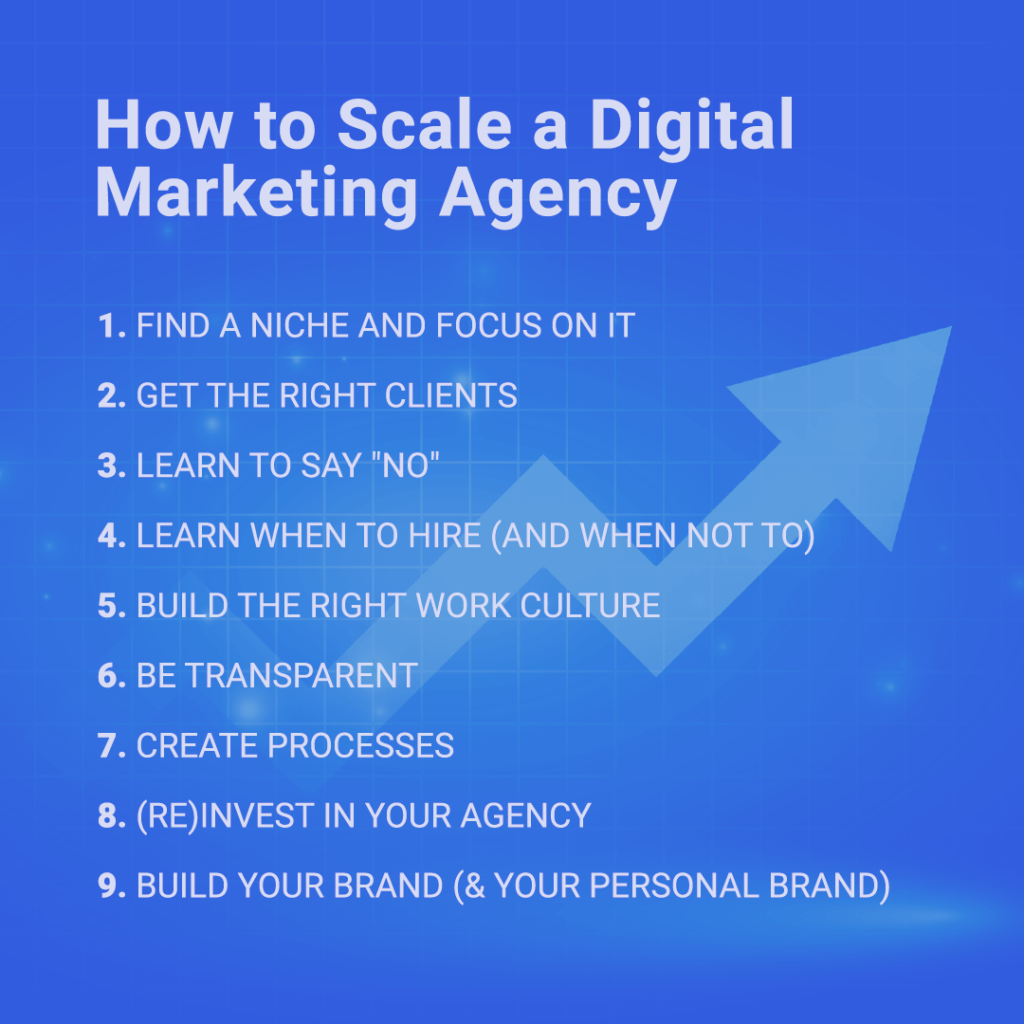 Agency Growth Secrets: How To Scale a Digital Marketing Agency
Growing any business is challenging. Growing a digital marketing agency in today's competitive digital landscape is no exception. But it can be done if you make sure that all of the aspects of your business work towards growth. Here are our 9 favorite agency growth secrets:
Find a niche and focus on it
Different businesses have different needs. Though it may sound like a good idea to offer everything to everyone – that won't help your efforts of scaling your digital marketing agency. This may be one of the most unpopular agency growth secrets, but in a busy digital environment focus and differentiation is key.
On the one hand, you have to identify and understand your niche. Are you targeting small businesses? Or maybe just the medical sector? Or perhaps you find marketing for real estate more interesting? Whatever it is, focusing on a specific niche will allow you to focus on your audience's needs – and on meeting them. A generic approach is more difficult to handle and more likely to fail.
On the other hand, what area of marketing are you more interested in covering? PPC campaigns? Influencer marketing? Content marketing? You can of course offer a wide array of services – but don't make it too wide. Working on projects that are too different is going to complicate your daily work. Especially when starting out, it's better to just stick to offering a few services – but the right way.
Get the right clients
When considering how to scale a digital marketing agency, it may seem like a good idea to gain more and more clients. However, you will find it difficult to scale your agency if you are going to accept a great number of clients, each with very different needs.
Create buyer personas of your ideal customers and target those. This will allow you to build lasting relationships. At the same time, it will make managing those customers easier. A good business relationship involves a strong relationship between you and your customers. As they say – choose quality over quantity.
Learn to say "no"
Here is another unpopular agency growth secret: learn when to say "no". As you should focus on getting the right customers, you should also learn when to reject an untempting offer. If you want to successfully scale your digital agency you will need to say "no" to potential employees, partners, or customers.
Once again, it may be tempting to believe that any new customer is good for business. But taking on a project that you don't fully understand or with which you don't feel comfortable can have a damaging effect in the long term. It will be difficult for you to reach the desired results and, should the result not be satisfactory, the project can end up damaging your reputation.
Learn when to hire (and when not to)
Growing a business also involves growing a team. You may start your journey alone, but here's another unpopular agency growth secret: you won't be able to scale on your own. At one point, you will have to build a team. There is a limited amount of what you can do on your own.
No matter how you want to build your team – by hiring employees or by working with freelancers – it's important to know when you need to bring new people aboard and when to let them go. When dealing with a high workload or complex projects, you should make sure your team isn't overworked; the opposite of this might signal the right time to hire. At the same time, think twice before opening up a position that doesn't live up to the expectations of a full-time job.
Build the right work culture
Building a team won't be the hardest part. Growing your team will. And to build a great team, you will also need to build a great work culture. Define your values and your work style. Then hire people who fit your company culture and who can help you grow it further.
Be transparent
Secrecy doesn't help anyone – neither you, your employees, or your customers. We live in a world where honesty and transparency are appreciated. And if you won't be honest with your partners, somebody else will. Transparency is both an important company value, and part of a solid work ethic.
Invest in the right processes and technology stack
Needless to say, you want your agency's work to be efficient. That involves working on team communication and task management, but also in setting up the right processes. Identify where you can improve things and create processes that can help.
And here's another agency growth secret: invest in the right technology stack. The right tools, especially when paired with the right processes, can help you increase your team's efficiency and well-being.
(Re)invest in your agency
You shouldn't expect your customers to invest in your business if you aren't ready to invest in it yourself. That being said, make sure you are proud of your agency and its work. Invest and reinvest at least part of your profits in growing your team and in the technology that can make your work easier. And at the same time, invest in growing your brand. This leads us to our last agency growth secret:
Build your brand
Just as you are helping your customers develop their business, make sure you are developing your own as well. Build an online presence, share your success stories, share social media content for your digital marketing agency, etc. In short: make sure you know how to market your digital agency.
How to Market Your Digital Agency
Scaling your digital marketing agency will involve building its online presence. Let's dig a bit deeper into this agency growth secret: you should always practice what you preach. If you are committed to helping customers implement a digital marketing strategy, you can't afford to not do the same for your brand.
Because this is so important, we are going to add some bonus agency growth secrets
Use your website to tell your story – people like a good story, after all.
Create social media content for your digital marketing agency – we are all social.
Don't create just content that sells, but also content that shares – that is a great way of building a reputation and getting your name out there.
When scaling a digital marketing agency, don't forget to constantly evaluate your progress. That is the only way you will be able to judge and appreciate your own work. Scaling a business takes time and dedication, but by applying some agency growth secrets and some determination, you can make sure your business succeeds.