The dirty secrets behind click fraud are well worth knowing, if you are a marketer, business owner or just looking to understand more on this subject, these are some of the secrets you should know.
Setting the Scene for Click Fraud
Digital advertising is a rapidly growing global market. There isn't any better, instant, and effective way to drive targeted traffic to your landing pages than PPC. This is a reason why the annual growth rate of digital ad spending has never been in a single digit. The industry is expected to achieve 2.4% growth this year and worldwide digital ad spending is expected to cross $332.84 billion by the end of 2020. This figure is expected to reach $526.17 billion by 2024: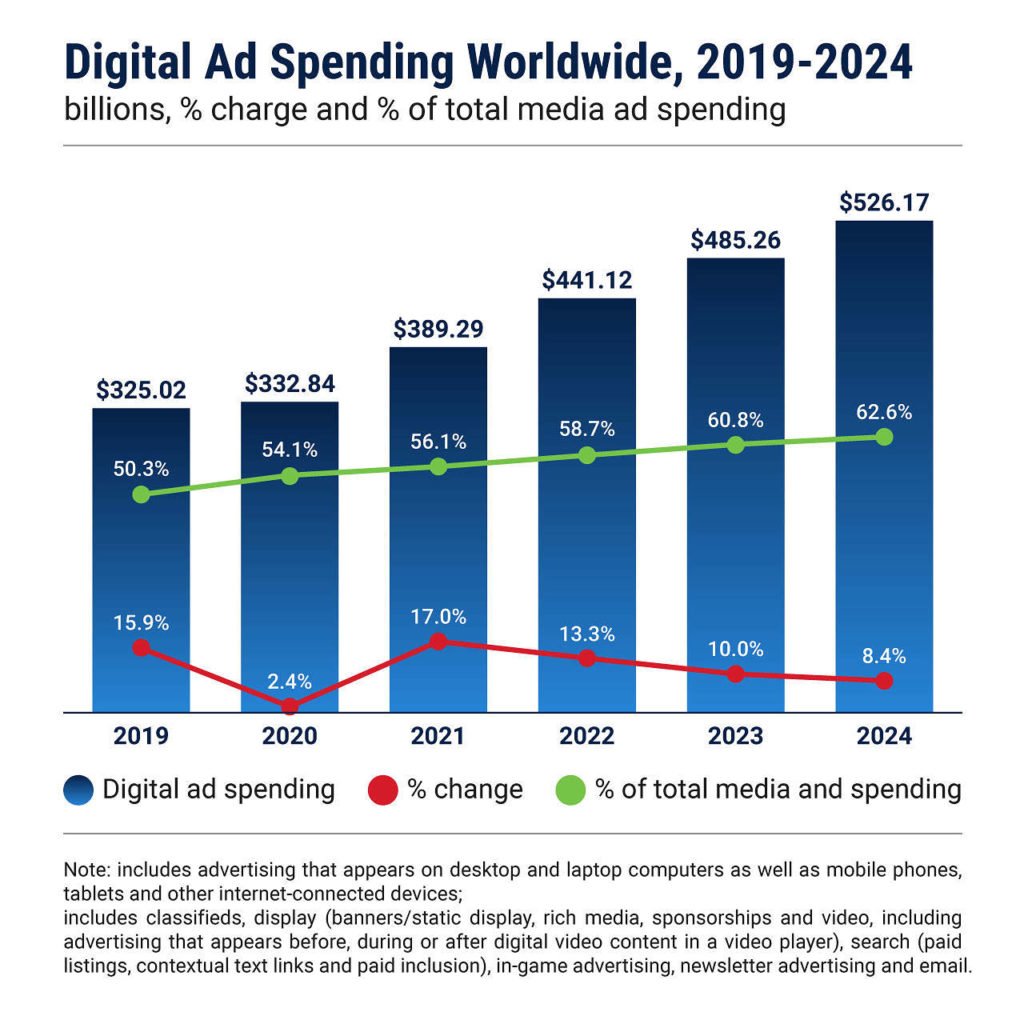 An increase in global ad spending results in a proportionate rise in click fraud and invalid clicks. Click fraud goes hand in hand with the PPC market. In this article, we have covered click fraud statistics and mysteries that will help you better understand the relationship between PPC and click fraud and how you can safeguard your clicks to stay ahead of your competitors.
1. A minimum of 15% of all PPC Clicks are Click Fraud
It is estimated that 14% of all PPC spending turns out to be invalid. This means advertisers are expected to lose $23.7 billion by the end of 2020 due to invalid clicks. According to another estimate by eMarketer, PPC fraud will cost $46.5 billion to advertisers all over the world by the end of 2020. Statista, on the other hand, estimates that the global digital click fraud worldwide is expected to reach $44 billion by 2022.
With advertisers losing as much as $51 million per day due to click fraud, it is something that has done a lot of damage to the global digital advertising sector. The most common click fraud reasons are cited as:
Web crawlers
Bot farms
Click farms
Fraud schemes
Competitor clicks
But it is much more than these fraud clicks. The economics of digital click fraud is complicated and very very dirty.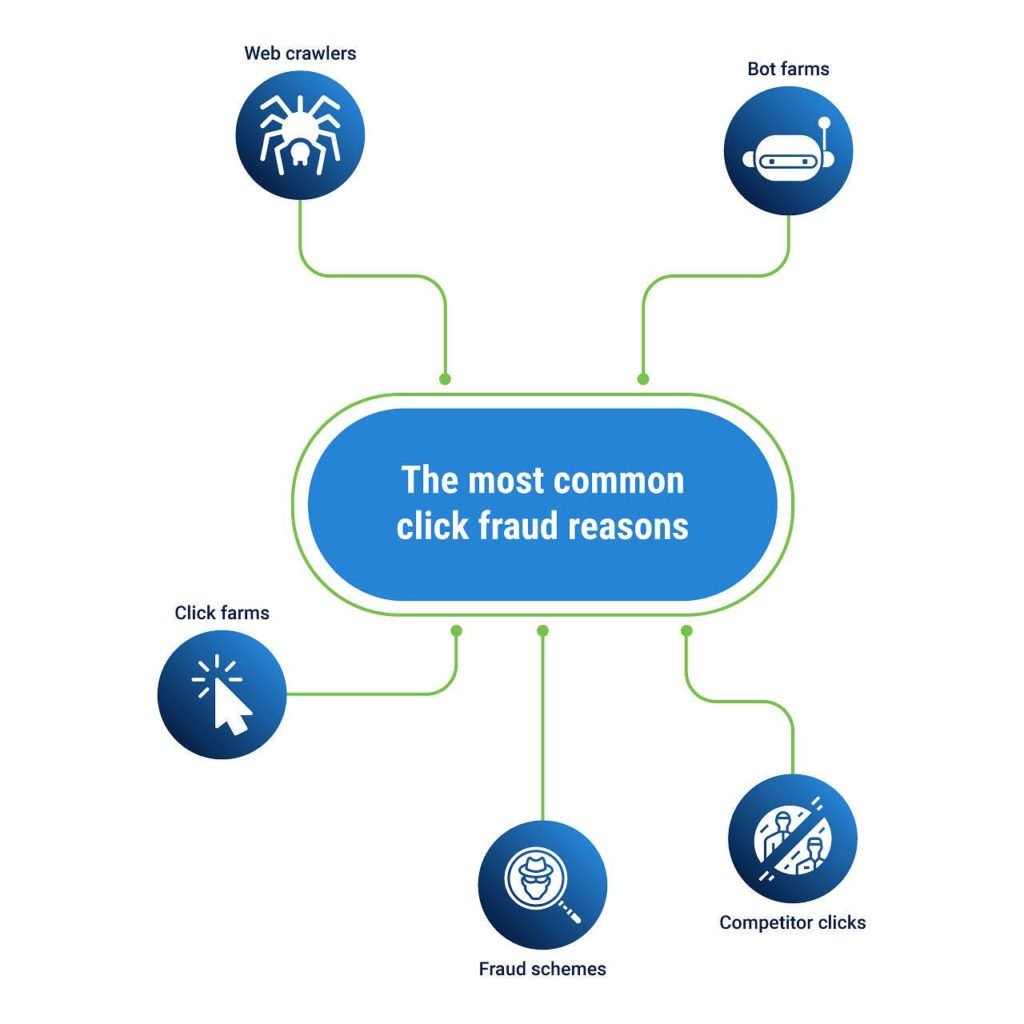 2. Global Travel Sector is Expected to Lose $2.6 Billion in 2020 Due to Click Fraud
A breakdown of the global click fraud estimates revealed the following top sectors:
Education (30.46%)
Tourism/Travel (16.84%)
Legal (13.45%)
Medical (10.19%)
Ecommerce/Retail (9.67%)
Education has the highest click fraud percentage of all sectors accounting for as much as 30.46%. Travel and tourism is the second largest target sector with an average of 16.84% invalid clicks across all campaigns.
The travel sector is expected to lose $2.6 billion globally due to invalid clicks. The US travel and tourism sector is expected to lose $1 billion by the end of 2020 due to click fraud.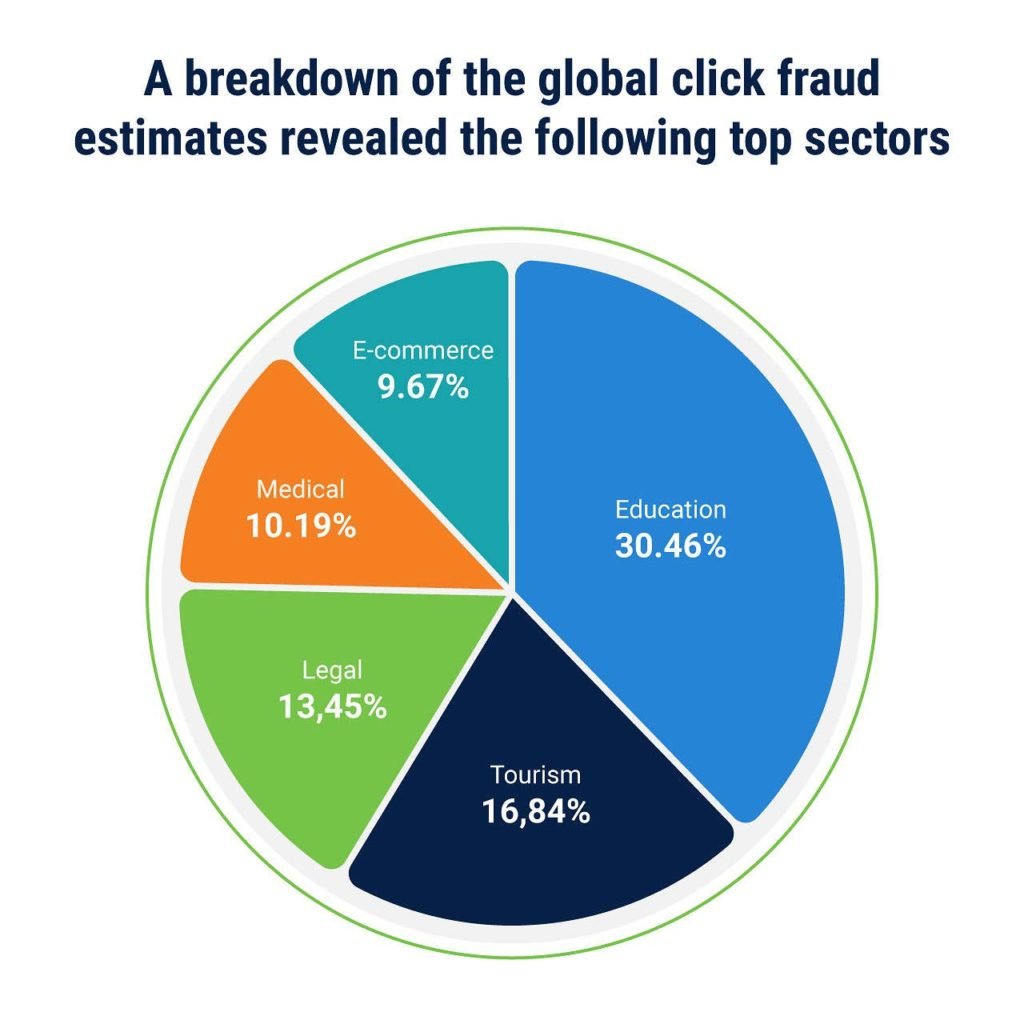 An insight into a top travel company's PPC data revealed that as much as 24% of the clicks were invalid. These clicks were generated by web crawlers and competitors. Individual keywords received as much as 90% invalid clicks from these two sources.
3. Ecommerce is Expected to Lose $3.8 Billion Globally in 2020 to Click Fraud
With 9.7% invalid clicks, the global ecommerce sector is expected to lose $3.8 billion by the end of 2020 due to click fraud. The US ecommerce sector is predicted to lose a whopping $1.4 billion in 2020.
An analysis of a retailer's PPC campaign revealed that it was receiving 12% invalid clicks that were generated by bots. The retailer was running PPC campaigns on several ad networks including Facebook, Instagram, Amazon, Bing, and Snapchat, and all the ad networks were sending invalid clicks. Some keywords received as much as 56% fraud clicks.
4. Bots Account for as Much as 90% of all Click Fraud
Bots or non-human traffic is found to be the biggest contributor to click fraud. The Imperva estimated that only 48.2% of website visitors are humans and the rest is all bots. Things get worse when you run a PPC campaign, the bot traffic can rise as much as 90%.
Among several other types of click fraud, bots are at the top of the list. In one case study, a company identified only 91 real human clicks out of 327 total clicks. This was a test campaign to see how much traffic they're receiving from bots. A whopping 72% of traffic (even for a small test campaign) was from bots.
For example, leading click fraud prevention companies have identified mobile ad fraud using bundle ID spoofing and potentially cost over $75 million per year to advertisers. In this case, a single mobile device generated 2400 ad impressions in 24 hours without the device owner having any idea of it.
This is how advertisers pay for impressions and clicks that never convert.
5. Google is the Most Famous PPC Platform and Most Targeted by Click Fraud
Google is the largest ad network in terms of market share for PPC. Despite a decline from 31.6% last year to 29.4% this year, Google still has the highest digital ad market share in the US followed by Facebook (23.4%) and Amazon (9.5%).
Google is still the top preference of advertisers and businesses when it comes to ad spending. Over 96% of marketers said that they plan to spend more in the next 12 months on Google. Facebook is ranked second (81%) and YouTube third (59%). This shows how powerful Google (and its partner YouTube) advertising networks are.
6. Top 5 Enterprises Spend $77.3 Million per Month on Google Ads
The top five enterprises spend as much as $77.3 million per month on Google ad network. Amazon, for instance, spends $34.1 million per month on Google Ads. With spending on this scale, click fraud cost rises significantly even if such clicks are a mere 5% of the total clicks.
When enterprises run PPC campaigns at such a massive scale, managing them gets complex. It isn't a straightforward job anymore. The hired agency has to deliver millions of clicks per month to a single company and this is where it all gets messy.
It gets more complicated when enterprises invest heavily in retargeting campaigns. In this case, fraudsters and bots get continuous work from the same companies repeatedly until such bots are identified.
It gets even more complicated when we look at the bigger picture and consider all the other ad networks, mobile ads, and other digital advertising forms.
Final Thoughts on Click Fraud
These click fraud statistics show where we are and where we are heading. The PPC road ahead isn't smooth. An increase in the number of ad networks such as Snapchat, LinkedIn, and others mean more opportunities for fraudsters. New ad networks provide new opportunities to both advertisers and fraudsters.
Click fraud is a big reality of the online advertising sector. As an advertiser, you have to do your due diligence to make sure the clicks you are receiving are genuine. Filter clicks, use click fraud prevention tools, use trackers, monitor traffic carefully, check data, maintain a blacklist, and keep updating it.
Don't forget to look at other important PPC performance metrics such as cost per lead, conversion rate, ROAS, etc. Click and impression are the easiest to fake metrics and relying totally on these two will make things more complicated. Monitor all the metrics and look for red flags.