During the year that lasted a decade (aka 2020), more and more advertisers and social media platforms turned to shoppable media to reach customers.
Why?
The experience of browsing brick-and-mortar stores is something people miss. Walking into different stores and feeling their unique vibe – a key part of branding 😊 – brought excitement and spontaneity to shopping. Browsing online is convenient, yes, but ultimately leaves us feeling more disconnected from the brands we purchase from.
Plus, all the clicking and in-your-face digital ads popping up can get annoying, if we're being honest.
Shoppable Media is an innovative method of reaching and engaging customers, especially in this pandemic era. E-commerce sales boomed in 2020, and advertisers and entrepreneurs had to get savvy with the way they connect with people.
It also gives customers a direct path from the product they want to purchase, something that traditional media does not do. Easier purchasing leaves everyone happier at the end of the day, right? 😉
But will Shoppable Media remain popular? Or is it just a current hype that will die down?
Let's analyze Shoppable Media through the lens of the Gartner Hype Cycle to find out.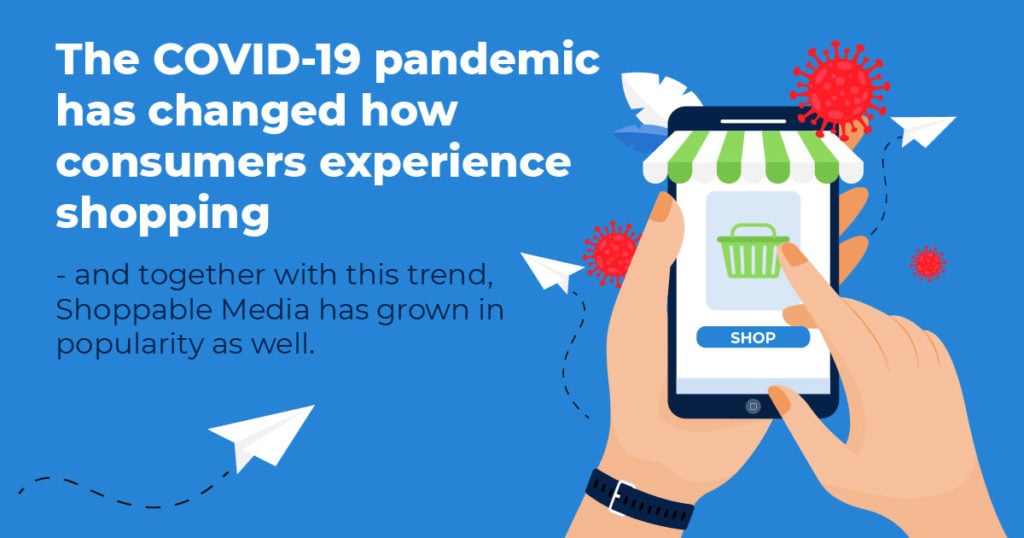 The Rise of Shoppable Media
With the rise of social media usage, advertising morphed and changed. A new era of modern digital advertising began and techniques like shoppable media took hold.
Again, it was in 2020 that shoppable media really took off. According to Marketing Dive and the Interactive Advertising Bureau, the pandemic accelerated a shift from brick-and-mortar to storeless purchasing by 500%.
What exactly is Shoppable Media, though?
Shoppable Media is digital content that lets customers purchase a product or service they want directly and almost instantly.
It takes on different forms, including Livestream sales and shoppable ads. Through shoppable ads, people can buy products almost directly from an ad without going through a long process of clicking an ad, searching through the landing page content to find the product, being taken to the product page, then adding it to the cart, then… you get the picture.
Essentially, people see a video or photo of something they like and can click and buy within a few steps. It's a streamlined process that takes customers directly from desire/inspiration to purchasing, cutting out the unnecessary steps that get in the way of brand connection and storytelling.
Viewing the rise of shoppable media through the Gartner Hype Cycle is an interesting look at the potential future of advertising techniques, which we'll discuss in this article.
Shoppable Media – Why Is It So Important?
Did you know that customers are 3 times more likely to actually buy a product-driven by shoppable media than another advertising technique?
*Frantically researches how to incorporate shoppable media now*
People are always on their smartphones and on the go, and shoppable media allows customers to browse, click, and buy easily from their phones while they're walking, traveling, waiting in line – you name it. Just including that "Buy" button simplifies online shopping for customers so much that they are a lot more likely to purchase.
It also brings back the feeling of seeing a must-have item, grabbing it right off the shelf, and marching triumphantly to the checkout counter.
Shoppable media is not new, and even before COVID-19 online shopping was an important part of brand building and selling processes on sites like Amazon, eBay, and more. The more digital we become the more we engage with a brand's content and messages through social media accounts. It's crucial that companies and brands come up with innovative strategies to capture their customer's attention and loyalty.
Shoppable Media makes life easier for customers, sales easier for you, and merges online shopping convenience with brick-and-mortar reminiscence. It's a forward-thinking technique that is effective in its ability to connect brands to customers — and drive sales as a result.
Where Does Shoppable Media Stand in The Gartner Hype Cycle?
If you're not familiar with the Gartner Hype Cycle, let's break it down.
The Gartner Hype Cycle explains the 5 phases that every new technology, trend, or innovation goes through in its maturity lifecycle. Each of these phases has its own opportunities, expectations, and risks that technologies will have to adapt and overcome in order to maintain steady on the global marketplace.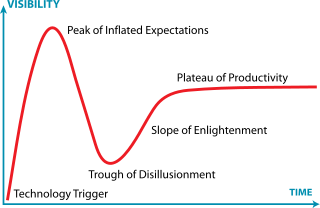 Shoppable Media is currently sliding into the third phase of Gartner Hype Cycle – or, the Trough of Disillusionment.
(This is not the same trough of disillusionment we all slide into when we meet a Tinder match in real life.)
In 2018, Shoppable Media was At the Peak in the Gartner Hype Cycle, meaning it was fully hyped up with inflated expectations. The idea of shoppable content that would lead customers directly to purchase sounded amazing, and all that hype is part of the reason it's moving into the trough of disillusionment.
Waning interest and failure to deliver on those high expectations are what lead new technologies to the trough. This is the sink or swim phase – will the technology be long-lasting, or fall by the wayside?
Now that Shoppable Media's position in the Gartner Hype Cycle is sinking into the trough, what happens next?
This is where the real value of a technology is discovered. Once the high expectations fade away and businesses realize the real potential and opportunities that shoppable media provides, this digital advertising technique will have the chance to move up to the Slope of Enlightenment.
This is the phase where, according to Gartner:
"More instances of how the technology can benefit the enterprise start to crystallize and become more widely understood. Second- and third-generation products appear from technology providers. More enterprises fund pilots; conservative companies remain cautious."
People are getting more used to online shopping and marketers are improving shoppable content. Entrepreneurs and marketers have some of the most innovative and flexible minds of us all, and their task is to discover the most useful features of shoppable media and how using it can propel them to better sales and customer relationships than they've ever had.
It's exciting to see shoppable media's place in the Gartner Hype Cycle, and where it might be heading.
What Does Shoppable Media Mean For Brands?
Now that we've talked about Shoppable Media in the Gartner Hype Cycle, what does this new, digital content mean for brands?
We mentioned that Shoppable Media gives customers a direct path to purchasing. This streamlined approach to online shopping can be used to increase brand popularity and build stronger customer relationships.
Additionally, using interactive video and photo ads is a great way to incorporate storytelling and brand building into your campaign, and another way that shoppable media connects with customers.
People are looking for brands that are authentic and share their values, and engaging ads that reflect what your business is all about can attract new customers and strengthen relationships with existing customers.
Adopting User-Generated Content

User-generated content (UGC) is any content about a product or service created by someone outside of the business selling it. It's real people giving reviews, posting on social media, or mentioning your product on their blog or podcast.
UGC is really, really effective. People trust that other people – especially ones they know – don't have the same bias and ulterior motives marketers have.Unfiltered looks at real people using (and loving) a product without being paid to do so make your brand look more authentic and appealing. You can create the most engaging ad content there is but at the end of the day, endorsements from real customers is some of the best advertising there is.
So, how do we get more user-generated content? Try some of Forbes' techniques:
Make customers feel good by featuring them or re-sharing their social media content that mentions your business
Ask customers for feedback
Ask for reviews or testimonials
Gift free products and encourage customers to post about it
Use contests and prizes
Potential Drawbacks of Using Shoppable Media
Shoppable Media is in phase three of the Gartner Hype Cycle for a reason – there are some challenges to using it.
First, there's always the learning curve to adopting new technology. You and your team might spend extra time familiarizing yourself with shoppable media to learn how it works and how best to use it.
According to Marketing Dive, other potential drawbacks include retailers giving up control over user experience with in-app ads, and glitchy tech that could frustrate your customers more than it helps them.
And if you're using Instagram as a platform for shoppable media, you might lose customer data in that streamlined process and pay transaction fees.
The Future of Shoppable Media
In this new era, brands are slowly steering away from traditional marketing. Shoppable media looks like it's going to be integrated more and more into advertising campaigns.
With Shoppable Media sitting pretty in the third phase of the Gartner Hype Cycle, we might see a Slope of Enlightenment (phase four) lead into a Plateau of Productivity (the final phase) relatively soon.
Once Shoppable Media is in the fifth and final phase – meaning its applicability and usefulness is clear – mainstream adoption takes hold.
And according to iCrossing UK Strategy and Insight Director Maria Bain, the adoption of 5G mobile networks and augmented reality (AR) will make shoppable media even more interactive. People might be able to try on clothes or test the scent of a perfume before purchasing it online, an experience that has somewhat disappeared since shopping online skyrocketed in 2020.
How cool would that be?!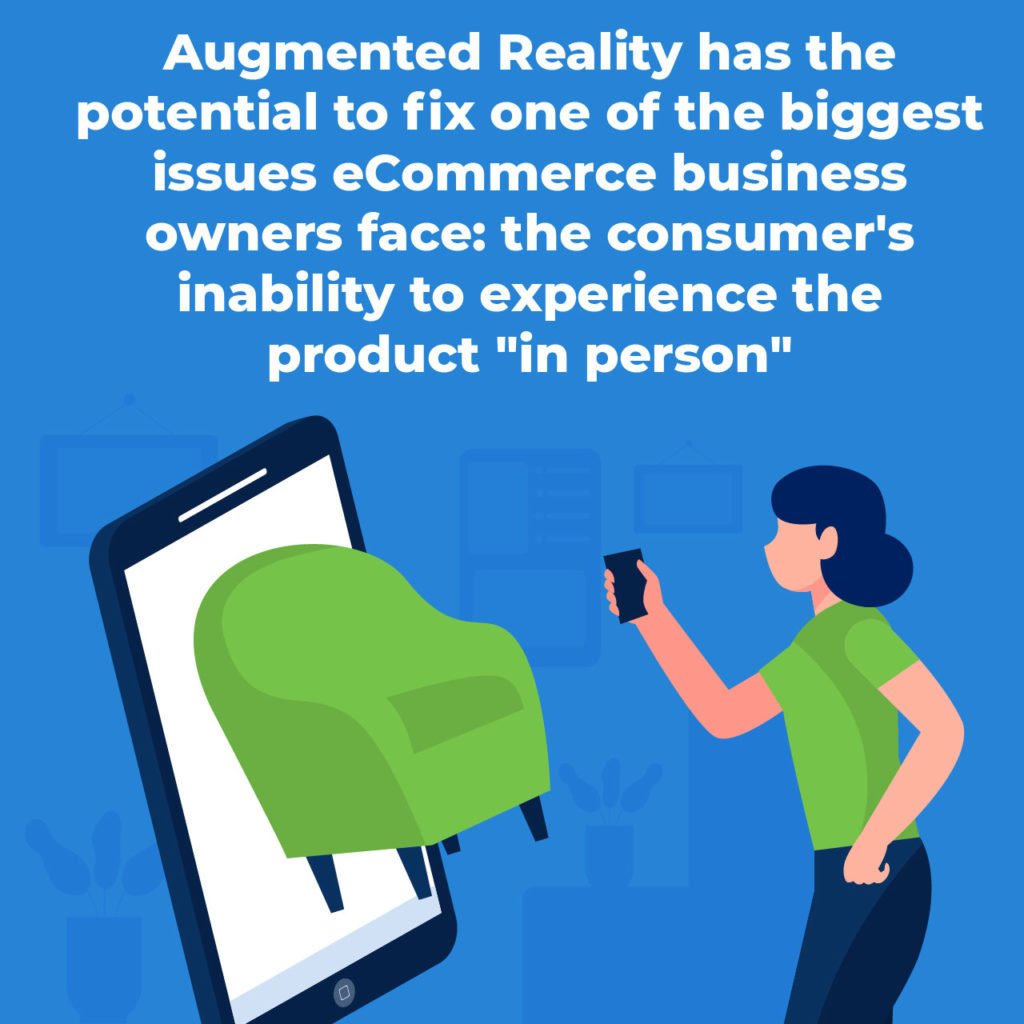 Conclusion
Now that you have a better understanding of what shoppable media is and how it might take hold in advertising in the future, you can decide if and how you want to incorporate it into your business. There are potential drawbacks, but shoppable media could be an important and worthwhile investment for your business.
The future of advertising looks like an exciting hybrid of tech and those connective, tangible experiences we all miss. Shoppable media is taking that route. As we follow its journey through the Gartner Hype Cycle, it's highly possible we'll see shoppable media slope back up and level out as more and more advertisers and clients see its potential.
Want to learn more about Ad Tech in Gartner's Hype Cycle? Check out the other two articles in this series, on Artificial Intelligence and Conversational Marketing! 😉