As October was slowly fading out, Google Ads users from all around the world and across all industries were reporting a number of Google Ads disapprovals and suspensions due to a supposed breach in Google's Policies.
And this wasn't your average Google- Ads-disapprovals-"suspension" story.
The worst bit? It was a bug. A technical oversight was even admitted by Google.
Maybe we should call this article the Meta Disapproval.
Google Ad Disapprovals "destination mismatch"
So far records show that a certain group of users reported this error in Google Ads, but after researching and reaching out to all of our network and peers, we started to come across more and more reports of people experiencing slightly different disapproval issues with their Google Ads with multiple policy compliance violations, which to our knowledge were all unfounded.
Google even admits on their Community Help page of this technical issue: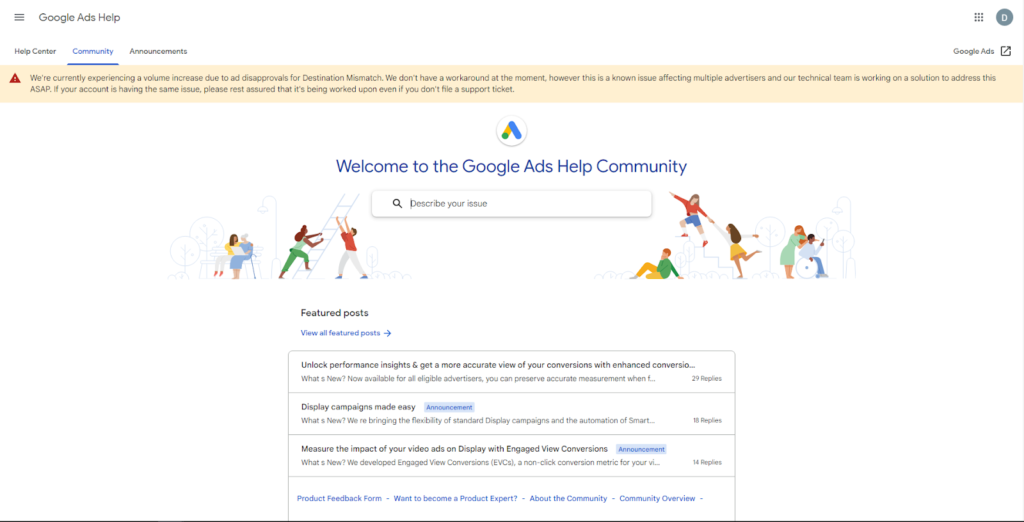 In this case, for example, they reported issues with Google Ads disapproval but with a slight difference. Instead of the disapproval having logical reasons, their compliance violation was just… blank:
Update as of this morning: I had five clients impacted; most ads are no longer disapproved (though one account still has some). Of the other four, three have ads Eligible (Limited) for Destination Mismatch. pic.twitter.com/IRsHaVM5Jx

— Nikki Kuhlman (@nikkijumpfly) November 4, 2021
What Actually Is the Problem With The Google Ads Disapproval and Who Was Affected?
First, let's understand what happens when Google disapproves of an ad.
Google Ads disapprovals happen when someone violates a compliance policy when publishing ads for your campaigns on your accounts.
When you break one of these policy violations, Google will disapprove the ad and can even suspend your account.
But this time, the users' Ads had not violated any policy. This was a mistake, and it was on Google.
Reports have shown that thousands of Google Accounts have been affected by this disapproval issue that simply blocks ads from being approved by Google. As far as we've learned (from discussing with industry peers and Google Ads Support themselves), only Search Ads and a small number of display ads have been affected by this error, but reports are still flowing in — so you might want to keep an eye out on your Google Ads account and ping us if you have any updates!
Not only were some ads disapproved, but, to our knowledge at the moment, a number of Google Ads accounts have even been suspended due to the Circumventing Systems policy imposed by Google.
As we mentioned above, it's not new to Google to disapprove ads or suspend accounts, obviously. But this time around, breaking the Terms of Service policy (by a supposed lack of compliance with their policies) didn't have much to do with the actual string of events that affected thousands of advertisers at the end of last week.
How Did It Even Happen?
It was quite clear from the get-go that users' websites had not violated policies Google established. Ergo, after careful investigation, the natural assumption we made was that something in Google's automated ads approval algorithm was bugged.
And this bug was big.
This was later confirmed in one of our many phone calls with Google's Support team, where support reps confirmed to us that they are aware of a technical issue impacting an entire cluster of Google Ads accounts (per their words "hundreds or thousands of accounts"). This included our own Google Ads and, as our own customer support reported, a number of our clients' Google Ads accounts.
More Policy Violations Different Reason
Other than the widespread disapproval, some Google Ads users reported even more rejected ads and supposed policy violations.
To be more specific, ads were disapproved for breaching the following point in Google's policy: "Call Directory, Forwarding, and Recording Services".
In even more detail, that specific Google policy point specifically forbids promotions for call directories forwarding, and recording services. As an example, Google Ads doesn't allow promoting any service that involves calling a phone number to obtain another phone number (or business information) or to connect to another service.
Clearly, the users affected didn't fall into any of these categories. But as everyone soon learned, this was a technical error made by Google.
So, How Do You Fix It?
You might think this whole "Google Ads disapproved my ads error" makes it so you have to go through the whole process all over again, but luckily, that's not the case.
After investigating the matter and discussing it with Google, we found a simple solution (which we were able to confirm with Google Support ourselves): simply manually submit an appeal for your ads to be reviewed (at account level) and they should be approved in a matter of hours.
However, DO make sure to appeal the policy by toggling the "made changes" to the ad option. Do not attempt to dispute the violation, as it will most probably prolong the approval process.
To make this easier for you, we have included a snapshot to guide you through the process of appealing the dispute:
Just in case you're wondering, aside from trying this solution on our own Google ads and confirming it with Google's Support, we also found it on a Google Ads community thread — so this has been triple-checked (at the very least) at this point.
After having applied this fix, your blocked ads should be re-approved on a "one-by-one" basis most likely due to the need for a manual review from Google.
So, in case you've been struggling to get your Google Ads approved since October 28th, there it is: all you have to do is manually appeal the decision and request a review. We're still monitoring the situation and will come back with reports should there be any more news in this regard.
Who Else Has Fallen Foul to Google's Blunder?
Who else had fallen for the infamous policy that had supposedly been breached?
Did you experience any similar issues last week? Send us an email at [email protected] we would love to hear from you.
Looking for more news and information from the world of Google Ads, PPC, and digital marketing? Follow our blog, news section, podcasts, and webinars — we always strive to put out quality content to help the Google Ads community, so let's stay in touch!
FAQ's For How To Fix Disapproved Ads (October/ November 2021)
How do I fix disapproved destination not working?
If your Google ads have been mistakenly disapproved and the policy breach doesn't have any connection to your ads, try manually appealing the disapproval (and making sure you select the "made changes" option at account level). Google will re-approve your ads within a few hours.
What does destination not working mean on Google ads?
This disapproval policy option means that the URL you used for your Google Ads might have had issues (related to a manual error, recent changes on the website, site migrations or upgrades, and so on).
Why has my Google ad been disapproved?
When Google disapproves of an ad, they will provide you with a reason in brackets. Search for it in their policy and see if it might have something to do with your ads. If your ads have been mistakenly disapproved, it might be an error on Google's side (case in which you have to manually appeal the disapproval using the "made changes" option).
How do I fix disapproved ads on Google ads?
There are two main ways to fix disapproved ads on Google Ads. You can search for the reason Google has given you for the disapproval and address the issue OR, in case your ads are actually compliant, you can manually appeal the disapproval.