There will come a day in your life as an agency owner when you will ask yourself: just how much is my digital marketing agency worth? Regardless of whether you want to sell your digital marketing agency or just to understand its worth, you will have to understand how to valuate a digital marketing agency. What advertising agency valuation multiples should you look into? What can affect the value of your agency and how can you increase this value? 
We tried to look into these questions for you. Read on and find out more.
Digital Agency Valuation: Why Is It Important?
Understanding the value of your advertising agency matters, regardless of your plans for the immediate future. Even if you do not currently have plans to sell your business, you should understand its worth, evaluate your progress, and set clear goals for the future. It's never too early to start and know the current value of your business. This will also help you establish some goals in terms of growth.
Advertising Agency Valuation Multiples: What To Use
The value of anything is determined by both the supply and the demand for it. This does not apply just to consumer goods, but also businesses – like your digital marketing agency. Many factors can influence how to valuate a digital marketing agency.
To get an idea of how much your agency is worth, a financial analyst will probably use various valuation multiples for this purpose: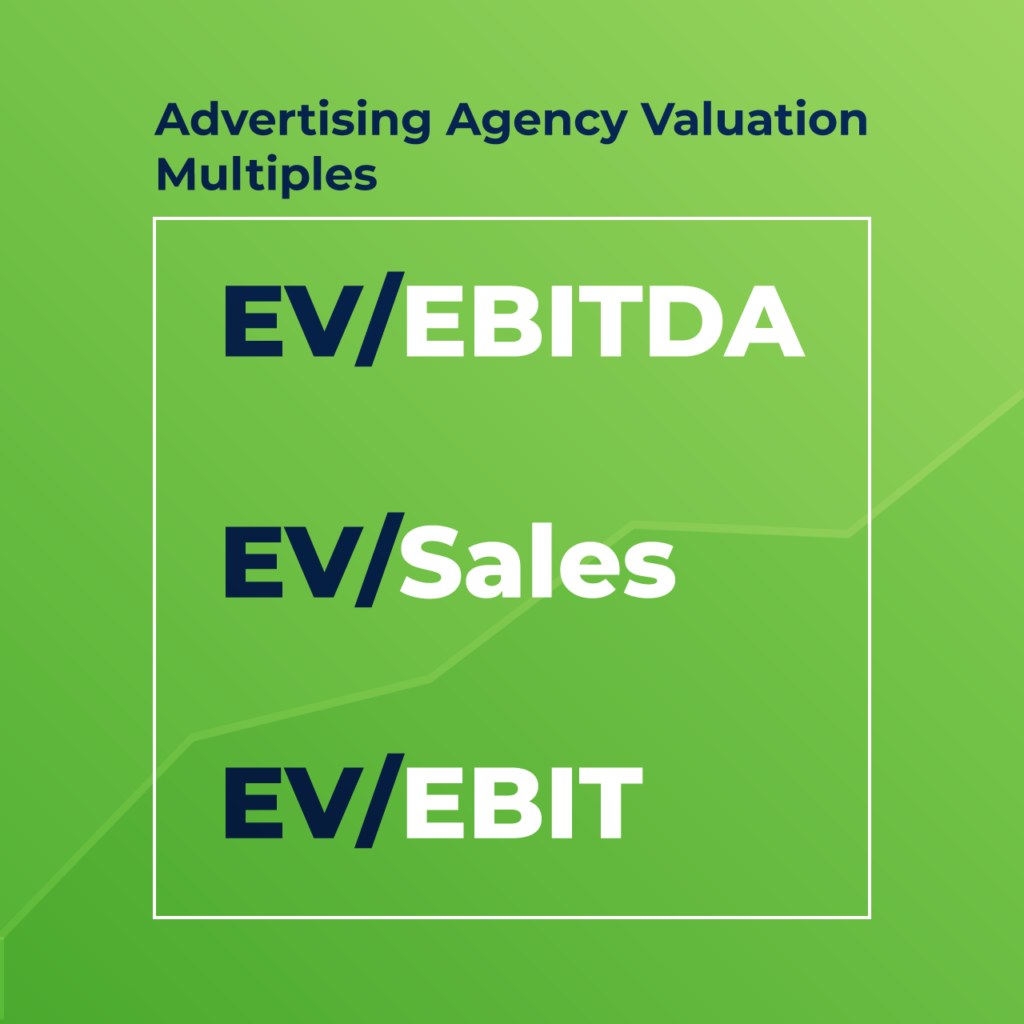 EV/EBITDA: This is one of the most common advertising agency acquisition multiples used. The EBITDA ("earnings before interest, taxes, depreciation, and amortization") is a relevant number for any business, as it essentially illustrates the profitability of a business.
EV/Sales: This multiple is significant for certain cases where EV/EBITDA doesn't work – e.g. a start-up has a negative EV/EBITDA.
EV/EBIT: This is another acquisition multiple that is often used for companies that don't run a lot of capital.
How To Valuate a Digital Marketing Agency: Top Factors that Influence a Digital Marketing Agency's Worth
The above valuation multiples can give financial analysts a good starting point to valuate a digital marketing agency. You should however be aware that the value of your agency can be influenced by many factors, like: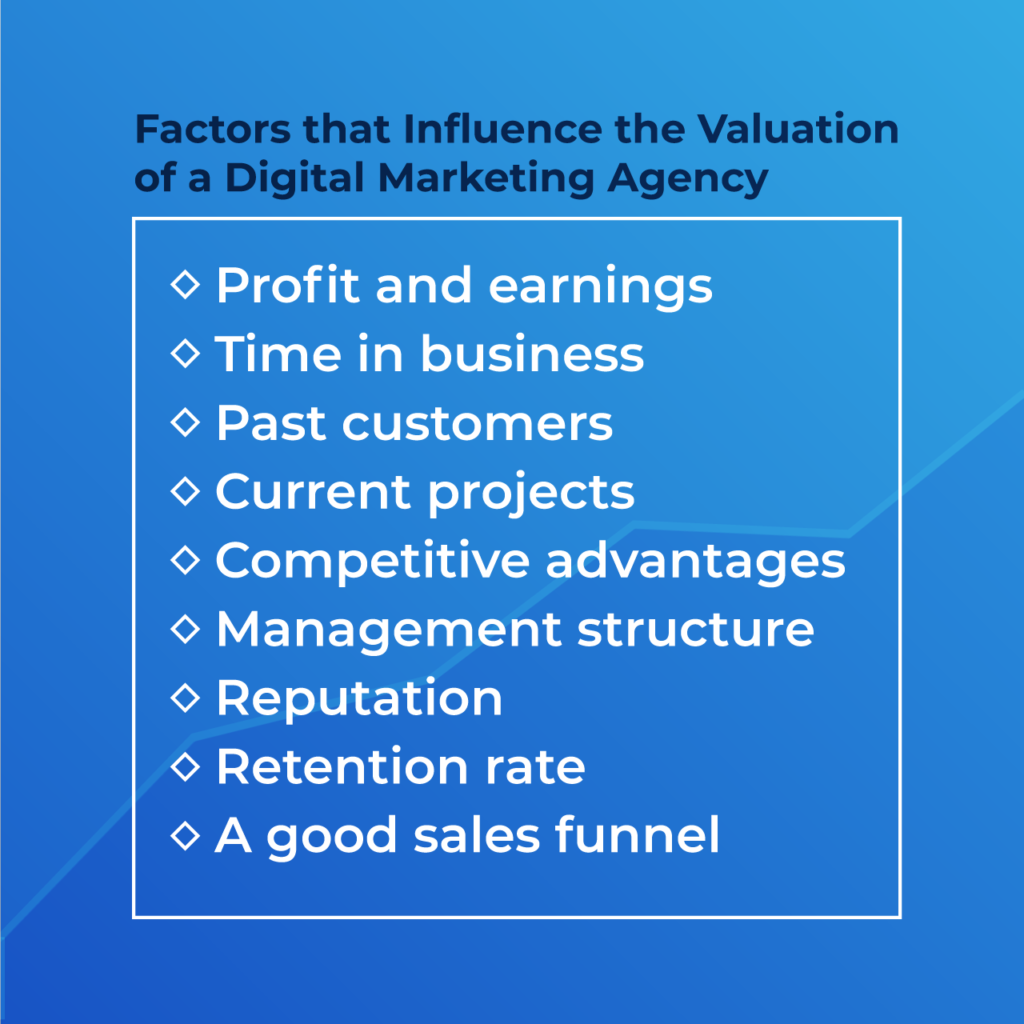 1. Profit and earnings
Here we will mention the EBITDA again – this number gives a lot of insight into your company's profitability. However, both past and projected earnings can influence how your advertising agency is valuated.
2. Time in business
Needless to say, if a business survives in time it usually means that it is doing something pretty. Well. The longer the life, the better. A lot of time in business shows reliability, responsibility, and usually a good reputation. It can also show that your agency has had time to build strong relations with its clientele.
3. Past customers
Your client portfolio is relevant. The fact that your digital marketing agency has worked with big names, big brands or has had successful long-term collaborations with respectable customers can have an impact on how your agency will be valuated.
4. Current projects
Is your agency currently working on long-term projects? Are these projects financially relevant? What kind of industries are you working with and how big is the demand for your services in that niche? Your current customers and projects can also impact how much your agency is worth.
5. Competitive advantages
All who study marketing know that in order to be successful, you need to differentiate your business from that of the competition. This will not only make you stand out in front of potential customers, but it can influence your digital agency valuation.
6. Management structure
The owner's role within the company as well as the structure of the management and leadership team can also play an important role in how to valuate a digital marketing agency. The owner and the management team have a role in the day-to-day operation of the company, so potential buyers will want to understand how the business will operate once it is taken over.
7. Reputation
They say that your reputation should precede you. This is also relevant when considering how to valuate a digital marketing agency. Especially in today's world, where the internet is full of opinions and reviews, it is important to build a good reputation.
8. Retention rate
Having recurrent customers is good for business – but also when valuating your business. Customers that come back to your services are usually happy customers. This can be an indicator of the fact that your agency is a solid one.
9. A good sales funnel
In the world of digital marketing, we talk a lot about the importance of sales funnels. Having a solid sales funnel in place means you have a "recipe" for bringing in new clients and therefore revenue.
How to Increase Your Agency's Market Value
Once you figure out how to valuate a digital marketing agency, you may want to take things one step further and establish some new goals for yourself. You may not want to sell your digital marketing agency in the near future, but if you want to grow its worth, it's never too early to start.
1. Strive to achieve a healthy growth margin
In order for your agency to be valuated highly, it should strive for high profits. For example, being in debt will decrease your company's value. You should be aiming to increase your profits – by gradually increasing your prices or by cutting down on expenses.
2. Plan for steady growth
And speaking of growth – aim for long-term growth. Make sure your company is scalable – that and that you can increase its value through future income and future customers.
3. Get more customers
In the case of a digital marketing agency, the more customers you have, the more growth you'll witness. Depending on the niche you are active in, you can aim to attract new kinds of customers and diversify your client portfolio. This should be done in accordance with where you are positioning your agency on the market.
4. Get social proof
As we've already mentioned, reputation matters. We love to read about other people's experiences because we want to learn from them. In the digital world, social proof like testimonials and reviews can improve the reputation of your agency.
5. Keep track of your metrics
Last but not least – make sure you constantly keep track of your metrics. How can you valuate a digital marketing agency without taking into consideration KPIs and other metrics?! Not possible. Make periodic evaluations and make the business decisions that will help you grow and reach your goal.
No matter if you are planning to sell your digital marketing agency or not, as a business owner, you should understand what your business is worth. Once you've figured out how to valuate a digital marketing agency, you can focus on growing your business and making it profitable. It's never too soon to plan for growth. There's no "secret" recipe for it, really, other than the basic ingredients: good planning, providing good services that increase your customers' ROAS, and being genuinely interested in your customers' overall wellbeing with your agency. Additionally, finding a solid, profitable niche for your digital marketing agency and staying on top of the latest trends will always be a major plus in boosting the value of your agency (and, implicitly, that of your services).