You work hard to attract customers to your website. Like it or not, though, your job's not done just yet because when visitors land on your site, they want quality information that's engaging, fast, and mobile-friendly. Your goal is to meet them where they're at so that they eventually convert into customers (and loyal ones at that). Landing page optimization best practices play a huge role in this.
In this article, we'll show you how to optimize your landing pages so you can improve user experience. We'll also give you some great tips for post-click analysis and provide you with essential landing page optimization best practices so you can monitor and improve your customers' journey.
What Is a Landing Page?
If you want to understand landing page optimization best practices, you need to know that web pages have various purposes – information, directions to your offices, customer engagement and delight, and so on. A landing page refers to a web page that's designed solely for conversions, and it's a key ingredient of digital marketing. It gets its name because prospects and customers "land" on it after they've clicked on your link in an online ad, email, search engine, or social media platform.
A call-to-action (CTA) drives prospects and customers to your landing pages. CTAs and landing pages are the optimal pairings for increasing conversions and decreasing your cost-per-acquisition (CPA).
How Does a Landing Page Work?
Landing page optimization best practices focus on one main purpose – driving conversions. Effective landing pages don't distract customers with irrelevant colors, boxes, images, or text. They're intended to get users focusing directly on the value your products or services offered.
When landing pages work well, it's because they have enough information to keep customers engaged, and the page isn't so busy they feel overwhelmed.
Your marketing efforts are already somewhat effective if you've driven them to your landing page from another source. The original content did its job of sparking their interest and they want to know more.
There's yet another reason landing page optimization best practices are so important.. Since the potential for conversions is higher when you use a landing page, it makes sense to direct your efforts toward the action of your landing page visitors. Lead capture forms' purpose is that of capturing customer information so you can push them further down the funnel.
How can you be sure your landing pages are effective? By monitoring your engagement rates and conversion rates, which is another thing that's considered landing page optimization best practices.
Landing Page Optimization Best Practices & Tips
Google Ads campaigns can be very effective in driving leads to your landing pages, and by improving the user experience, you can keep the warm fuzzies flowing.
Design, usability, and speed are all important components of a well-designed landing page. We're outlining all the right steps to give your users a quality user experience after they've clicked on one of your ads.
Take note of the following things to help you out with landing page optimization best practices:
Make It Relevant
In your quest for landing page optimization best practices, the questions you have to ask here are, "Will customers find what they're looking for on your landing page?" and "Is the content relevant to the reason they went to your landing page?"
If not, here's how to fix it:
Pair up the keywords in your Google Ads to your landing page
Correlate your CTA on your ads to your landing page
Every element on your landing page should support your goal of conversions
Highlight your unique features
Match the tone of your landing page to your audience
Make It Trustworthy
A well-designed landing page offers product or service descriptions and explanations which affirm that your brand and website are credible and trustworthy.
Here are some tips to achieve landing page optimization best practices and gain your customers' trust:
Be genuine and upfront about what your products and services offer
Display prices and fees
Design contact information into your landing page that's easy to find
Assess your content and copy for proper grammar and good spelling
Explain clearly why you need their customer information
Add reviews and testimonials
Avoid annoying pop-ups
Provide links to terms and conditions and privacy statements
Add certifications or brand associations to demonstrate credibility
Make It Easy
Users that hit on your landing page are likely to buy, so make the task easy for them. Landing page optimization best practices mean they shouldn't have to click on multiple links to make a purchase.
These tips should help:
Get their attention with lists or bullets
Don't beat around the bush
Design a large CTA button
Create shareable content
Ensure It's Reliable
Nothing makes a prospect bolt away from your landing pages like slow loading times. landing page optimization best practices recommend speeding up load times.
Keep customers moving along the sales funnel with these tips:
Improve speeds of landing pages on desktop and mobile
Aim for a consistent user experience
Minimize Flash and JavaScript
Match landing pages to branding
Use a welcoming, inviting tone
Optimizing Your Landing Page Is All About the User Experience
You can't go wrong when you keep the user experience in mind when optimizing your landing pages.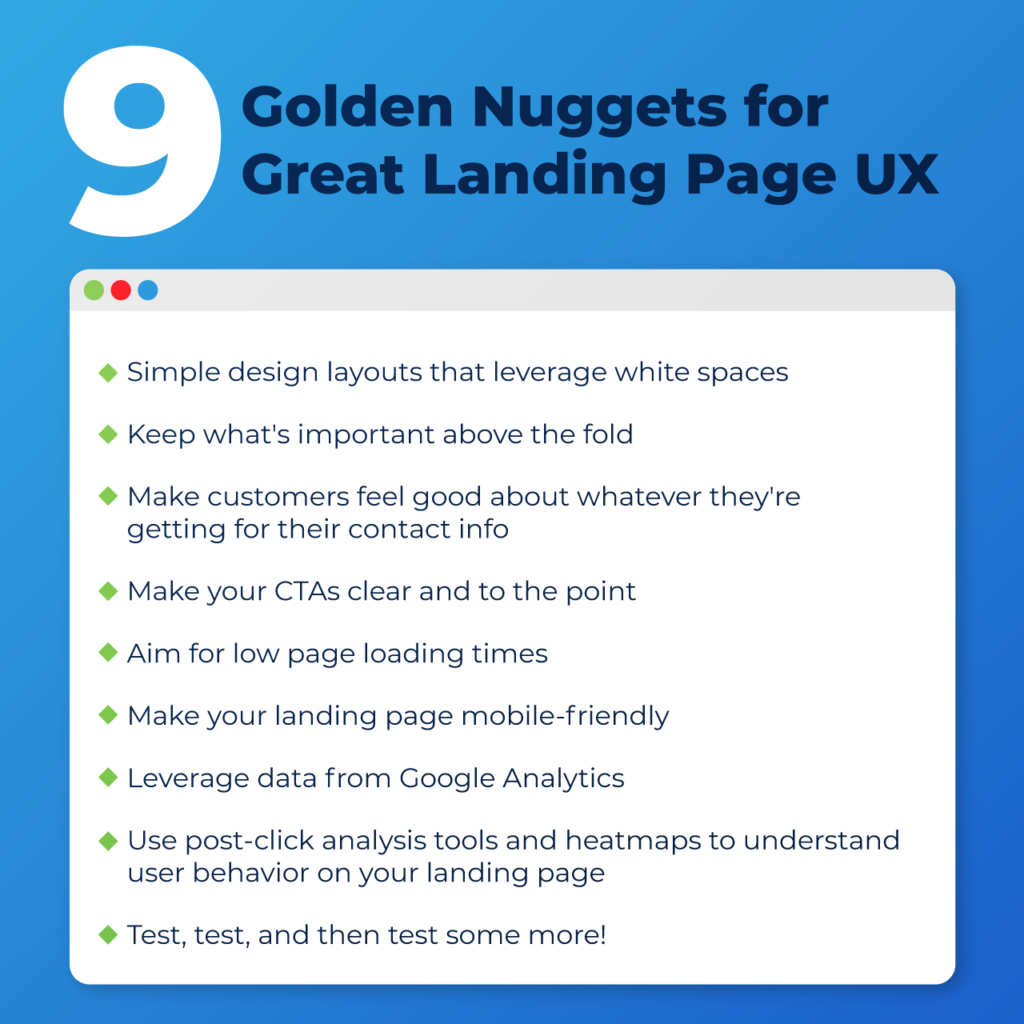 We've got some tips for landing page optimization best practices that are easy to implement:
1. Design simple layouts that leverage white space. Focus on one concept. Keep things simple, minimal, and straightforward so customers will focus on the CTA.
2. Put the important stuff above the fold. That refers to a clear headline with a value proposition under it. It also refers to a clear CTA and an optimized contact form.
3. Remember the rule about relevancy. Be sure customers are clear about what they're getting for giving up their contact information, and make sure it leaves them with that "feel good" mentality.
4. Design clear, unambiguous CTAs. Limit CTAs to one that tells them exactly what the next step is, and then take them directly there.
5. Decrease page loading times. If your pages load too slowly, you will end up with high bounce rates and low conversions. The faster your landing pages load, the quicker you can get to a conversion.
6. Make landing pages mobile-friendly. In 2019, 40% of shoppers used a mobile app to make a purchase, and the numbers are only growing.
7. Leverage data from Google Analytics. Gather data from detailed reports to gain insight into the user experience and learn the hot spots on your landing pages.
8. Leverage data from othet tools as well. For example, ClickGUARD's post-click data can provide you with numerous meaningful insights into how your landing page visitors are reacting to it. Likewise, heatmapping tools can also be an excellent source of insights on how users interact with your landing pages.
9. Test, test, and test your landing pages! Google Optimize allows you to create multiple versions of your site without having to use coding so you can test them for performance. This is a great tool for improving your shopping cart pages to see which designs drive the most conversions.
Post Click Analysis and Landing Pages
Landing page optimization best practices also address searcher intent which is a major issue in digital marketing strategy (both when it comes to organic traffic and when it comes to paid traffic). If you want to be successful, you have to get it right.
To position your strategy to improve your ROAS and conversion rates, it's critical to perform a post-click analysis. By focusing solely on targeting keywords without factoring in the user intent, you will be going after people that aren't likely to convert. You can expect to see a negative impact on your marketing budget.
What information can you glean by doing a post-click analysis?
The number of pages a user views before a conversion
The length of time users spend on a landing page before a conversion
The IPs that directed them to your landing page and if they came from repeated IPs with or without past conversions
The number of times they scrolled before a conversion
The number of people that engaged with your landing page before conversion
The type of device they used
How do you leverage this data? For example, if you know how many pages a customer visited on your site before they converted, you will be able to write a better copy and determine if your landing page needs to be longer or shorter.
To keep things simple, intent optimization is a way of saying it's not the words someone types into the search box, it's the reason behind it. You could think of it as the "why" behind a search query.
The beauty of landing page optimization is that it helps you identify your converting audience. That's awesome information to have because you can then reconfigure your entire ad campaign plan and redesign your landing pages to cater to audiences that will convert. Even better, it works for every industry. Yep! Every single one!
We've answered the main questions about what landing pages are and how they work to yield a higher number of conversions. If you haven't already figured it out. Most marketers like to use multiple landing pages. Design each landing page to hone in a specific call to action. Well-designed landing pages are the best tool for driving leads to your website.
Google Optimize provides you with a testing mechanism to help you improve the user experience, drive more conversions, and get a higher ROAS, which is the name of the game. Finally, a post-click analysis will give you the insights you need to optimize your landing pages and lead you to success.ClickGUARD is a form of landing page optimization software that weeds out fraudulent clicks that waste your advertising dollars. Call us today to learn more about landing page optimization best practices!