The internet makes it possible to connect with other digitally-minded marketers anywhere in the world within seconds. However, very often, people stumble upon one problem: the language barrier. Earlier this summer, we had a chat with Karina Tama-Rutigliano, CEO at Senior Care Clicks and proficient digital marketer who has some hands-on experience with being a non-native speaker in digital marketing.
What are the main challenges you might face as a non-native speaker in digital marketing – and how to overcome them?
Here's a round-up of tips to keep in mind.
Non-Native Speaker in Digital Marketing: More Common Than You Think
There are more English speakers in the world than any other language, but only 33% of people consider it their mother tongue. How does that play out in the field of digital marketing?
According to research in 2021 by Zippia, here's what we know about digital marketers:
There are over 13,008 digital marketers working in the United States
54.9% of digital marketers are men
Only 39.3% of digital marketers are women
You might assume that the largest chunk of digital marketers speaks English as a native language. But you'd be wrong. Actually, 36.2% of marketing specialists speak Spanish as their first language. French comes in at a not-so-close second with 14.9% and Mandarin Chinese with 10.6%.
The chart below tells the rest of the story.
As you can see, there's a large percentage of digital marketing professionals in the United States whose first language isn't English.
So, how does a non-native speaker in digital marketing make it in a world that makes it difficult for them to communicate?
We caught up with Karina Tama-Rutigliano, CEO of Senior Care Clicks and a non-native-speaking digital marketer, in a recent podcast to learn more about how non-natives can master their craft in the field of digital marketing.

By the way, you can check out the webinar here.
Take Advantage of Multi-Lingual Strengths
Undoubtedly, you worked super hard for your English-speaking abilities. You're proud of that, as you should be.
The field of digital marketing is complex, competitive, and it's always evolving. Non-natives who work to become fluent enough to learn digital marketing terms and be able to communicate with English-speaking marketers are worthy of great respect.
Bilingual digital marketers are ingrained in a culture, background, and life experience that's very different from many of the companies and digital marketers they interact with every day.
Working with digital marketers that have the ability to speak two or more languages and understand various cultures is actually a huge benefit. Why? Because our society is quite diverse. A multicultural team is in the best position to create diverse strategies and innovate.
Tama-Rutigliano told us that while developing a multicultural marketing team can be an enormous asset, non-native marketers face significantly more challenges than English-speaking marketers. As a result, they have to dedicate more time to professional growth than their English-speaking peers.
In addition to learning basic English vocabulary, they also have to brush up on idioms, digital marketing jargon, and appropriate business speech. Tama-Rutigliano says, "It's a lot to handle, but continual learning and training has to become a way of life."
Not Everyone Will Give You an Opportunity
One of the major issues non-native speakers in digital marketing have is earning the credibility of those who speak English.
English natives tend to throw up a huge red flag when collaborating with other digital marketers that speak with a foreign accent and have a limited vocabulary. It creates a massive lack of trust.
Of course, that's not always the case, but it does occur in many areas within the United States (as well as other native English parts of the world).
In our recent podcast, "Building an Agency: In a foreign language", Tama Rutigliano had this to say about non-native speakers in digital marketing: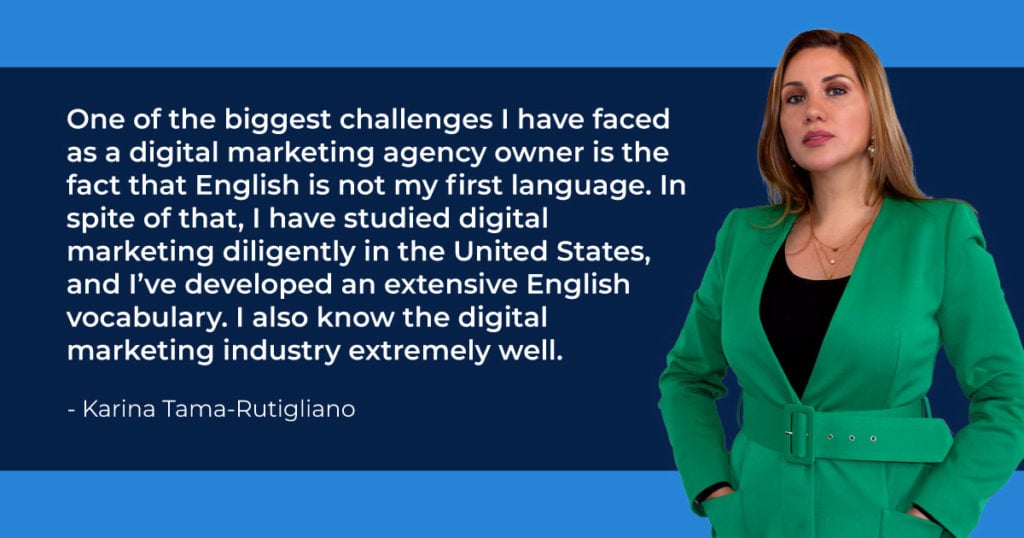 Tama-Rutigliano also spoke to us about how being a non-native English speaker has impacted her business.
She said, "To be honest, at times, the fact that I have a strong accent has limited a few opportunities to acquire new clients. I have realized that some states have higher multicultural populations, and companies in those areas are more conducive to working with non-native marketers. For example, I have an easier time closing deals with companies in New York, California, and Florida, as opposed to the midwestern states where English speakers are the majority."
Digital marketing doesn't always show itself as a fair playing field, and if digital marketers want to be successful, they have to work harder to earn people's trust and be realistic about the lay of the land.
Knowing that most companies prefer to hire native English speakers will give you additional motivation not to quit — sure, you will lose a couple of opportunities you really wanted, but in the long run, you will eventually find what you're looking for (be that a good job opportunity or a big client for closing).
The main point is that you shouldn't quit, because (even though it's not fair and it doesn't sound right), often, you will be rejected not because your skills are bad, but simply because your English isn't on the level they want it to be, and they don't want to spend resources improving it.
Hire A Native Speaker
The harsh reality is that if you're a non-native-speaking digital marketer and you're facing the challenge of not being taken seriously, you're not likely to have the same opportunities as an English-speaking marketer. But, that doesn't mean you can't be successful.
Something you can do to overcome the language barrier and stigma is to hire a native speaker to assist you with your communication needs. An email filled with bad grammar or spelling errors turns people off even if you can prove you know your stuff.
You could assign tasks to the individual you hire to correct your emails, notes, and other forms of communication before you send them off. It's an effective strategy that helps minimize the risk of someone thinking that you lack digital marketing industry knowledge, simply because you can't communicate as well as some others.
Tama-Rutigliano uses this strategy with great success. She encourages non-native speakers to view it as an investment rather than an expense. She notes that speaking English and writing it are two very different things. In having someone correct business messages, marketers will learn to communicate better in writing.
Tama-Rutigliano has found it helpful to hire native English writers, some with degrees in journalism or communications, to help with her writing. She also employs editors to make final edits. She creates a draft for blogs, social media messages, etc. This process has paid off because it's also allowed Tama-Rutigliano to perfect her English.
Keep Communication to a Minimum
When communication is tough, it helps to keep it to a minimum. There are lots of digital marketing positions that require very little interaction with people. As Tama-Rutigliano learned, you can create processes that provide a second set of eyes to polish up your messages.
Another strategy that Tama-Rutigliano shared with us is to send a monthly report to each client with all the details on their account. This saves her a monthly phone call with each client every month.
For digital marketers who work remotely, it's easy enough to find jobs where communication is at a minimum. After all, we do live in the digital age. Agency owners can avoid talking on the phone all day by creating processes to replace calls.
And, since we're talking about diversity, why not create a diverse team to work with? In addition to getting awesome talent, a variety of accents around the water cooler always keeps things interesting.
Always Over-Deliver
Frustrating as it is, a foreign accent presents big obstacles for non-native speakers in digital marketing.
Instead of getting upset about such an unfair dynamic, jump a step ahead of the curve, and stay there. The way to do that is to go the extra mile for your customers every time. That's the key to breaking stereotypes and keeping clients knocking on your door for more business.
Keeping your promises and over-delivering is the surest way to level the playing field and compete with native English-speaking marketers. When your clients see great results, they could care less where you're from or if you occasionally misspeak a word or two. Treat your clients so well, your value will be undeniable.
Summary — Can You Make It as a Non-Native Speaker in Digital Marketing?
Working in digital marketing is an awesome and profitable career. In fact, the job outlook for digital marketing professionals is better than the average profession. The Bureau of Labor Statistics reports that the job demand in the overall field of marketing should see an increase of 10% by the year 2026, which is above the average for all careers.
What's more, the United States continues to be one of the most ethnically diverse countries in the world even though it's not evident by the way the media portrays average citizens. According to a study from NewsCred (as reported in Entrepreneur), 91% of marketers believe there's lots of room to showcase diversity in advertising. To that end, diverse marketing teams are sure to be a huge asset for your company. Someday soon, the opportunities for non-native speakers in digital marketing will be boundless.
In wrapping things up, we wanted to share a quote by Napoleon Hill that Karina Tama-Rutigliano has long relied on for her own inspiration: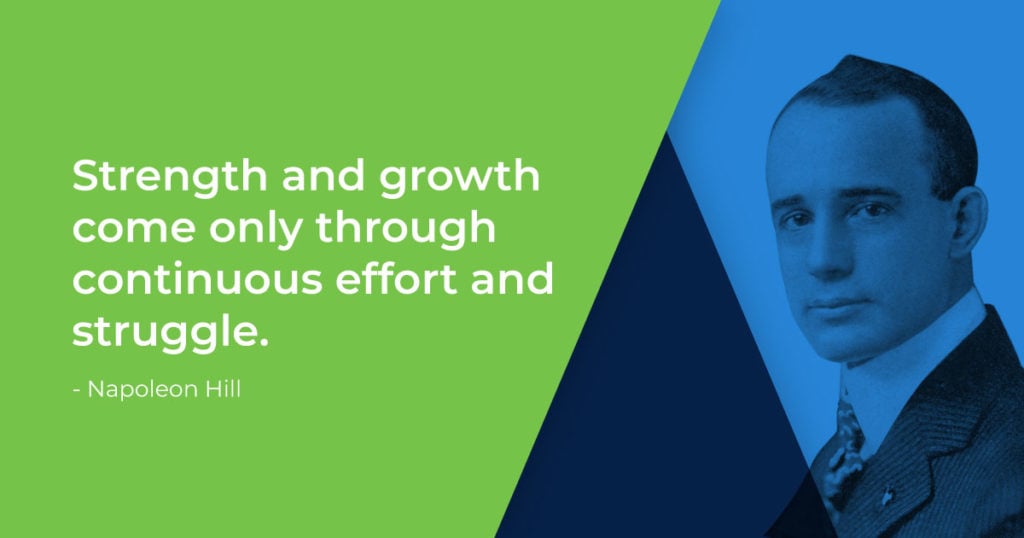 If you're ready to learn more about digital marketing as businesses start to place a greater focus on diversity and inclusion, visit the ClickGUARD blog and tune in to our podcasts and webinars.