To make sure that your marketing activities are efficient and successful, you need proper planning, implementation, and evaluation. You cannot approach Google Ads campaigns through a "set and forget" method. You need to create stable processes, onboarding checklists, and proper monitoring.
One way to do that is through onboarding checklists. If you are working within a Google Ads agency, you will need to align both new hires and new clients with your existing processes. This article shares two relevant onboarding checklists for Google Ads professionals: an onboarding checklist for Google Ads beginners and one for Google Ads customers.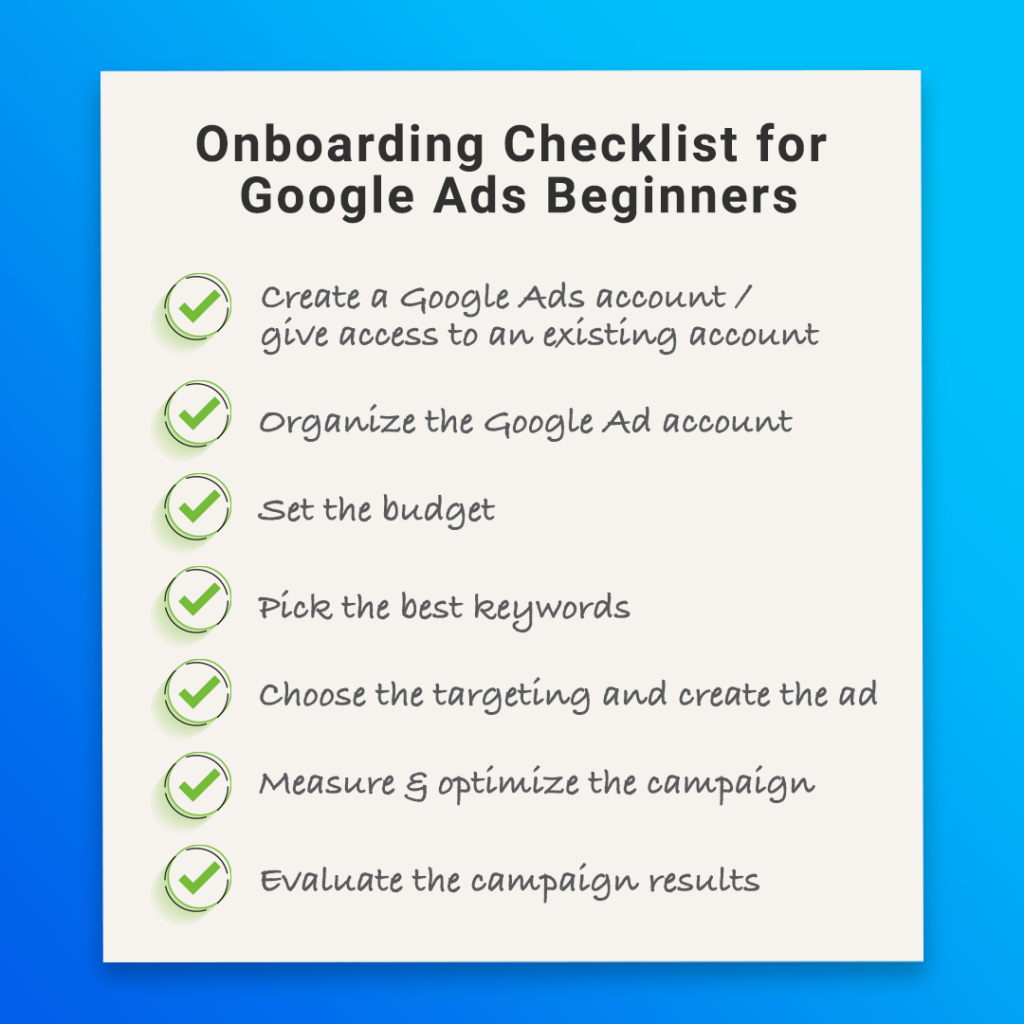 Onboarding Checklist for Google Ads Beginners
When you hire a new person in your marketing agency, you need to provide them with training, monitoring, and regular evaluations. If your new hire will be working with Google Ads, you will need him/her to go through an onboarding process.
In addition to general information about how Google Ads campaigns work and how your company operates, your new hire will need to go through an onboarding process. 
To make things easy and efficient, you can use an onboarding checklist for Google Ads beginners. Here are some points that should be on your list:
Create a Google Ads account or give access to an existing account
Once your new team member has been introduced to the company and is familiar with how the business works, you can start onboarding them on your Google Ads activities.
The first step is to make sure your new team member has access to relevant Google Ads accounts. This may involve giving access to an existing account or creating a new account, depending on your previous activity.
Organize the Google Ads account
The next step in our onboarding checklist for Google Ads beginners is organizing the Google Ads account. Setting up a Google Ads account the right way can make your future work easier. It's important to think about your future marketing plans and set up your account in a way that gives you a nice overview of your Google Ads campaigns. 
There are two levels of organization within a Google Ads account:
The campaign level
Ad groups – you can have multiple ad groups for each campaign
Campaigns represent larger categories with Google Ads, while ad groups can be used to represent more specific sets. For example, you can create a group for every one of your products or services. You should adapt the structure of the new account according to the customer's specific activities and Google Ads needs.
Set the budget
Of course, budget is always important. That is why we are including it on our onboarding checklist. A Google Ads professional should define the budget for each customer campaign before actually implementing the campaign. With Google Ads, you can set up different campaign budgets and different bid amounts based on the goals of each customer campaign.
Choose the best keywords (and types of keywords)
Google Ads campaigns rely on finding relevant keywords. Make sure your new hire is familiar with the Google Keyword Planner (or other keyword tools your agency is using). Before setting up the Google Ads campaigns, he/she should be able to select relevant keywords and decide on how to use them. For example, they can decide whether to use different match types (like broad match, phrase match, or exact match). Then the keywords can be distributed across campaigns, ad groups, and ads.
Targeting and ad creation
Once the Google Ads account is set up and research is done, an essential step in managing Google Ads campaigns follows: effective ad creation and implementation. This in turn requires making a few choices:
Choosing the right landing page
Choosing the right targeting, based on the customer's audience and the campaign goals
Creating ad copy
If needed, creating the supporting graphical elements
Campaign optimization
Every campaign requires careful monitoring and optimization. This is an ongoing process, but it's still relevant for our onboarding checklist. What should be monitored and optimized?
Campaign bids – these can be adapted according to how each ad is performing
Google Ads placements
Targeting – the initial targeting is too broad or too narrow
Copy – you can improve campaign performance by choosing various copy
Campaign evaluation
Each campaign should work with a certain deadline for an evaluation. If even you are dealing with a long-term campaign, you should set up a firm deadline for one or several evaluations. This step is essential for the learning experience of your new hires, but also for creating future campaigns. 
Onboarding Checklist for Google Ads Clients
In addition to implementing an onboarding process for new hires, your digital marketing agency can also benefit from setting up an onboarding process for new clients. This will help inform new clients of your marketing activities while offering transparency for both parties.
Here is our onboarding checklist for new Google Ads clients:
Make sure your paperwork is in order
Before effectively starting work for a new customer, you should make sure that your paperwork is in order: contract(s), NDA (if applicable), invoicing, and payment details. Make sure your workload and payment details are clear and accepted by both parties.
Get the client's contact details
To avoid uncomfortable communication problems, we advise adding this step on your onboarding checklist for new clients: get the client's contact information. Make sure you know who is responsible for each relevant side of the customer's business. For example, you should be able to easily reach both a marketing decision-maker and the company's accounting department.
Make sure you have the client's branding guidelines and resources
When you are running any kind of marketing campaign for a customer, you must make sure your campaign is aligned with the client's branding. This includes the client's brand book (if available), a logo in various formats, a company presentation, any other visual or text resources that the customer wishes to use.
Set up (or gain access to) Google Analytics
Google Analytics is a really useful tool for monitoring marketing performance. If your customer doesn't have an account set up, it is a good idea to have help set one up. This will surely help you on the reporting side of your campaigns, as Google Analytics can offer a lot of information about website traffic, user journey, and campaign performance.
Set up Google Tag Manager (or gain access)
Google Tag Manager is a nice and unintrusive way to manage a website's tags. Since you will be running Google Ads campaigns, will be useful to either have access to – or to set up – your customer's Google Tag Manager account.
Set up or gain access to Google Ads account
As in our previous onboarding checklist, this may seem like an obvious step. However, you should make sure you have access to your client's Google Ads account before thinking about campaign implementation. If the client doesn't have a Google Ads account, set it up and give your client access to it.
Get access to other relevant client assets
Before starting your Google Ads campaigns, make sure you have access to any additional resources you may need. This of course depends on the services that you are offering and on your customer's needs. It may include access to the company website, blog, social media account, existing marketing resources, etc.
Give and get feedback
Last but not least, include a feedback procedure in your onboarding checklist. Communication is important in any kind of business relationship, so providing and asking for feedback is essential for the success of your marketing campaigns. Use the communication established with the customer to improve your work and grow your Google Ads.
While these onboarding checklists for Google Ads professionals aren't exhaustive, guiding your work by them can help your Google Ads agency be more efficient and successful. Having processes and checklists in place will ensure that no step is overlooked and that communication between all parties is efficient.