There is one point in the evolution of any business when you start considering scaling it. In any new entrepreneurial adventure, you will start small, but at one point you will want the opportunity to grow your business further. While a digital marketing agency can operate with just one person, a successful business will grow to include more employees and more customers. Is it easy to scale your remote marketing agency? It doesn't have to be complicated, but for that, you should set up the right processes right from the start.
A Remote Marketing Agency: The Modern Business Model
In the year 2021 (and beyond), everybody needs an online presence and a good marketing strategy. No matter how good a product is, somebody has to make sure their business' story reaches the right audience. That is not going to change any time soon, so a marketing agency can be a productive business.
As modern marketing is a mainly digital field, the work of a marketing agency is focused on the digital environment. That being said, a remote work environment is an appropriate one for such a team. This brings several benefits for both employees and the employer.
From an employer's perspective, you get:
No costs for renting and managing an office
Access to the best talent worldwide
Access to more customers
A diverse team with different backgrounds and experience.
As an employee of a remote marketing agency, you have:
More flexibility
No commuting and therefore more time for yourself
You can work with companies/customers from various places
A good work-life balance
At least one in five agencies operate 100% remote — and the numbers have probably changed quite dramatically during the COVID-19 pandemic.
Are Remote Marketing Agencies Scalable?
Generally speaking, all businesses are scalable, if you have the right processes in place. As we have already pointed out, a marketing agency is a scalable business because marketing services will always be needed.
There are plenty of business opportunities out there for marketing agencies, but how about remote marketing agencies? Well, we think their odds are even better, as they have the advantage of working with both customers and employees from all over the world. This may seem like a challenge at first, but you can scale your remote marketing agency with some good planning and organization.
With proper planning and achievable goals, you can go from a one-person marketing agency working alone at home, to owning a full-stack digital marketing agency. There are plenty of success stories out there, like that of Aaron Metzger, founder of Genius. We've talked about Aaron's story in one of our webinars.
How to Scale Your Remote Marketing Agency: 5 Processes to Put in Place
If you want to scale your remote marketing agency, you must make sure that your business operations are running smoothly. That way you can focus on actually expanding your business, rather than fixing issues.
How do you do that? One way is by having and following a set of well-defined and efficient processes. This will help you both in your daily operations and the expansion of your project.
What does that mean? Simply put, a process is a set of "steps" to follow when doing certain "core" business activities. This helps you do things more efficiently, while at the same time avoiding confusion and ensuring transparency in your team.
Here are some processes you should put in place when scaling your remote marketing agency: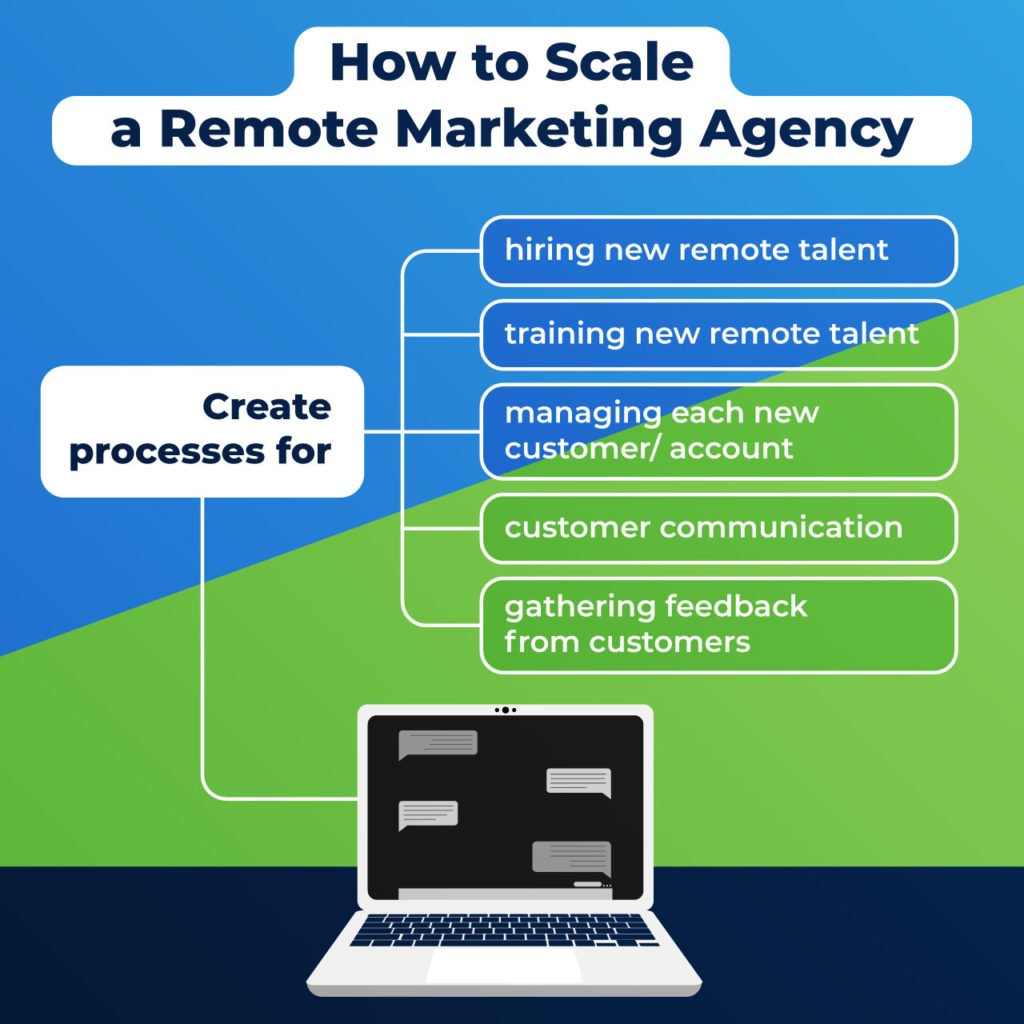 Create a process for hiring new remote talent
How do you hire new talent for your remote marketing agency? Where do you search for new employees? How will the recruitment process go? The process behind hiring new talent should be specific to your business — and it should definitely lie at the foundation of how you scale your remote marketing agency.
Of course, the first step in this process will be searching for candidates and/or posting about your job. A good start for this search is to post your job opening on platforms dedicated to remote work and freelancers, but also on social media platforms like LinkedIn.
To make sure that your hiring process is efficient, you should define your needs and expectations well. It would be best to document these things in your job description or other internal documentation. You should also define the steps of your recruiting process. For example, you could document candidate screening, interview processes, technical tests, or how a final offer will be made.
Create a process for training your new remote talent
Finding new talent for your remote marketing agency is only the first step in building a great team and a successful business. The next will be to onboard your new hires to your team. That is why you should also have a good onboarding process put in place.
How will you integrate your new team member? How will he/she receive proper training? Will you be providing them training materials or some courses? Will your new hire have a mentor? These are all questions you should answer when defining your onboarding process. The sooner your new hire is onboarded, the better he/she can start performing.
In addition to defining these activities, you should prepare a list of tasks and objectives for your new team members. The onboarding process should include at least an evaluation, to help both the company and the new hires make the most of the collaboration.
Create a process for managing each account/customer
You have a business, you have a team, and you have your customers. But how do you manage the work needed to accomplish your customers' goals (so you can truly scale your remote marketing agency)? This is where you will need to establish at least one new process.
You should first define the roles and functions that need to be involved in each action or campaign. Set up a team structure based on these roles and define the tasks for each of them. For example, each customer's campaign may involve a copywriter, a designer, an account manager, and a PPC specialist.
Keep in mind, a role does not have to correspond to a real person. While you're scaling your remote marketing agency, the roles may at times overlap and be the responsibility of the same people. It is however important to define them so that you can complete your team and assign tasks during the scaling process.
Create a process for customer communications
Managing an account is an important part of the work in a remote marketing agency, communicating with the customer is another. The customer should be involved in all your activities, from defining the goals of a campaign to sharing the results. Who will talk to the customer and what information will be shared? Your communication process should define the relations between the actors (customer, account manager, or other client-facing team members), the information shared (from campaign goals to campaigns results), and the form in which communication will happen (written reports, monthly meetings, weekly calls, etc.)
Create a process for gathering feedback from customers
When scaling your remote marketing agency, you will want to know where your business does well and where it needs improvement. That way you will be able to scale on your success and improve your failures. A good way of doing that is by listening to customer feedback.
That is why you will need to put in place a process that helps you collect customer feedback. This process will look different depending on your business and your relationship with your customers. For some projects, a simple feedback questionnaire at the end of a project will do. For more complex projects, you can gather feedback through your team, after each major milestone or activity.
These 5 processes are common to all remote agencies. Defining and following them will help you scale your remote marketing agency easier and more efficiently. Of course, depending on your niche and your objectives, you may need to set up additional processes.
How about you? What processes have you defined in your remote marketing agency?