As you add the final touches on your PPC ad campaigns, you may be wondering what your ROI will look like when your campaigns end. A well-crafted PPC ad campaign has the potential to yield big results, perhaps twice as much as your initial investment. But how do you get to those "big results" — and what are some of the best PPC ads examples to inspire you?
We'll show you how to get the best results from your PPC ad campaigns with some advertising examples that account for the following things:
Design
Color
Content
Call to action
Keep reading to learn more!
#1 Banner Ad Examples That Inspire Urgency
The Google Nest ad is a perfect example of a PPC ad that inspires urgency. If a consumer is in the market for a unique item such as a mini smart speaker like Google Nest, they probably waited for the right price. A time-limited offer compels a target consumer to click on the call-to-action button without thinking about it too much.
Google did another subtle, but wise thing with this ad too. They listed the sales price in bold, followed by the regular retail price (which was crossed off). Hmmm, what would you do with an extra 20 bucks that you could save on something you were going to buy anyway?
You can see the same "strike the iron while hot" pattern in other Google Nest Ads as well, such as the following:
#2 Banner Ad Examples that Boldly Offer a Discount
Audiobooks are a book lover's paradise. Audible tapped into the notion that avid readers like audiobooks because they get the advantage of reading while cleaning the house or driving to work. In deciding to offer a subscription-based service, Audible also leveraged the fact that readers are looking for deals because they invest regularly in good books.
You might also notice the ads display a popular book and they're optimized for mobile devices.
With these things in mind, Audible decided to offer consumers up to three audio books per month at a discounted price — two Audible originals and one of their own choosing.
The catch is, customers have to sign up for a subscription, which keeps the love going. And going. And going… 😊
#3 Display Ads Examples that Introduce a New Product or Service
Mailchimp provides a couple of display advertising examples that demonstrate how to successfully introduce a new product or service. With these ads, Mailchimp prompts viewers to explore how they can grow their business using their all-in-one marketing platform.
The cartoonish logo, the striking colors, and branding quickly grab your attention before redirecting it to text that announces an expansion of their product offering with CRM-powered postcards. Oh, and don't forget to "sign up now", the unavoidable CTA that leads those interested to the landing page.
Take a look at the vertical version of an ad by Mailchimp that leverages a fair amount of white space and is mobile-friendly.
Both versions of this ad are easy to notice, easy to read, and go straight to the point — so simple, even a monkey could understand what it is offering (provided that monkeys would work on email campaigns, of course).
#4 Display Advertising Examples that Issue a Challenge
Invoca created a clever ad that appeals to business owners that are frustrated by not being able to connect calls with ad campaigns and not getting usable data from campaigns. This advertiser leverages the idea that nobody likes to get "schooled".
Did you notice the text on the CTA button? Get started. It implies that you need to cut to the chase before your competition gets in on the game.
#5 Banner Ads Examples that Offer a Value Proposition
Disney made its reputation on the spirit of creativity, so it's no surprise that they came up with eye-catching ad ideas to make a big splash with their new streaming services.
Who wouldn't want to take advantage of an opportunity to stream the best stories in the world, especially when they're delivered by the happiest place on Earth? By offering the opportunity of a free trial, Disney gives its users an unmatched value proposition.
In a stroke of genius, Disney also appealed to the Marvel universe fans by adding images of their most beloved characters.
It was a simply Marvel-ous idea! 😁
#6 The Best PPC Ad Examples that Tell It Like It Is
Sometimes, you just need to tell it like it is. That's the approach Instapage took with this banner ad boasting its ability to be the most powerful landing page builder.
Instapage states its value upfront and center. But there's more to this that meets the eye — they don't make bold claims without backing them up. They also tell you why they offer the best landing page builder.
The way to find out? Please click on that bright blue CTA button to get the answer. Instapage's ad is obviously aimed at digital marketers who already know the value of conversions. What they are interested in is knowing is how Instapage accomplishes that.
With some audiences, it can be highly effective to just deliver that 1-2 punch to get your point across.
#7 Get Clicks with These Informative Display Advertising Examples
Sometimes, simple works. But sometimes, more is better, as these display advertising examples by Chase demonstrate. Credit card offers are a dime a dozen (pun intended). Chase wanted viewers to know that they get more than just a credit card by a major banker with this offer.
The ad isn't overly wordy; yet, it keeps the value coming with offers like:
No annual fee
A $200 bonus
It's always earning
It has a great name-Freedom Unlimited
The CTA button is green for money and green for go.
Here's a similar Chase ad that offers an even bigger bonus of $500. This is a great display ad example that should spark some "food for thought" for savvy business owners.
#8 Give Your Brand Extra Mileage with This Google Display Ad Example
As this ad by PUBG shows depicts, a picture is worth a thousand words. The creator of this ad knew that the chaos and thrill of this game would be tough to describe in words alone. It was a better decision to repurpose the cover of the game to prompt an explosive consumer response and increase its brand awareness at the same time.
This ad boasts a creative play on words by encouraging gamesters to "claim your free season pass and more". PUBG shows that it pays to get your game on with its advertisement's examples.
#9 Creative Banner Ad Examples that Tap Into the Power of Trends
With all the media hype, it's been tough to sort out fake news from true journalism. Recognizing this, The New York Times tapped into the fake news trend with a banner ad example that claims its place as a legitimate news source.
Fake news articles are prevalent on social media platforms, making it challenging to sort out fact from fiction. This ad motivates viewers to spread news based on accurate information and provides them various subscription options in the space of a click.
Real news matters, and your subscription dollars are just as welcome. Wink-wink 😏.
#10 Display Ads Examples that Wake Up Your Senses
Lexus sought to emote a smoldering, sexy vibe for this ad in keeping with their high-end auto brand. The product they're actually marketing here is a new speaker system for Lexus ES. You might not know that unless you're curious enough to click on the CTA.
Emotions spark intrigue and these ads do a fine job of it. In the following example, Lexus switches from the sense of sight to sound with the addition of multiple speakers.
These ads are hotter than a listing full of sound system specs. Arousing the senses is an innovative way to wake up your target audience and get them to click your CTA to learn more.
An ad that evokes the right emotions gets your consumers racing to your CTA button.
#11 Display Advertising Examples that Speak to the Heart
There's no getting around it — these are tough times for healthcare facilities. Mount Sinai used this context to resonate with members of its community. The ad speaks to the hospital's commitment to continue delivering quality healthcare in spite of steep societal and economic challenges.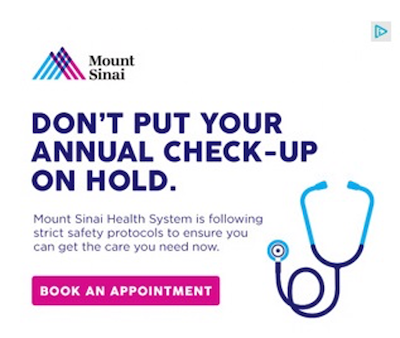 The message is clear. You can safely get your health needs met, so don't put it off.
Authenticity is magnetic and empathy is what brand love is built on.
#12 Display Ad Examples that Highlight Specific Pain Points
In the interest of creating an effective ad, SAP offers an animated video display ad example of B2B marketing. It leads in with a concise statement that speaks to the problem of having a disengaged workforce.
You can see how SAP effectively takes viewers from the problem to the solution of creating a positive and productive work environment. Viewers get to the features by clicking on the CTA.
This ad demonstrates how to use pain points in a positive way to alleviate the pain in your ad campaigns.
As you can see, there are a variety of creative, innovative ways that you can appeal to your target audiences. Get it right, and you can expect an influx of qualified leads, greater conversions, and greater ROAS. Get it wrong, and your ad spend goes through the roof with no visible results.