As a PPC marketer, you want to be the best, right? That means you have to mine as much new information as you can about what's happening in the world of PPC – so it's only natural that you're looking for the best PPC blogs in 2021.
Obviously, PPC blogs are one of the best resources for learning about upcoming changes to the PPC platforms, as well as draw inspiration for your own future PPC campaigns.
Don't worry, you won't have to dig too deep to find the best PPC blogs in 2021, we've listed them for you right here (we're digital marketing nerds, after all! 🤓).
Curl up, get out your reading glasses, and settle in for some great reads on PPC ad campaign strategies.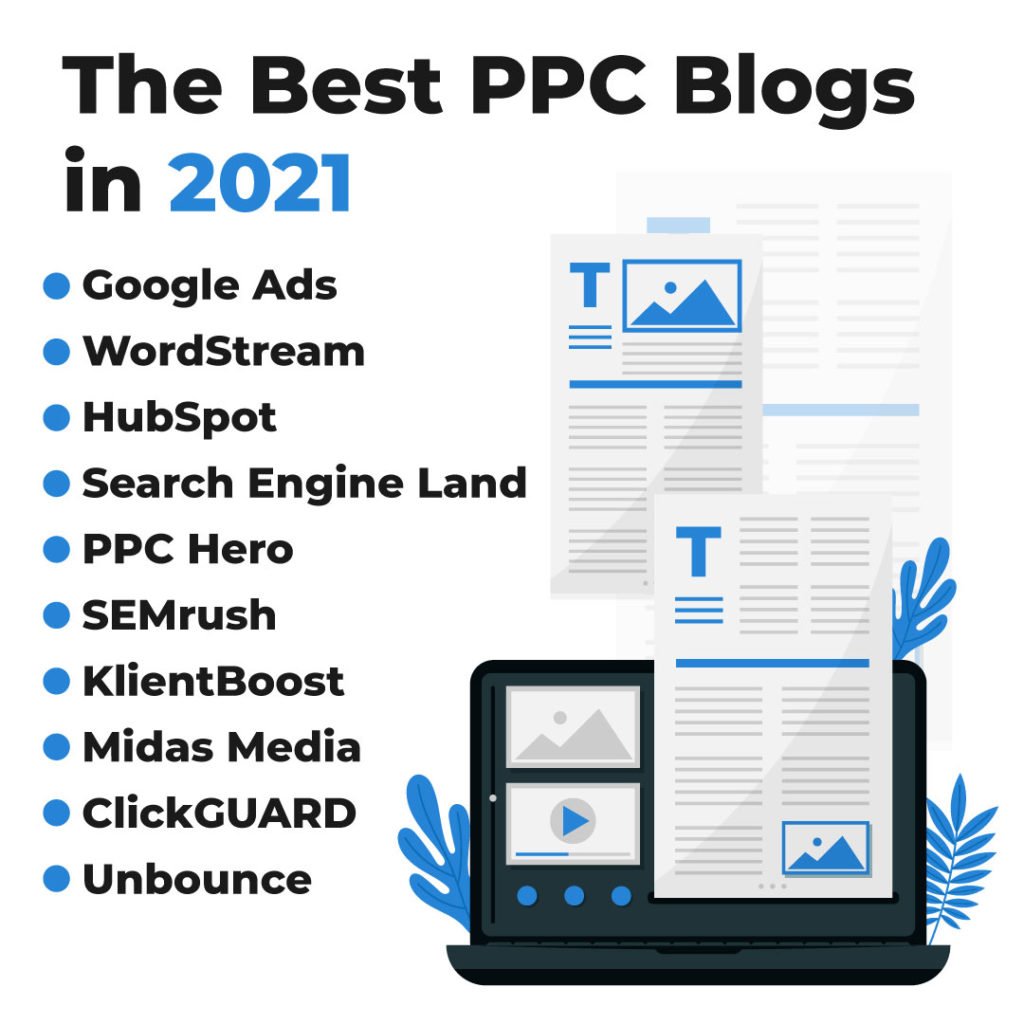 Google Ads Blog
A great place to start is with the Google Ads blog. Let's face it, the Google Ads platform is the largest and most popular PPC network, so why not bookmark their blog and put it at the top of your list to get the latest scoop on the newest trends and updates in PPC strategies?
Here's what you can expect to find on the Inside Google Ads blog:
Tips on how to make your PPC campaigns profitable
Updates on new features
Changes in existing features
Tips and techniques that give you greater insight into PPC advertising.
Carve out some time for this blog and you'll glean lots of great information so you can stay at the top of your game.
Top Blog Posts:
https://blog.google/products/ads-commerce/preparing-developers-and-advertisers-for-policy-updates/
https://blog.google/products/ads-commerce/youtube-music-audio-ads/
https://blog.google/products/ads-commerce/generate-leads/
WordStream's Blog
Another PPC blog that's chock full of great information on PPC marketing is WordStream's blog. This blog makes for interesting research because it unravels all the techy terms and manages to present information in a highly useful and understandable way.
You'll really want to add this one to your list of favorite PPC blogs in 2021, especially if you're a visual learner because these advertising blogs use different types of engaging media such as:
PPC guides
Tutorials
Step-by-step instructions
Webinars
Infographics
Whitepapers
Videos
If you're into podcasts, you'll really enjoy listening to Goal Talk, which is a newly released podcast where you can listen about makingstream PPC campaigns more efficient.
And speaking of podcasts, we also have a podcast here at ClickGUARD, it's called "Beyond PPC" and we discuss all things PPC…and beyond (if the name wasn't telling enough 😉). You can check it out at this link.
Top Blog Posts:
https://www.wordstream.com/blog/ws/2020/11/02/promote-your-business
https://www.wordstream.com/blog/ws/2016/05/23/facebook-ad-examples
https://www.wordstream.com/blog/ws/2017/07/05/online-advertising-costs
HubSpot Blog
HubSpot is one of the industry leaders for inbound marketing, sales, and support software. It's not surprising that they have pretty stellar content on paid search blogs too, then, right?
What makes this advertising blog so popular is HubSpot's commitment to useful, quality content. There's no fluff here! Just really intriguing, thought-provoking stuff you can use right away.
HubSpot's search marketing blog offers the following types of content from a wide variety of marketing experts:
Hands-on guides
Infographics
Surveys
Easy-to-read content
Make HubSpot part of your regular reading hub for amazing content on PPC ads and other digital marketing topics.
Top Blog Posts:
https://blog.hubspot.com/marketing/youtube-video-advertising-guide
https://blog.hubspot.com/marketing/google-ads-certification
https://blog.hubspot.com/marketing/google-adwords-ppc
Search Engine Land
If you're looking for a greater scope of information on all things related to PPC blogs and search engines, enter the world of Search Engine Land. You'll get a lot more here than just tips and tricks on PPC campaign strategies.
Search Engine Land also covers things like:
Daily breaking news
Industry trends
Feature announcements for Google Ads
Informational search marketing blogs and other blogs
Search engine updates
Articles by subject matter experts across all digital marketing topics
And if you want other marketers to search for what's going on in your land, you can share your own insights with them by applying to be a contributor. Getting on one of the best PPC blogs in 2021 doesn't sound too shabby, right?
Top Blog Posts:
https://searchengineland.com/top-tips-to-improve-your-google-quality-score-341168
https://searchengineland.com/5-tips-for-starting-international-ppc-338493
https://searchengineland.com/life-after-google-shopping-dont-be-a-one-trick-pony-335781
PPC Hero Blog
Turn yourself into a PPC marketing superhero when you take in all the fantastic reads on PPC Hero blog where you'll find lots of great information on Google Ads, Facebook Ads, and more. Hanapin Marketing, a leader in the search marketing space, puts out PPC Hero blog, so you can expect the best of the best here:
Basic strategies for PPC campaigns
Information on advanced bid management strategies
A comprehensive list of resources on search engine marketing
Webinars
Informational blogs
Case studies
Tips and insights on search marketing strategies
Grab your marketer mask and cape and subscribe to the PPC Hero Blog Series to arm yourself with the confidence to combat the problems in your PPC campaigns.
Top Blog Posts:
https://www.ppchero.com/the-beginners-guide-to-setting-up-a-google-ads-account/
https://www.ppchero.com/ultimate-guide-to-google-ads-remarketing/
https://www.ppchero.com/ultimate-guide-to-adwords-quality-score/
SEMrush Blog
SEMrush has a healthy following of marketers and for good reason.
Here are some reasons to check out the SEMrush blog:
They have over 7,000,000 subscribers worldwide
They're a trusted leader in SEO, PPC, content, social media, and competitive research
They have a large number of contributors and experts with experience in large paid campaigns
You'll find lots of information to help you with keyword research and competitor analysis
You get a lot with a subscription, but SEMrush also offers free information, so it's worth your time to check it out.
Top Blog Posts:
https://www.semrush.com/blog/what-is-ppc/
https://www.semrush.com/blog/ppc-tools/
https://www.semrush.com/blog/how-to-conduct-a-complete-ppc-audit/
KlientBoost Blog
There are no better experts to learn from than marketing agencies that successfully provide great ROI as managers of hundreds of PPC accounts. KlientBoost's teams have gotten PPC marketing down to a science and the results speak for themselves.
Here's what makes them such standouts — they're happy to share their tips and tricks with the rest of the world on how to give your PPC campaigns a boost. This is one of the best PPC blogs. It doesn't disappoint!
Here's why PPC marketers like KlientBoost blog:
They offer super comprehensive guides
You get lots of great advice on digital marketing
The how-to tutorials simplify learning
Top Blog Posts:
https://klientboost.com/ppc/ppc-keyword-match-types/
https://klientboost.com/ppc/adwords-bidding/
https://klientboost.com/ppc/single-keyword-ad-groups/
Midas Media PPC Blog
Midas Media's PPC blog aims its pay-per-click blog at digital marketers and business owners. They put marketers in the driver's seat by sharing the best of the best in PPC strategies for paid search activities. Midas Media gives you actionable insights that you can implement starting today.
Here are some of the things that make this one of the best PPC blogs in 2021:
PPC management tips
Conversion optimization strategies
Blogs on search engine optimization
Blogs on content marketing
Blogs on social media marketing
Blogs on email marketing
ClickGUARD Blog
There are lots of good advertising blogs with lots of good information on the internet, but there aren't as many that focus on something that's a major problem in PPC campaigns — click fraud. That's what makes the ClickGUARD blog so interesting and so valuable!
No matter the size of the company, there's a big chance you too are plagued by click fraud problems.ClickGUARD offers a blog that's primarily dedicated to teaching you strategies for reducing instances of click fraud on your PPC campaigns, but you can find a lot of useful information on other PPC niches here too (and we're not just saying this because, cough-cough, this is our blog).
Guard your strategies with information like this:
High-quality content and insights about click fraud
Lots of information on how to manage PPC campaigns effectively
Actionable guides that are easy to understand and address common PPC issues
Unique content than what you'll find on other PPC blogs
Top Blog Posts:
http://www.clickguard.com/blog/bot-farms-and-click-bots-invalid-clicks/
https://www.clickguard.com/blog/google-ads-refund-google/
http://www.clickguard.com/blog/the-best-google-ads-scripts/
Unbounce's Blog
If you're interested in becoming a well-rounded PPC marketer, you'll want to check out Unbounce's blog. This blog gives you information on landing pages, conversion rate optimization, and a host of other topics.
Here are some good reasons to check out this PPC blog:
They're dedicated to educating and empowering marketers to grow their businesses
They have the skinny on the best conversion tools
You'll get content on landing pages and conversion rate optimization that you won't get on a lot of other blogs
They offer valuable content for beginners and experts
It's a great PPC blog where you can bounce around some great ideas.
Top Blog Posts:
https://unbounce.com/landing-page-examples/best-landing-page-design-examples/
https://unbounce.com/landing-page-examples/high-converting-sales-pages/
https://unbounce.com/landing-page-templates/lead-generation/
Be sure to bookmark these top 10 best PPC blogs and follow them throughout 2021! Knowledge is the key to having success with your PPC campaigns — and thanks to the wonder of the internet, you can get a lot of knowledge for free. You just have to reach out and "grab" it. 😃