It is no secret that Google Ad Campaign Examples are all over the internet. Undeniably, Google has a massive influence in the marketing world, and numbers show it: no less than 3.5 billion Google searches are done every day. If you look at this simple bit of data, you understand quite clearly that Google Ad Campaigns are an effective way to drive customers to your site, product, or service.
In its most basic form, advertising is the promotion of a product or service. But good advertising, great advertising, is an opportunity to forge a deeper connection. It builds trust between brand and customer. It captures our attention and makes us remember the name of a business. Advertising says something about who we are and what makes us tick (or click, hehe)
In this article we'll give you examples of 5 different Google Ad campaigns, tell you why they work, and provide a few clear takeaways to elevate your advertisements.
Video Google Ad Campaign Examples
Video ads are a compelling and effective way to capture the attention of customers across platforms like YouTube and other partner sites. The Google Ads help page lays out the different forms of video ad options and details the benefits of each.
As noted on the help page you have the option to "Add targeting to your ad campaigns," which allows you to reach your ideal audience based on metrics including what content they view and their interests. Video ads are especially effective as storytelling tools to engage a viewer through meaningful content and messaging about your brand, product, or service.
The first example we'll look at is a video ad for Squarespace, the website building and hosting company.
Squarespace
Why it works:
1) Eye-catching visuals
2) Emotional investment/storytelling
3) Compelling call to action
The reason this video ad is so effective is threefold. The visuals are eye-catching and make you want to keep watching, which is an important aspect of good video advertising. By incorporating storytelling through a brief journey with John Malkovich, the video keeps the viewer engaged.
And finally, the compelling copy at the end of the video is an example of a persuasive and inspiring call to action: Make Your Next Move. A powerful call to action like this sells the value of the product.
Reebok
Why it works:
1) Emotional core and relatability
2) Brand messaging
3) Clickable CTA (call to action)
This is an easy video ad to love. Reebok reminds us that the average human lifespan is made up of 25,915 days, and the company uses a short (1:16) video to inspire us to make those days count.
The ad depicts a woman running through life in reverse – from late middle-aged to midlife and back to childhood. It's a beautifully relatable and inspiring video that draws the viewer right into the story. The text at the end of the video – Honor the Body You've Been Given – is a perfect way for Reebok to communicate what their brand is all about, and they close it out with a clickable CTA that takes you to their campaign website.
Inspiring and actionable is the winning combination in this ad.
Search Google Ad Campaign Examples
Search ads are a popular PPC campaign displayed when a user searches for a product or service.
They're a compelling investment by nature. Since a customer is already searching for what you're offering, you just need a high-quality, effective ad to show up when their search triggers it.
Cars.com

Why it works:
1) Call to action
2) Clear and straightforward services
3) Clickable options: sitelink extension
Cars.com is the second largest automotive classified site in the United States. With that domain name, they've positioned themselves perfectly for killer search ads.
This ad works well because it gives the customer easy and straightforward options including new and used cars, price comparison, and best local deals. Essentially, everything you were probably looking for when you searched "cars" is right at your fingertips.
The ad also gives viewers simple call to action statements like "book your appointment today" and "shop for cars online" and follows that up with sitelinks that a customer can click to get started.
GoDaddy

Why it works:
1) Great call to action
2) Immediately communicates an irresistible offer
3) Builds trust though reviews
GoDaddy practically drags you into this ad with its powerful and concise call to action – Create Your Own Website – and follows that up with the irresistible words: 100% Free. The ad also positions GoDaddy as an "Expert" providing 24/7 support, which is appealing to someone new to website design.
The ad also builds trust with the excellent rating of 4.4 out of 5 stars and nearly 2,000 reviews. A high score rating demonstrates quality service and makes customers more likely to click. If you've got the ratings, use 'em.
Display Google Ad Campaign Examples
Display ads are the visual ads that show up when you're watching a YouTube video or using an app. They're a great way for businesses to reach customers and build awareness, and the added element of a visual gives you an opportunity to draw people in.
Since these ads are everywhere, you need something creative and compelling to stand out and reach your target audience.
We've got you – effective display ads use a few simple strategies to get the job done, and these examples showcase some of the best.
Progressive
Why it works:
1) Vibrant colors and high-contrast
2) Easily recognizable brand
3) Simple and to the point
This banner ad by Progressive uses bright colors and high-contrast for an attention-grabbing visual. It focuses on the brand character (Flo!) that we're familiar with, which is important in brand-building and brand choice.
And perhaps most importantly, Progressive uses the ad space to immediately communicate its offer – savings. That's really the main thing we want to know, right?
Environmental Defense Fund
Why it works:
1) Call-to-action
2) Offers incentive ($1-for-$1 match)
3) Appeals to what matters to target audience
The Environmental Defense Fund makes use of the display ad space they have by positioning compelling copy alongside an alarming visual. The call-to-action is strong: climate change matters to people (almost 7 in 10 think it's an extremely serious problem) and this ad both taps into that urgency and gives people the chance to do something about it.
Shopping Google Ad Campaign Examples
In this case, we'll just let the numbers speak for themselves: Shopping ads account for 63% of paid clicks for retailers. That's as good a reason as you'll get to use these ads!
If you're unfamiliar with the term "shopping ads", learn that they are simply the product advertisements that display a product and its price in search results. You've likely seen them pop up on Google when you're searching for something like "winter coats" or "coffee mugs."
Let's take a look at a few shopping ads and why they work.
Dell (Inspiron Notebook)

Why it works:
1) Sells an experience
2) Builds trust through reviews
3) Clearly communicates offer
The first rule of product marketing is that you're selling an experience, not a product. This ad for a Dell laptop uses the small amount of space it gets in the description field to do just that. Dell makes us envision kicking back, watching our favorite shows or connecting to our favorite sites, which is exactly what we want to do with a new and trustworthy laptop.
That's the kind of ad that makes people click.
Next, the customer ratings show 4/5 stars with over 1,000 reviews. Since it's actually been shown that customers distrust 5/5 star ratings, Dell's not quite perfect scoring is not a negative factor for their ad. People want authenticity and will trust honest reviews rather than suspiciously perfect reviews.
One of the most important aspects of a good shopping ad is clearly communicating your offer so that a customer doesn't have to search for pricing. If a strong offer isn't communicated in the ad, your customer will likely click over to the next ad that is more upfront. Luckily for Dell, their price and enticing offer (free shipping, no tax) is clearly listed.
Nike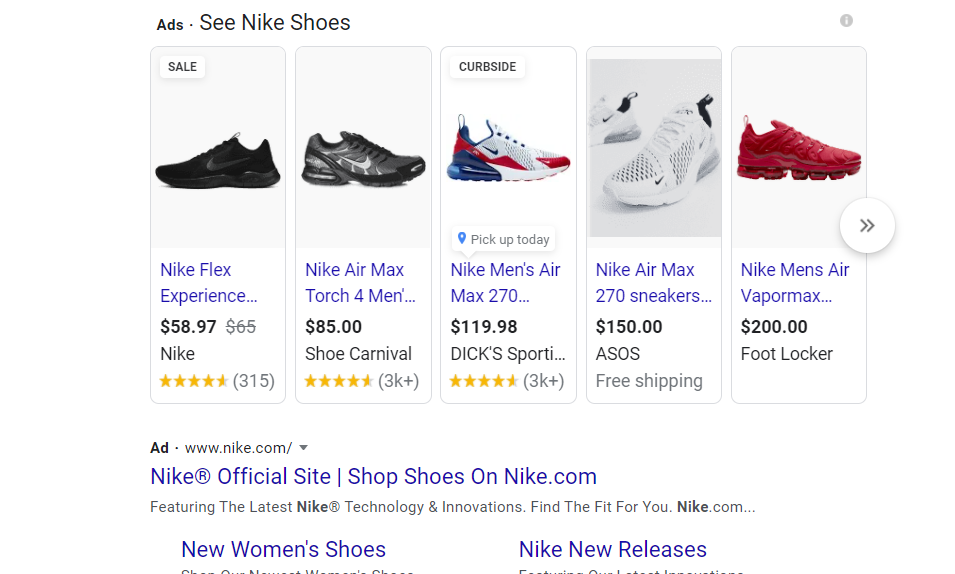 Why it works:
1) Shopping ads positioned above search ads
2) Communicates product sale
3) Good visuals
This set of Nike shopping ads demonstrates the effectiveness of shopping ads in general. As you can see, the shopping ad shows up first in search results, followed by the Google search ad below that takes you to the official Nike site.
Using a "Sale" tag on the ad is a great way to grab your customer's attention, as is the use of bright visuals to show the product.
Local Google Ad Campaign Examples
Local advertising allows you to target a customer base that can physically visit your business, and capture the unique needs of your local market through messaging. Making use of local Google ads can help you reach a relevant audience and become known within your community, which is always great for word-of-mouth marketing!
Local in San Diego
Why it works:
1) Easy mobile display
2) Builds trust through reviews
3) Simple and straightforward
This is an example of a simple, straightforward ad for a company that provides the service you need where you need it. The ad displays at the top of the page on your mobile device, lists business hours as 24/7, has excellent reviews, and provides a clickable "Call" option.
For a local service ad, this non-flashy style with relevant info and easy, at-your-fingertips access is a winner.
Local Coffee Maker
Why it works:
1) Targeted local market
2) Convenience
3) Communicates strong offer
These local ads for coffee makers shows why local is such an effective option for advertising campaigns. By searching "coffee makers near me," a customer can see all the options close enough that they can purchase the product today.
Each of these ads communicates customer convenience in some way, whether by using a "Curbside" pickup tag or "Pick up today" tag. The Hamilton Beach coffee maker labels their ad with a "Sale" tag, which is always an enticing word.
Google Ad Campaign Examples: The Lessons
A few clear takeaways pop out from all those advertisement examples. Whether you're using video, display, search, shopping, or local, your ads should do several key things: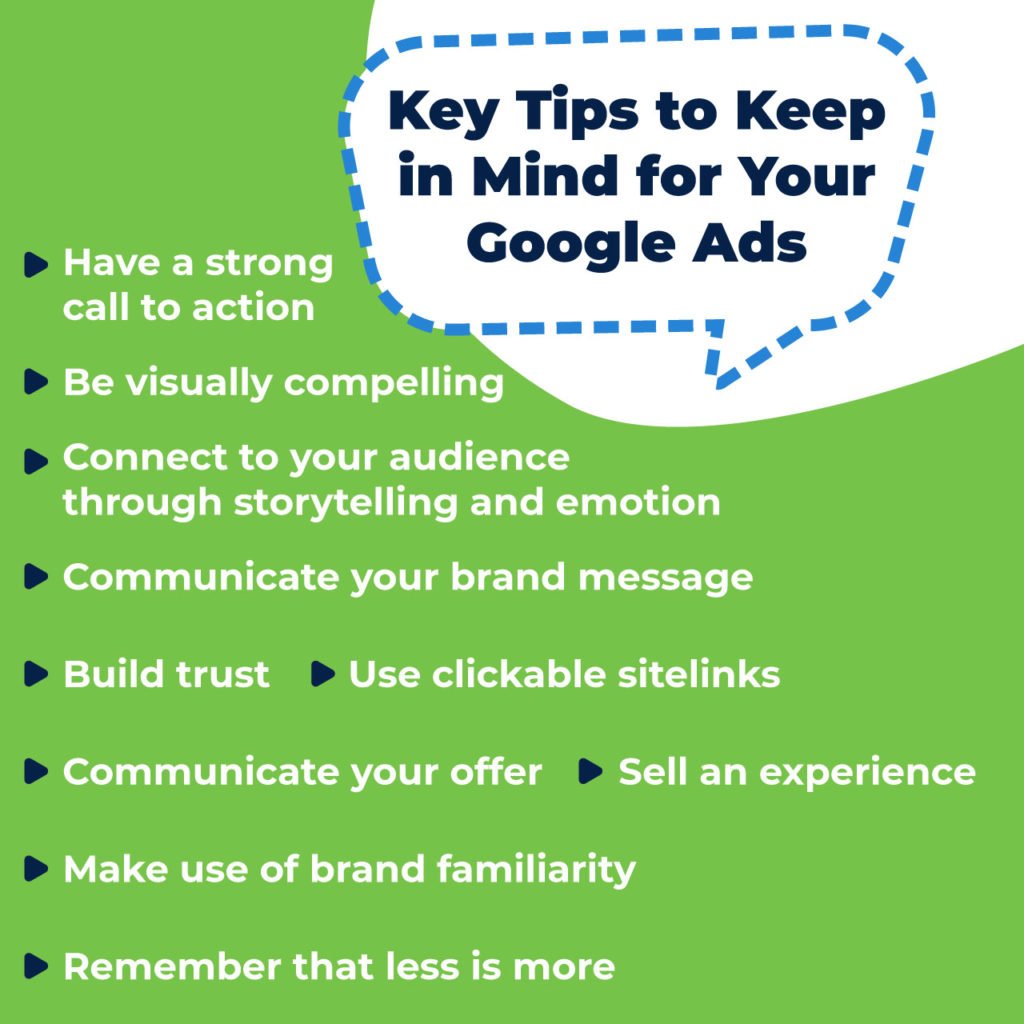 Have a strong call to action
Be visually compelling
Connect to your audience through storytelling and emotion
Communicate your brand message
Build trust
Use clickable sitelinks
Communicate your offer
Sell an experience
Make use of brand familiarity
Remember that less is more
As we've seen, making use of these lessons results in concise and compelling ads.
And hey, just as a reminder: take good care of your ads. Click fraud is rampant and can really harm your PPC budget. If you haven't set up protections against click fraud, competitors can continually click on your ads until your PPC daily budget is depleted, preventing your real customers from viewing them. The ads you'll be creating after you put some of these takeaways to use are the kind of ads your customers want to see!