A full-stack marketing agency's work is never done. The tasks within a marketing agency are exciting but diverse. For each of these marketing activities, you must be using different marketing tools – from Google Analytics to Google Ads, and various optimization tools. But the technology stack of a marketing agency wouldn't be complete without efficient management and communication tools.
Why Does Your Full-Stack Marketing Agency Need Management and Communication Tools?
Good management and efficient communication are essential for any kind of business. Your full-stack marketing agency is no exception. To have good results in your work, you will need to manage your tasks, your customers, and your team as efficiently as possible.
Within a team, good communication is vital. Especially in the context of remote and hybrid work, communication can raise many challenges. Misunderstandings will happen, but you should try to minimize them, by offering your team diverse means of communication.
In our tech-focused world, all of these task management and communication challenges can be solved with the help of the right software. Technology can help you overcome most challenges, you will just have to choose the best management and communication tools for your agency.
The Best Communication Tools for Full-Stack Marketing Agencies
Considering that all of your work is done on a computer and most of it requires an internet connection, "communication" can take many shapes. Yes, you can communicate by talking to your colleagues, but also by sharing projects and documentation. These tools are not only useful for "talking", but also for working together on collaborative tasks. Here is a look at some of the best communication and collaboration tools out there.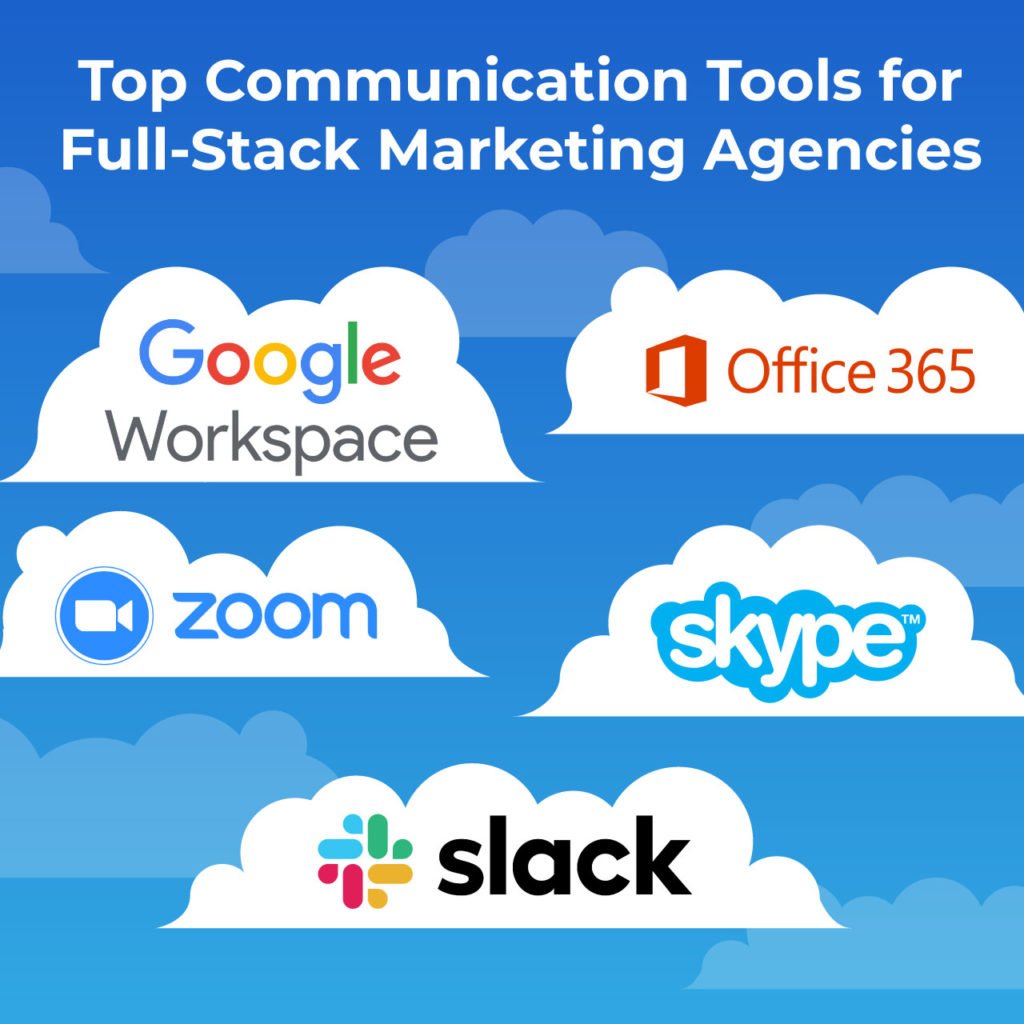 Complex collaboration tools
Google Workspace
Google Workspace (formerly known as Google Suite) is a collection of business, productivity and collaboration tools developed and powered by Google. It is mostly known for its communication and collaboration tools. The primary Suite tools include:
Gmail – well, you've guessed it, this is Google's email service
Drive – great for saving and sharing all kinds of documents, like Docs, Sheets, Slides (which are also part of Google Suite), and files (like photos, recordings, and so on)
Forms – a tool that can be used for surveys and feedback forms
Calendar – can be used to share event information, but also team availability
Meet – a great communication tool for video conferencing
Pricing: starting at $5 per user per month or $50 per user per year plus tax
Microsoft Office 365
A set of services similar to those offered by Google, but powered by the team at Microsoft. Office 365 also allows cloud-based collaboration, file sharing, instant messaging, calls, and shared calendars. Within Office 365, the services are provided through:
OneDrive – cloud storage, useful for saving and sharing documents
Word, Excel, and Powerpoint for document collaboration
Microsoft Teams – for group chats and video conferencing
Calendar – useful for events, meetings, and sharing availability
Pricing: starting at $8.25/user/month.
Video conferencing and instant messaging tools
While the previous tools are highly useful and also contain some kind of messaging tools, they aren't necessarily the most popular ones. Both Google Meet and Microsoft Teams are great video conferencing tools that have gained popularity during the 2020 pandemic. However, there are popular alternatives out there. Here are some of them:
Zoom
Zoom is a great video conferencing tool that has gained a lot of popularity during the 2020 pandemic. It includes chat/ messaging, email invitations, video conferencing, screen sharing, reporting, and statistics. It offers integration with some popular marketing tools like Hubspot, Marketing, or Salesforce.
Pricing: the Basic plan is free but limited to 100 participants and a 40-minute video session; paid plans start at $13.99 per month
Skype
Skype is one of the oldest and most popular communication tools out there – a real "classic".. Like its competitors, it offers chat, video conferencing, instant messaging, reporting, and statistics. It also offers SMS integration, several third-party integrations, and voicemail.
Pricing: a basic account is free, premium accounts with additional features start at €4 per month.
Slack
Slack is essentially an instant messaging app that also offers plenty of additional plugins. It functions as a team collaboration and communication software tool for both small teams and larger companies. Key features include real-time messaging, archiving, and intelligent search functionalities, file sharing, etc. Slack also includes many useful integrations – e.g. with calendars, social media, etc.
Pricing: there is a free basic plan; paid plans start at $6.67 per user per month.
Top Management Tools for Full Stack Marketing Agencies
How do you manage tasks within your full-stack marketing agency? There are many strategies to follow, but there are also many tools that can help. Here are some of the best:
Trello
Trello is a leading project task management software. It offers team collaboration tools in a simple and easy-to-use application. Trello helps organize your team's time and tasks through boards, lists, and cards. Users can collaborate within the cards and boards, share files, and leave comments.
What is Trello lacking? Trello has been designed for small and independent teams. It has no reporting or time-tracking features, which might indeed be helpful, especially if you are working with a larger team.
Pricing: The basic plan is free to use. The paid plans add various automation and integration features. 

Bonus track: One FREE and recommended "hack" for Trello, is downloading the Pro for Trello extension for enhanced interface and awesome usability to make the most of your project management.
Asana
Asana is a great flexible management tool that enables task management and collaboration. An interesting feature is the creation of workflows that can automate recurring tasks. The UI is pretty intuitive and the tool itself is very customizable.
Many of Asana's functionalities are handled through integrations, which may not be ideal for all users. It is a good tool for businesses, but it may not be ideal for freelancers or very small teams.
Pricing: There's a free plan for up to 15 users. The Premium and the Business plan offer many additional features: timelines, reporting, automation rules, advanced integration, etc.
Zoho Projects
Zoho Projects helps businesses keep track of tasks, collaborate, and run reports. It offers useful features like Gantt charts, but also integrated communications tools, like real-time chat and forum pages.
The Gantt charts may be a bit too complex for some users and the reporting breakdown may not be enough for large teams. Zoho Projects also allows you to share documents from within the tool.
Pricing: There's a forever free version with basic features and a limited number of users; the paid plans contain additional features and start at $3 per user.
Monday.com
Monday.com offers a nice modern UI, making the user experience very pleasant. It is an intuitive and simple project management software that offers a lot of flexibility and transparency. What the tool may lack for some users is features like automation and the possibility of setting recurring tasks.
Pricing: There's no free plan. Paid plans start at $39/month for five users.
Kanban Tool
Kanban Tool is mainly known as a good tool for agile development. It allows users to visualize workflows and offers time-tracking functionalities. It makes collaboration and task-tracking easy with notifications and reporting.
The tool is not aimed at freelancers or very small teams, and that is reflected in their pricing plan. There is however a free plan for up to two users and two project boards.
Pricing: Paid plans start at $5/user/month and support unlimited boards.
What to Look for When Choosing New Management and Communication Tools?
This list of tools is by no means an exhaustive one. It includes tools that have already proven to be efficient. There are, of course, alternatives out there and new software will also always be invented.
No matter what tools you decide to use – one of the ones we've mentioned or alternatives, there are a few things you should consider. Here are some tips on what features would be useful for your full-stack digital marketing agency:
Task management: especially if your digital marketing agency consists of a bigger team, it is very useful to have an overview of past and future tasks, as well as team accountability for each task.
Collaboration: no matter the kind of management and communication tools that you decide to use in your full-stack marketing agency, it is essential that they support team collaboration, especially if you are working in a remote/hybrid environment.
Integration: management and communication tools are good, but integrated marketing and management tools are better; do your tools integrate easily? While this may not be a necessity, it can help you save time and automate some work processes.
The best management and communication tools in your full-stack marketing agency are the ones that fit you. Some teams may do great with Trello, for others, this specific tool might not be enough. There's something for everyone, though, and if there's an essential tip to keep in mind, it's this: no matter what tools you choose, make sure your team is informed and trained to make the most out of them. 

One thing we have learnt from our 1-on-1 interviews with industry-leading agency owners such as Karina Tama, Roger Parent and Aaron Metzger, was it's not all about the "perfect tool" or "perfect fit" if not finding the best solution for your agency. Test different tools and build the right environment for your people, agency and industry vertical.