As a digital marketer or entrepreneur, you know that running a business online isn't a walk in the park. Running smart, savvy ads to get your product or service in front of customers, generating revenue, and fighting off bad ad traffic all take time, effort, and commitment.
Luckily, tools like Wicked Reports exist to make life a little easier, specifically when it comes to funnel management and attribution modeling.
If you've never heard of Wicked Reports and aren't sure what it can do for your business, we've got your back.
What are Funnel Management and Attribution Modeling?
Before diving into the benefits and limitations of Wicked Reports, let's start with the basics. What are funnel management and attribution modeling, exactly?
As a successful marketer, you know that all roads lead to the sale – your campaign strategy, the ads you choose to display, website traffic generated from clicks, etc. The conversion in the end is important, of course, but knowing how and why the customer found and chose your product or service is valuable knowledge. Did your Facebook page lead them to you? A display ad? Did they visit your blog, then return at a later date to finally make a purchase?
This is the insight attribution modeling gives you. According to Google, an attribution model is the rule, or set of rules, that determines how credit for sales and conversions is assigned to touchpoints in conversion paths ("touchpoints" being those stops/clicks along the customer's journey).
What about funnel management, you ask? A sales funnel is a visual representation of your customer's journey. Funnel management is overseeing this process to ensure you don't lose customers when they're "in" your funnel, and so you can provide them with understanding and personal care along their path. None of us want to be treated like a "sale," and the best marketers manage their sales funnel with that in mind.
Okay – both these concepts clearly have a purpose, but what makes them so important when it comes to digital marketing? And what does Wicked Reports have to do with it?
Why are Funnel Management and Attribution Modeling Important?
A successful and thriving business boils down to having a deep understanding of what works (and doesn't) for your business and your customers so you can do more of the good and less of the bad. Funnel management and attribution modeling work together seamlessly for this exact purpose.
To drive home how important it is to have deep insight into your customer's journey, consider this: Most sales are made at the fifth attempt, yet 44 percent of salespeople give up after just one rejection. If you go into sales blindly and get rejected without having any understanding of when, why, and how, you might become part of that unfortunate 44 percent.
But with visual data in front of you, sales – and a little rejection here and there – isn't so scary.
They all work in tandem: A sales funnel is a model depicting the steps customers take to make a purchase, funnel management oversees this process to provide you with insight into your customer's needs, and attribution modeling assigns credit to customer touchpoints along the way.
These processes and tools help you visualize your customer's journey, understand which marketing strategies are driving the most leads within your sales funnel, and analyze what works best for your business and what needs improvement.
Being the savvy digital marketer that you are, you probably want to take this to the next level for your business. This is where helpful tools like Wicked Reports come in.
How Can Wicked Reports Help?
Funnel management and attribution modeling sound relatively simple in theory, but they can get messy in reality. What touchpoints do you credit? Is the last click the most important touchpoint? How do you connect new lead conversions to customer lifetime value?
Wicked Reports is a marketing attribution solution for all that messiness.
According to Wicked Reports:
"The goal of Wicked Reports' marketing attribution is to accurately and automatically detect [the] most important conversions and attribute all future revenue to those conversions.
[Wicked Reports] then maps the attributed revenue to various attribution models based on marketing goals. 
Combining this approach with Wicked Playbooks for data-driven analysis, you can turn your attribution data into clarity and understanding of your customers and what drives ROI."
Wicked Reports goes beyond the Last-Click model, which attributes credit to the customer's last interaction before their purchase. This model ignores all the other touchpoints along the customer's journey (think: funnel management and understanding your customer!), thereby ignoring important data like how the customer arrived at that last click.
Instead, Wicked Reports shows you the whole picture and tracks the value of each touchpoint throughout the customer's journey.
Sounds pretty good so far, right? Let's take a more in-depth look at what Wicked Reports does differently and why it works by comparing it with Google Analytics Attribution. Who doesn't like a little fun and friendly competition?
Wicked (Reports) Features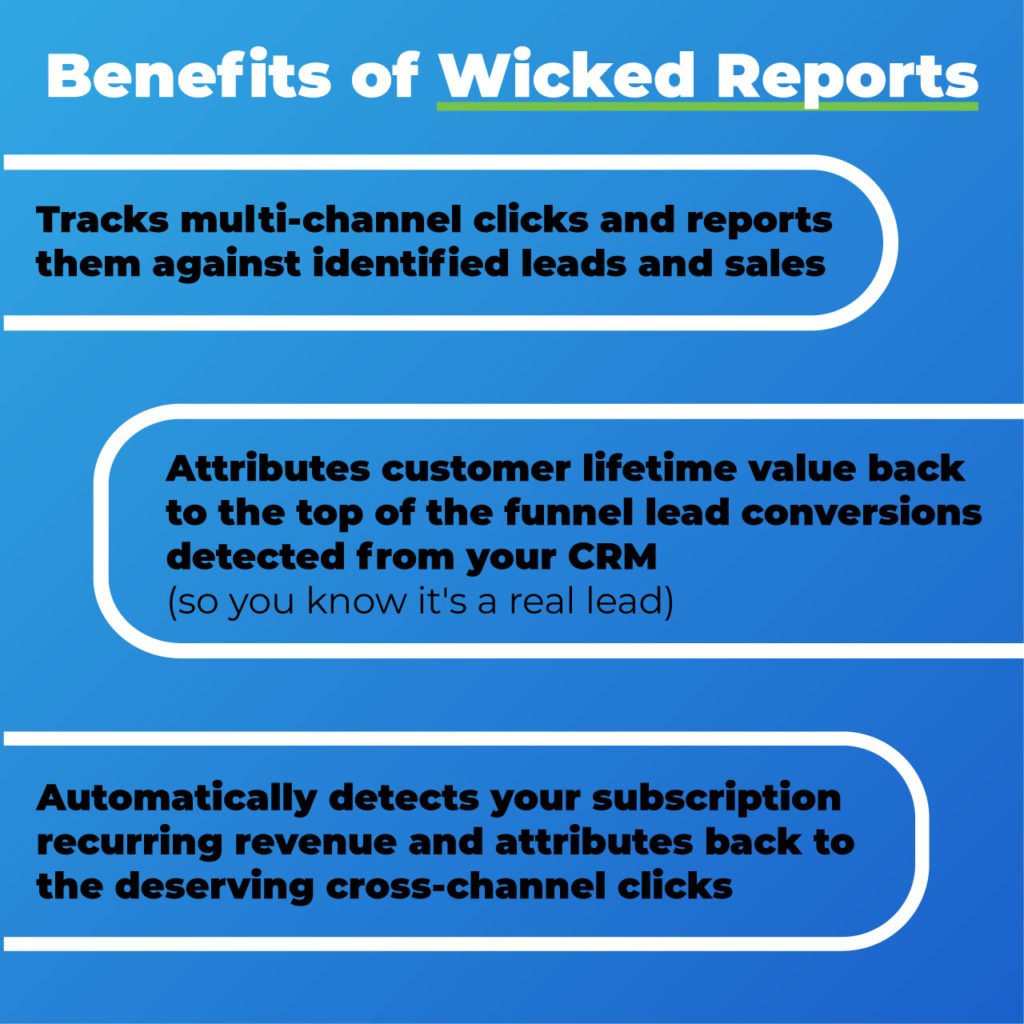 Below are a few key features of Wicked Reports that make it a tool worth considering for your digital marketing business.
Wicked Reports tracks multi-channel clicks and reports them against identified leads and sales forever. 
(Google Analytics has a limited time window for conversions which are anonymous, so you can't verify them or trust them)
Wicked Reports attributes customer lifetime value back to top of the funnel lead conversions detected from your CRM – so you know it's a real lead. 
(Google Analytics Attribution does not provide conversion weighting based on new lead generation, and does not attribute customer lifetime value back to new lead generation)
Wicked Reports automatically detects your subscription recurring revenue and attributes back to the deserving cross-channel clicks. 
(Google Analytics Attribution is blind to subscription recurring revenue conversion value.)
All that to say: Wicked Reports offers in-depth, reliable, and actionable data.
With Wicked Reports, you can pinpoint which campaigns generate sales and drop any ads that are costing you time and money; increase ad ROI (return on investment); understand the link between lead generation and your high-value customers; and make smarter marketing decisions overall.
One case study from Wicked Report's site tells the story of a marketing consultant who helped his clients increase their marketing ROI by 500 percent using Wicked Reports. He wanted to go beyond that Last-Click model and attribute credit across the entire buyer cycle, identify the channels driving high-value customers, and confidently measure long-term ROI. Before Wicked Reports, he was struggling to do this.
Wicked Reports allowed the marketing consultant to track ad spend with ROI and LTV( lifetime value)-tracking, pinpoint exactly what was working for his clients, and in the end was able to help them increase their marketing ROI by a lot.
The below graphics show his results. 
That looks and sounds great, but are there any catches?
Wicked Reports Limitations
When you want the truth, go to the source! Wicked Reports customer reviews, while largely positive, bring a few limitations to light.
Several customers responded to a prompt "What do you dislike [about Wicked Reports]?" on HubSpot, providing us with a few key takeaways.
– There isn't an easy way to send mid-funnel conversations with a HubSpot workflow. You also need to create a workflow to post over orders.
– Patience might be needed when it comes to using Wicked Reports. Reports can take several minutes to generate, especially if you're crunching a lot of data.
– Wicked Reports is an advanced platform, so expect a learning curve.
– Another reviewer mentioned a one-day lag for data, which can feel like a long time when you're trying to get a new campaign off the ground.
So, Is Wicked Reports for You?
As with any tool, Wicked Reports might not be the perfect fit for your online business. You might need an intuitive, easy-to-use-for-beginners platform rather than an advanced platform. You might not be ready for a subscription-based tool, or you might feel confident about your attribution modeling and funnel management as is.
But if you are looking to take your funnel management and attribution modeling to the next level, and/or struggling to get a handle on what is and isn't working for your business, Wicked Reports is a smart tool.
Remember that understanding your customer's steps before they get to you and make a purchase is just as important as that purchase. Knowing which conversions are the most valuable is key to increasing your ad ROI, and Wicked Reports provides that in-depth insight.
Also, Wicked Reports has some wicked reviews (it boasts 3.99 stars on Cuspera)!
If you're on the fence, Wicked Reports offers a free demo you can take advantage of to decide if it will work for your business. It's up to you to decide what works best in the end, but it's always worth taking a close look at the leading tools in the industry.