Welcome to Week 6 of The Google Ads Masterclass!
This module covers an important aspect of PPC that is often ignored and doesn't get due attention. While you are busy creating campaigns and tweaking ad variables to improve ad performance, there is one thing that you need to give full attention to, and that's Google Ads keyword optimization and planning.
Keyword optimization is about more than just finding some keywords to target. Doing it right means you need to understand the searcher's intent as to why a user is interested in, and then provide the best answer possible.
This module covers everything about keyword optimization and planning, what it is, why it is important, and how to do it.
What is Keyword Optimization & Its Importance
Keyword optimization refers to understanding the purpose behind a user's search and providing the best possible answer or solution based on their search intent. If you don't understand the intent of the searcher, you'll fail to create a great PPC campaign that brings ROAS back into your bank accounts. It's as simple as that.
Brian Dean has shared a perfect search intent example here. Let's assume you are hungry and need a quick kale recipe. You run a search query "quick kale recipes" with an aim to find a kale recipe that you can prepare quickly: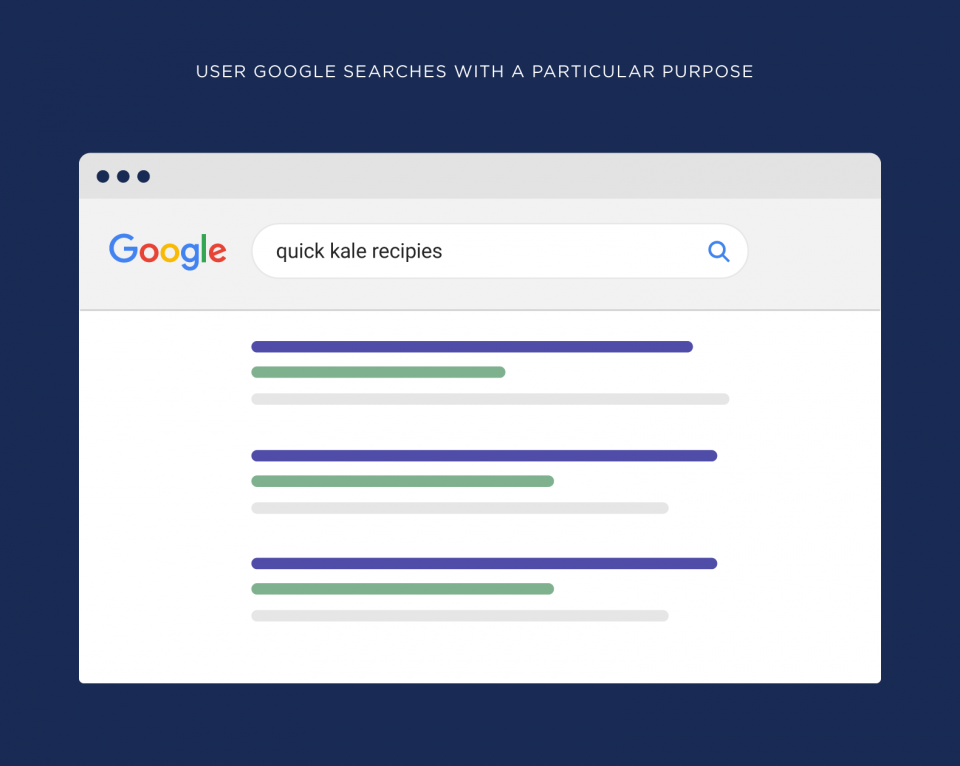 You click the first search result and notice that the recipe takes 1.5 hours: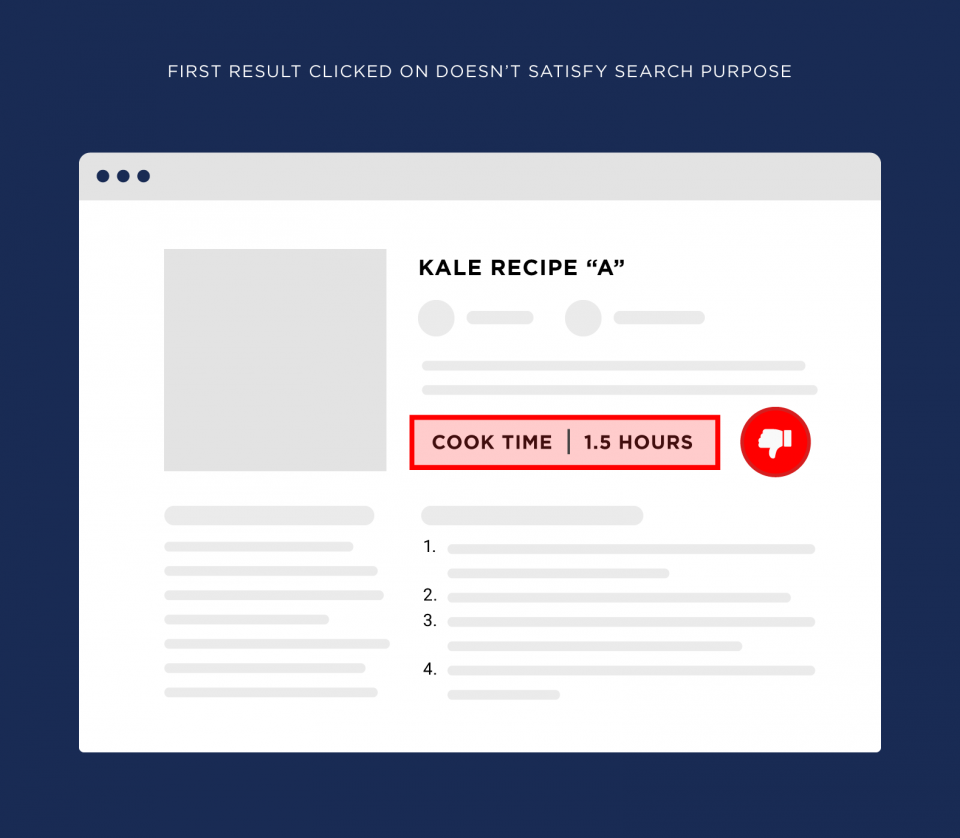 This isn't what you are interested in. So, you'll naturally click the back button and move to the next search result. This time you click a kale recipe that takes 10 minutes and this is a perfect search result that matches your intent:
This is what user intent refers to.
This example was quite simple. In the real-world, user queries aren't always straightforward so finding intent gets complicated. Here is another example:
This now gets tricky to find user intent and optimization will become difficult.
The same phenomenon applies to PPC search campaigns. You need to optimize your keywords and campaigns for user intent for the following reasons:
It will increase conversion rate and overall ad performance
Your CTR and ROAS will increase significantly once you'll focus on intent optimization
It will help you satisfy user that will lead to a better UX
Your ad rank will improve significantly
It will help you target the right keywords making your campaigns highly targeted.
Not to mention, Google is obsessed with search intent optimization and it focuses on addressing the core intent of the searcher in both organic and paid search.
How to Make the Most Out of Keyword Optimization
When you are running a PPC search campaign, you need to identify the most appropriate keywords that address search intent. There are three main types of search queries on the basis of user intent:
Informational queries are intended to acquire information such as weight loss exercises
Navigational queries are intended to reach a specific website such as Facebook
Transactional queries are aimed at buying something such as buying furniture.
It is evident that you need to focus on transactional queries when running ads. These queries are aimed at buying a product or service and such keywords that target transactional intent are known as commercial intent keywords.
The best approach to keyword optimization is to identify and target commercial intent keywords because they lead to a purchase (in most cases). Here is a list of some of the top transactional intent keywords that users use:
Buy
Discount
Coupons
Sale
Deal
Purchase
Order
These keywords clearly describe the intent of the searcher, he/she is interested in buying. When you target such keywords in Google Ads, you will have a high conversion rate and your ads will lead to sales. And that's the whole point of running Google Ads, right?
There are two types of commercial intent keywords that you must focus on:
Buy now keywords
Product keywords
While buy now keywords describe the intent of a searcher to buy a product, the product keywords show the intent of buying a specific product such as iPhone 8.
You need to target both these high commercial intent keywords to boost conversion rate and sales.
Here are a few best practices that you must use for keyword optimization:
Identify keyword intent and then link intent to the right campaign type. For example, transactional intent keywords are suitable for Google shopping campaign while navigational intent keywords are suitable for display campaigns
Don't ignore navigational and informational intents when creating Google Ads. These are equally important to attract visitors depending on the buyer journey stage
Avoid using keywords that don't have a clear intent or ones with multiple intents. These keywords are least productive as they send irrelevant traffic.
How to Find the Most Valuable Google Ads Keywords
So, how do you find the best and most valuable keywords for your Google Ads campaigns that will lead to high performance?
Well, there are multiple ways to find keywords based on intent:
1. Keyword Research Tools
Nothing works better than a sophisticated keyword research tool. Finding the right and valuable keywords isn't easy especially if you are interested in commercial intent keywords.
Google Keywords Planner tool is your best bet because you are running a campaign on Google Ads, so it is best to look at Google's keyword data. Access Keyword Planner from Google Ads account by clicking Tools & Settings:
Enter your desired keyword to identify keyword ideas. You'll see a lot of keyword ideas based on a seed keyword. You can find high commercial intent keywords from the list and check each keyword's monthly searches, competition, and bid range:
You can add keywords directly to your campaigns:
This is a handy tool within Google Ads that lets you find and add keywords with a few clicks. You'll find hundreds of keyword ideas with key metrics for any keyword or phrase.
Google Keyword Planner is just one tool that you can use, there are several others including:
Ahrefs
SEMrush
Moz Keyword Explorer
Majestic
2. Google Analytics
Google Analytics is the second most crucial and useful tool that can help you identify valuable keywords based on historical data. If you have linked your Google Analytics account with Google Ads account, you'll be able to access the Google Ads report from Acquisition > Google Ads > Keywords:
This is where you'll find the most valuable keywords based on behavior, acquisition, and conversion variables. You can identify top keywords based on how they convert:
Keywords with a high goal conversion rate and completion are high commercial intent keywords that you must be focusing on.
You need to regularly inspect this report to see how your keywords perform once you start targeting them.
3. Competitors
Spying on your competitors and analyzing their Google Ads and PPC data provides you with tons of insights and valuable keywords that you might be missing.
There are two ways to see what keywords your competitors are targeting and how valuable they're. First, manually run search queries to see what types of ads your competitors have created and what keywords they're bidding on. Any keyword that they're ranking for is essentially a high-value keyword that you must target or inspect further
Second, you can use a spy competitor tool to get meaningful PPC data. SpyFu is a great tool that gives you a complete overview of your competitor's PPC including ads, top keywords, ads history, Google Ads advisor, and more:
You can check successful advertisers and their best ads based on any keyword. A competitor who is spending a lot of money on a keyword means it is a valuable keyword that is delivering big time. Add such keywords in your campaigns.
Such tools are indeed helpful in finding the right keywords for your campaigns and they also help you avoid targeting wrong keywords.
Conclusion
Intent optimization is extremely important for Google Ads success. You can spend thousands of dollars on Google Ads but if your campaigns aren't optimized for intent and you aren't targeting appropriate keywords, you'll not succeed.
You don't just have to target a specific type of search queries rather target all three intents. This will ensure that you are attracting an audience for all the funnel stages.
We have prepared a complete intent optimization checklist that has the list of keywords for each intent category. Target these keywords and you'll be good to go.