With so many marketing tools at your disposal, it's hard to imagine a time when marketers sent postcards out in bulk and waited for the phone to ring. It was pretty much a shot in the dark whether ad campaigns would be successful. Simply put, there was simply no way to learn how many of those postcards ended up in the trash bin.
Fortunately, technology makes it much easier to reach the right audiences and track the effectiveness of ads. It all comes down to one crucial thing — ad tracking. That said, many businesses are still leaving money on the table because they're not tracking ads or not tracking them effectively enough. What's more, ad tracking collects valuable insight about user data that you can leverage to enhance your ad campaigns even further. 
We'll introduce you to HYROS, an effective ad tracking tool, and explain how it works so you can determine whether it's something that's worth a try.
What Is HYROS?
To learn whether your ad campaigns are successful, you need to put on your thinking cap and make a list of specific metrics that will give you appropriate data to evaluate your ad campaigns. This is especially important if you're just getting started running online ad campaigns.
On a positive note, you have the benefit of having a wide array of ad tracking tools and platforms to choose from. Depending on the ad tracking program you put together, you gain the ability to collect data such as:
Number of impressions
Number of clicks
Customer behavior on websites
Customer behavior across multiple sessions
So, what is HYROS, and how can it help you accomplish your ad tracking goals and contribute to your ROAS? 
HYROS is an acronym for Hyper-Accurate Ads Tracking Software for Digital Businesses. It falls under the heading of campaign management software.
Wouldn't it be great if you could capture multiple data sets at each different stage of your ad campaigns?
Wouldn't you like to know what your exact conversion rate is when it happens, and based on what user behavior, so you can work on improving it?
That's exactly what ad tracking software does. In specific terms, here's what ad tracking software can do for you:
Track URLs
Track pixels
Track cookies
This is exactly the type of information you need to track the ROI on your ad spend.
In fact, ad tracking software has the potential to give you so much data that it can be overwhelming. The best approach is to start with one or two key performance indicators (KPIs) and adjust them as you go.
Here's a snapshot of the benefits of using HYROS:
You get a view of the customer's journey
It tracks clicks and conversions
It brings all traffic sources into a central hub
It tracks your customers using 10 data points
In a nutshell, HYROS offers exceedingly accurate ad tracking in real time which takes the guesswork out of how your customers are navigating your online presence. Detailed reports show you which ads are getting the best ROI.
HYROS uses print tracking (think of tracking footprints), to track such things as:
Traffic sources
Checkouts
Landing pages
Funnels
Emails
Phone calls
Transparency is the key to implementing quality ad tracking software. Some tracking software programs subscribe to the "black box" approach where you have to place blind trust in the results. If you have no way of knowing whether sales are misattributed to a source, it skews your ROI.
With HYROS, the data gets automatically combined to give you the most accurate, reliable data about the effectiveness of your ads. And, HYROS tracking software does even more. It tracks every customer move from the first click to the last. That's valuable data for determining lifetime value (LTV).
Why Do PPC Agencies Use HYROS?
Having too much data is a good problem to have. On the flip side, it's a problem that can easily send you down a rabbit hole of endless hours of researching and analyzing insights and trends.
In this respect, HYROS is a game-changer, and here are some reasons why:
It's easier to measure your ads' effectiveness
It takes less time and money to test new ad campaigns
Accurate data informs your decision-making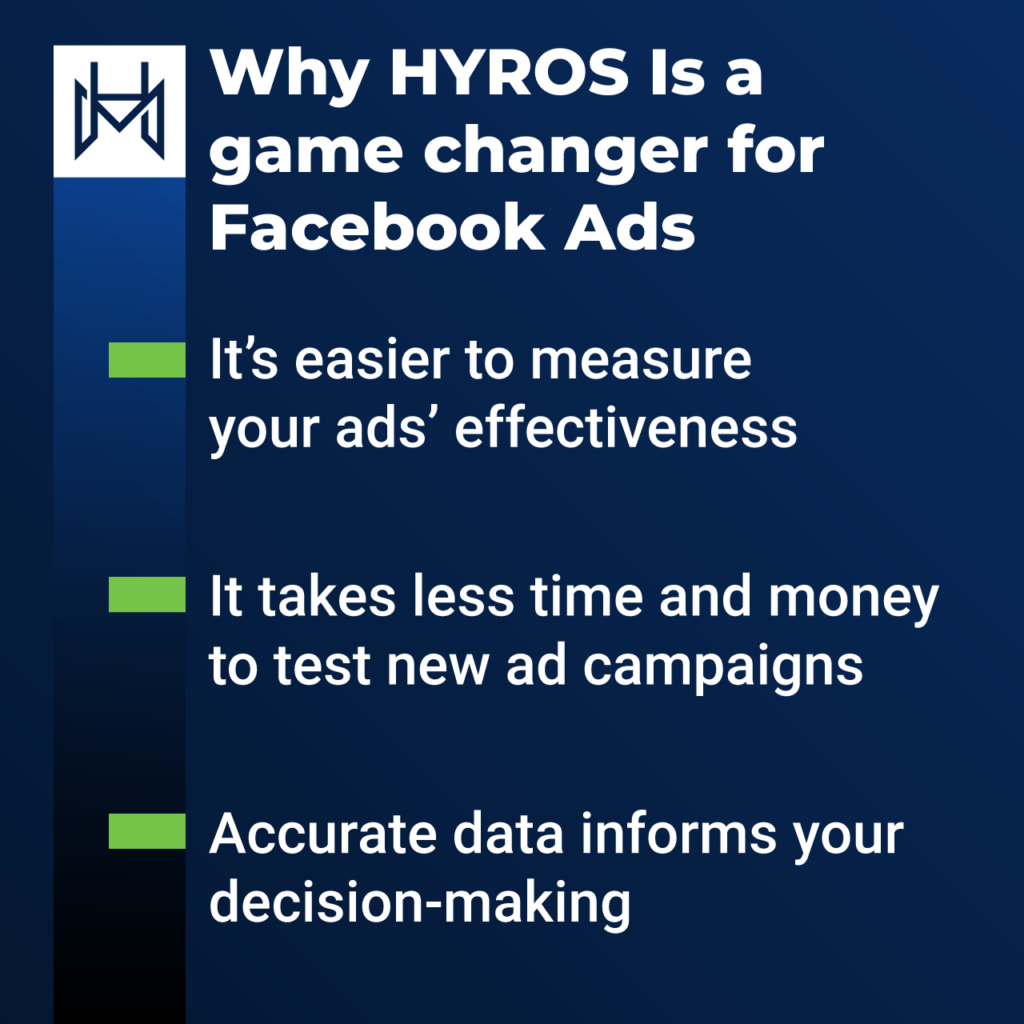 Google and Facebook are popular ad platforms. They use AI to draw out prospects for your company. Consider the fact that AI isn't a perfect science (yet!). For now, AI relies on the data it gets. HYROS uploads your tracking data and that positions your ad platforms to learn at a faster rate. Ultimately, advertising monitoring software helps to find your target audiences at a much lower cost than using other methods.
How does HYROS' advertising tracking software work? It lets you send data via offline conversions to Google, Facebook, and other ad platforms and matches up the conversions to the ad that generated the sale. You then have the opportunity to adjust your ad parameters to optimize your ads based on data that's far more accurate.
Here's a closer look at what you have to gain with HYROS:
Accurately tie conversions to the source
Attribute nearly 70% more sales than standard advertising tracking methods
Identify ad campaigns that are generating the most profit
Cut up to 10%-15% of wasted ad spend
Leverage a single source of data from multiple traffic sources for attribution
Calculate the LTV on a daily, monthly, or annual basis
Now, let's dig into the main features of HYROS:
It's designed for high-earning businesses with 5-figure advertising budgets.
It may save upwards of 20%-30% on ad spend without a negative impact on your sales.
It serves as a tool that teaches Facebook and Google algorithms to find your target customers without increasing your ad budget.
It gives you long-term customer value analytics.
It has an appealing visual design and an intuitive dashboard.
Is HYROS a Good Option for You?
Regardless of how many channels you plan to implement, advertising tracking produces stellar results. You'll get better acquainted with your target audience which will allow you to meet their needs faster and better. Knowing that you're making wise choices about your marketing dollars is just the icing on the cake.
If you're specifically running Facebook ads, and you're spending at least $30,000 per month on ad campaigns, HYROS is definitely worth the gamble. HYROS is an invaluable tool for companies that have call funnels, high dollar products, and info products.
Here's why HYROS takes ad campaigns to the next level:
It gives you a better understanding of your ad campaigns and your audience.
You can more easily identify the best traffic sources.
You'll gain insight into the most effective keywords.
You can more easily optimize your ad campaigns and shift your ad spend to the most profitable campaigns and better optimize existing campaigns.
You'll learn how to personalize your content, make better budgetary decisions, and deliver better campaign content.
You'll be better able to tailor your messaging, channels, offers, and other criteria to better serve your customers.
Your conversions will increase as a natural result of advertising tracking. Personalized content is relevant content, and that leads to greater conversions and more revenue.
You don't have to be involved in digital marketing very long to know that the field is evolving and growing strong. What works well today could be highly outdated next week. Things change in a New York minute. When you have an advertising tracking system in place, you can easily evaluate your progress over a short or long period. That's the key to being able to adapt and respond quickly to shifts in the market and the ever-changing customer habits. Regardless of how hard the winds of change blow, you'll be prepared to provide your target audiences with meaningful interactions with your brand.
It's essential to track your ad campaigns to maximize their potential for bringing new business to your company. No one knows that better than ClickGUARD. We're committed to helping you safeguard your ad campaigns and maximizing your business growth by assisting you with optimizing your Google Ads account and blocking wasteful Google Ads traffic. We're also dedicated to helping you prevent the problems associated with abusive, fraudulent, and wasteful clicks (commonly known as click fraud), so you can focus on running a successful business.
If you're advertising online, ad tracking is one of those "must-haves". Regardless of how busy you are, you simply must carve out some time to track your ads in some way, whether it's by using an ad tracking service or doing it entirely in-house. Advertising tracking software digs deep into every layer of your marketing funnel and sheds light on which ads and platforms give you the most bang for your buck.
Finally, we can't let you go without stressing the importance of continually educating yourself about the latest tips and trends in digital marketing. ClickGUARD's blog provides a wealth of useful information to help you avoid the pitfalls of marketing mistakes and tap into the power of digital advertising tools.