Doing Your Google Ads Planning is not "optional" – Get the Basics Right and The Rest Will Flow!
This plan is a guide for your initial Google Ads planning and set up.
Google Ads is the leading and the most popular ad network with the highest global market share (73.1% search ad revenue share). It is the most used search engine so it is the first choice of advertisers and marketers to run their ad campaigns. In terms of ROI, Google Ads stands out from the crowd with a whopping 8:1 ROI.
Setting up and running a Google Ads campaign can be challenging if you don't know the ins and outs. If you are planning to run a Google Ads campaign successfully and want to see a high ROI and ROAS, this step-by-step guide will show you how to do it like a pro.
The following 6-step guide will help you get started right away and have your first search or display campaign up and running by the time you'll finish reading this guide.
Let's get to the nitty-gritty:
Step #1: What Type of Campaigns to Choose
The first step is selecting the right ad campaign type. Google Ads lets select a goal for your campaign and helps you create a relevant campaign. The campaign type is linked to your goal.
The first thing you need to do is identify the primary goal of your campaign. The goals include sales, leads, website traffic, app promotion, and others: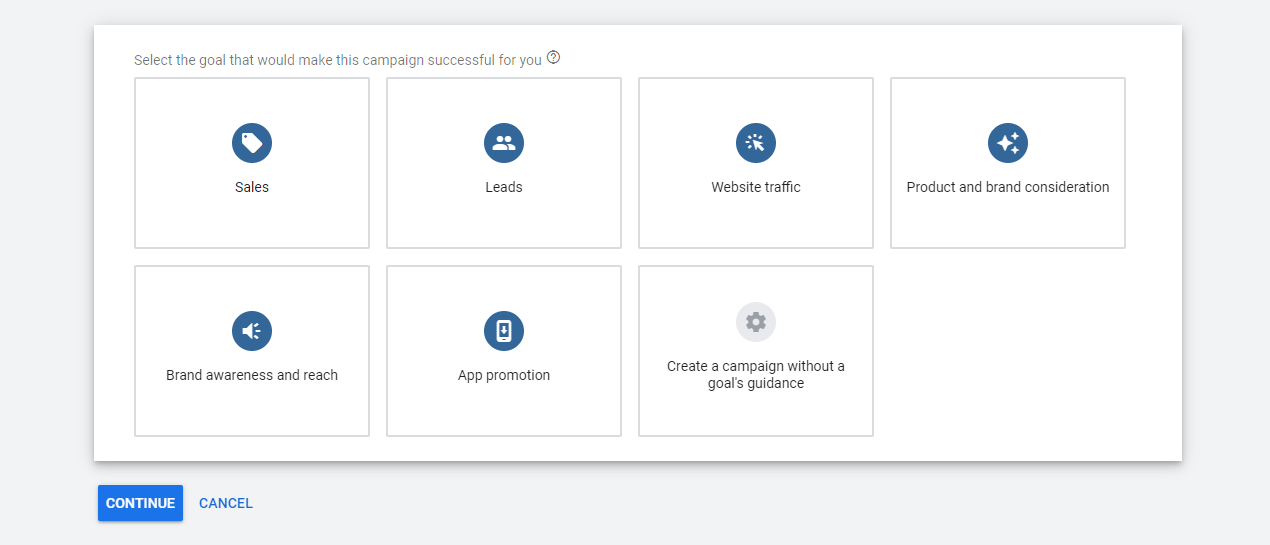 Hover mouse to any goal to see the campaign types that are suitable for it:
If your goal supports multiple campaign types, you'll have to select a relevant campaign type from the list: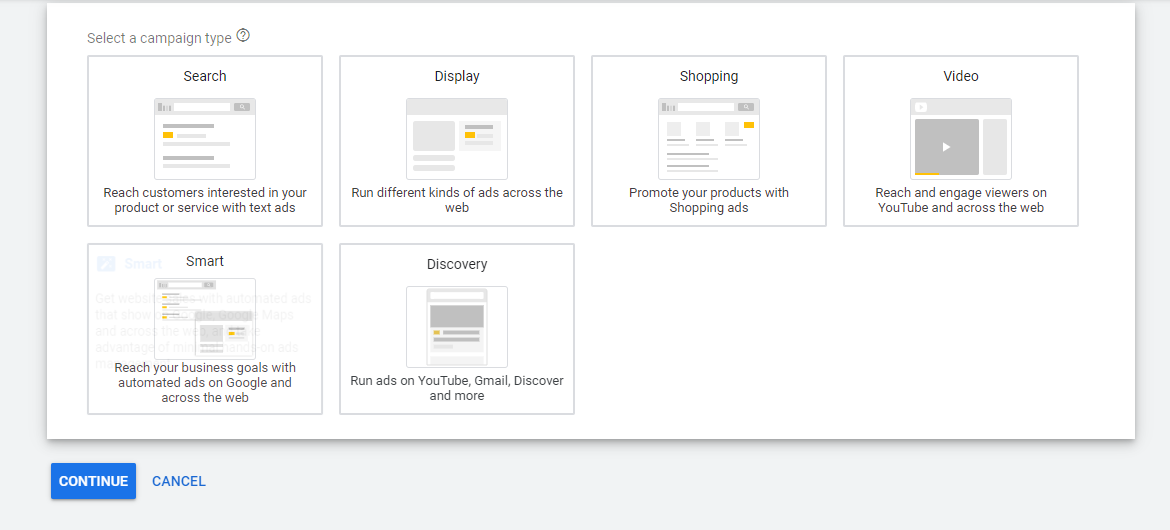 Here is an overview of the major campaign types and when you should select each:
Search: It is suitable for campaigns where you want to drive traffic via Google search engine. It works when you know the list of target keywords your audience uses to find your products or business.
Display: This ad campaign lets you show visual ads on Google's partner sites. It is ideal when you have precise data about your target audience and you know their preferences.
Shopping: Works for ecommerce stores or when you have products to sell. Shopping ads are search ads for ecommerce stores.
Video: Video ads run on YouTube and partner websites. Ideal when your target audience prefers watching videos and spends time on YouTube.
Select the right ad campaign type to meet your advertising goals.
Step #2: Identifying Your Avatar (Gender, Age, Income, Audience, etc.)
Avatar (also known as customer avatar or buyer persona) refers to a semi-fictional representation of your ideal customer. It contains all the necessary information about your ideal customers such as demographics, likes, interests, buying preferences, challenges, content type preferences, and more. The more detailed your avatar is, the better:
Why do you need it?
To run highly targeted ad campaigns and to improve targeting.
For example, the customer avatar will tell you what age group to target and how to select the right geographic location for your ads.
If you have already developed customer avatars, pick the right one for your ad campaign. Don't target multiple avatars with a single ad campaign. Selecting an appropriate avatar for your campaign improves targeting and helps you improve campaign ROI.
If you don't have avatars developed yet, create them now. Check out these free templates by HubSpot to start creating buyer personas. A buyer persona, once developed, helps you with all types of marketing and advertising and not just Google Ads. Better create to take targeting to the next level.
Step #3: Select Keywords and Placements
Selecting the right keywords and appropriate placements is the next important step in the process. The keywords are essential for search campaigns and placements are crucial for display campaigns.
The keywords you choose for your campaign must be relevant to the ad copy. There are several tools including Google's Keyword Planner that gives you keyword ideas and other essential details such as search volume, bid range, competition, keyword ideas, etc.: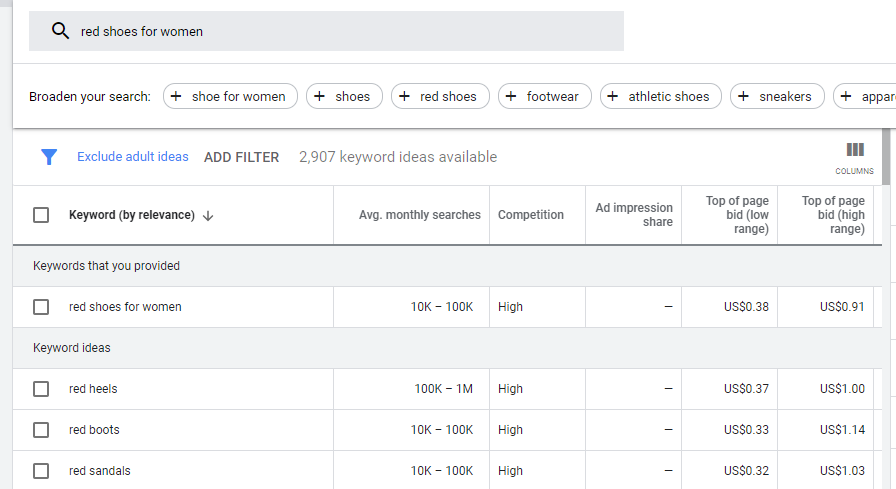 You can use other keyword planner tools for PPC such as Ahrefs, SpyFu, and SEMrush. These tools help you spy on your competitors and identify the most profitable and appropriate keywords. Once you have the keywords, you can add them to your campaign in Google Ads: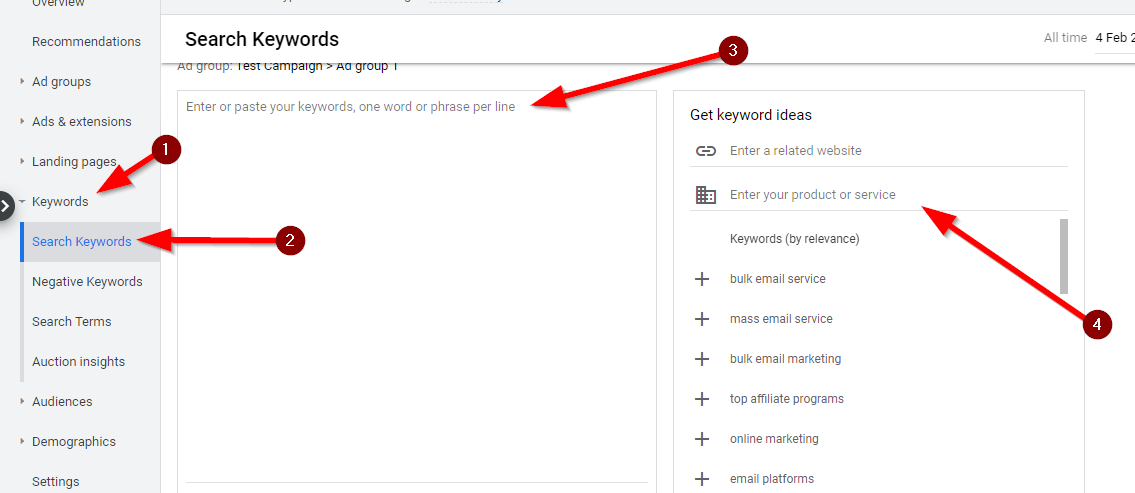 You can also get keyword ideas when adding new keywords. The ideas are updated as you add more keywords to an ad group.
The placements for display ad campaigns are websites or web pages where your ads will be displayed. It could be Google display network, YouTube, or apps. You can filter placements and exclude certain websites or web pages from your account.
Initially, run your display ad across all the placements. Based on the results, filter placements that don't perform well: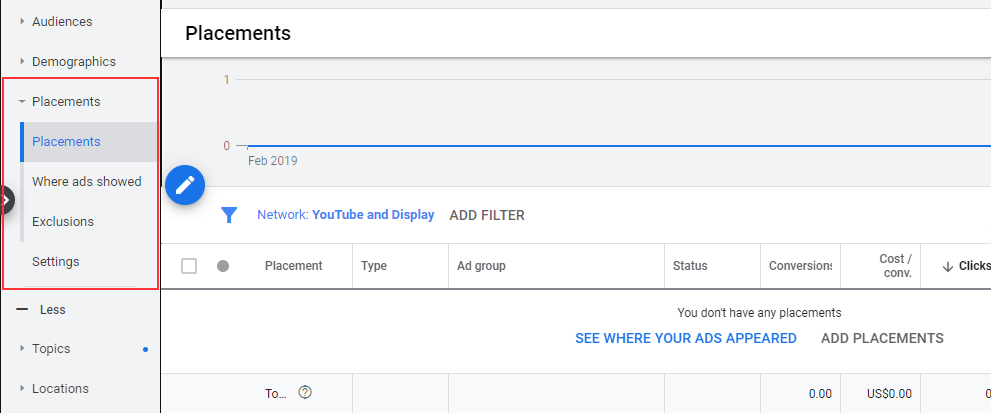 You'll have to add keywords and select placements when creating your campaign. You can add/remove keywords and placements later as per need.
Step #4: How to Split Test Creatives
Google Ads lets you split test creatives without using any external A/B testing tool. Once you have created your ad campaign, click Drafts & experiments, click Ad variations, and click the + icon to create a new ad variation: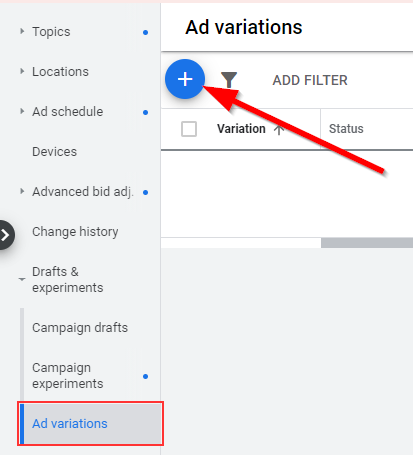 Select your campaign and ad. Click Continue to create the variation: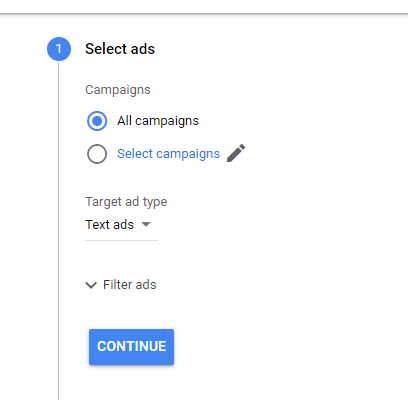 You can find and replace text, update text, or swap headlines for variations: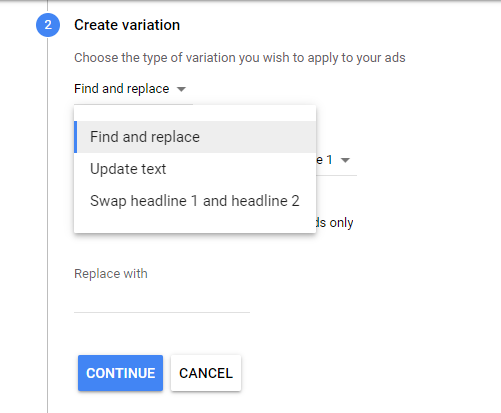 Give your variation a name, add start and end dates, and set a split percentage. Click Create Variation when you are done: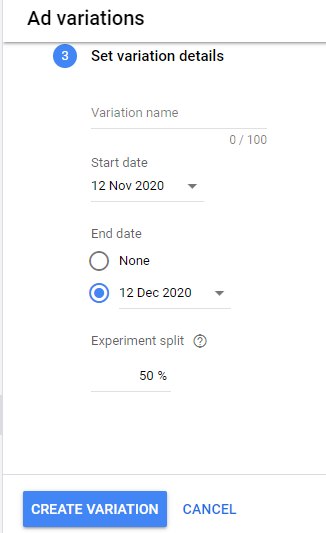 This is how straightforward it is to create ad variations in Google Ads. You can add multiple variations by repeating the above steps.
Step #5: Exclusion List and Negative Keyword Lists
Optimizing your search and display ad campaigns is an essential part of your advertising strategy. At the same time, you need to protect your campaign from wasting resources on underperforming keywords, placements, audiences, locations, and more.
You need to monitor your campaigns carefully and find underperforming variables that aren't delivering decent results. You can create exclusion lists to exclude all such underperforming locations, placements, etc.
You'll find Exclusions under all the variables in your account:

You can create exclusion lists to stop wasting money on variables that don't work or are underperforming. For example, if analysis shows that people who are above 45 don't convert and are costing you a lot of money. You can exclude them from the demographics exclusion list: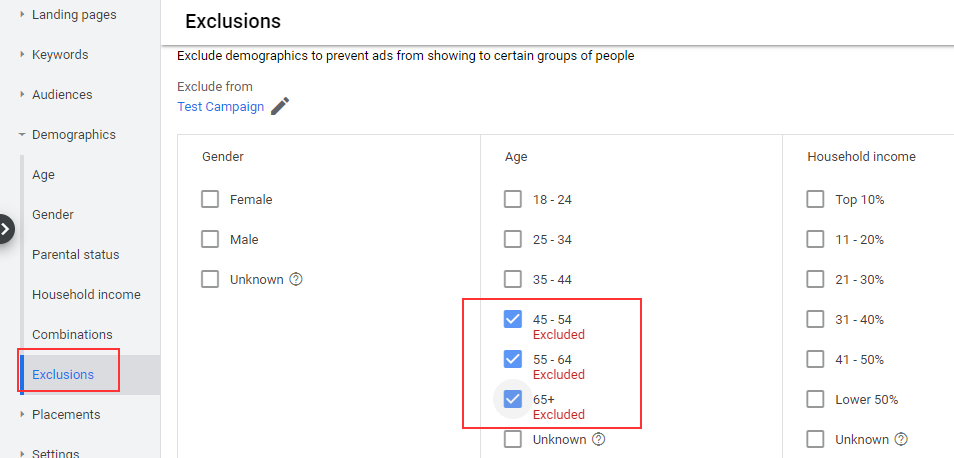 People above 45 won't see your ads now.
This is how you can optimize your campaigns and improve ROI.
Similarly, you can use negative keywords to stop triggering your search ad. Negative keywords protect your campaign from spending money on keywords that don't convert or aren't relevant to your ad.
Once your campaign goes live, you'll notice that your ad is triggering several irrelevant keywords. For example, if you are targeting 'content marketing tool', your ad might trigger for 'free content marketing tool'. And this keyword might have a high CTR but poor conversions since you aren't selling the tool for free.
This is where you can use negative keywords. Simply add the keyword in the negative keyword list and you'll be good to go: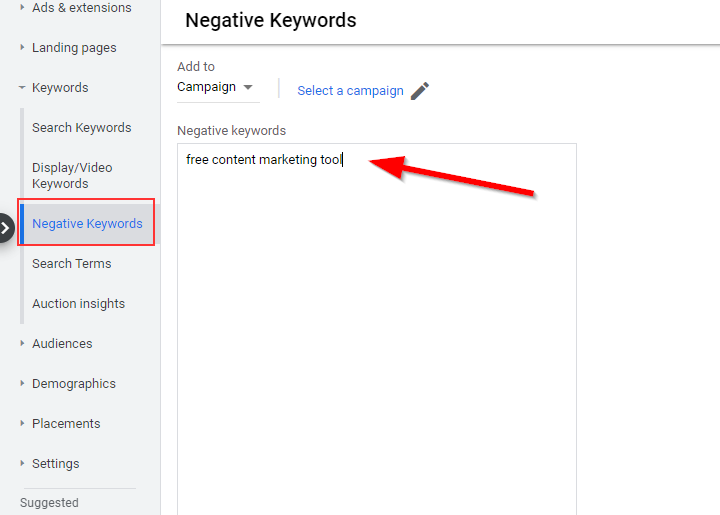 Your ads won't trigger any negative keywords and this will save you a lot of money.
Step #6: What Metrics to Track
Monitoring and analyzing your Google Ads campaigns is an important yet continuous process. You can't let your campaigns run on automatic. This isn't how Google Ads works.
It needs to be monitored regularly. You have to make tweaks to optimize your campaigns. How to do it?
Well, there are several metrics that you need to track to improve optimization, ROAS, and ROI of your campaigns. You'll find a lot of metrics in your Google Ads in Reports > Campaigns:

The dashboard is too detailed but you don't have to monitor everything. There are a few critical metrics that you must track to understand your campaign's performance. These include:
Clicks
Impressions
CTR
Average CPC
Conversions
Conversion rate
Cost/Conversion
Cost/conversion is the most crucial metric that measures the cost to get a new customer. This should be the primary metric that you must monitor. It depends on two variables: Cost and conversions.
You can further analyze the reasons for the high cost per conversion by inspecting cost, conversion, average CPC, etc. For example, if the cost of a keyword is higher than the average cost of other keywords and it has low or no conversions, add the keyword to the negative list.
If you have integrated Google Analytics with Google Ads, you'll be able to see more metrics in your Google Analytics account. If you have an ecommerce store, you need to consider tracking sales too.
Tracking the right metrics is essential for the success of your campaigns. It helps you identify loopholes that you must fix to improve ROI.
Final Words
This 6-step Google Ads planning guide will help you get started and optimize your campaigns hassle-free. The idea is to optimize your campaigns and ensure you aren't wasting money on ads, keywords, and demographics that aren't converting.
Anyone can create a Google Ads account, create an ad campaign, and start running ads. But not everyone knows how to optimize ads and how to improve ROAS and ROI. Following the 6-steps in this guide will put you on the right track and you'll be able to optimize Google Ads campaigns and it will improve ROI significantly.
The best part: Implementing this guide doesn't cost you anything, so go do it!