The variety of rich media examples and formats is vast. The good news here is that there's a lot of room for creativity to stand out from the crowd in any marketplace. We hope that you enjoyed our article about the rising popularity of rich media advertising titled, "Rich Media Advertising: Rich Media Definition & The Rising Popularity of Rich Media Advertising".
Part of the reason why rich media ads are growing in popularity is the widespread integration of HTML5 by websites and browsers, which is the technology that works best with this ad format. You can capitalize on rich media ads by adding them to your arsenal, but what ad format do you go with?
This article shares the rich media examples you need to know about. This gives you an overview of the possible options and their unique advantages. For instance, video based rich media ads are beneficial because 57% of consumers rely on product videos for research.
7 Types of Successful Rich Media Ads
Do you want to start implementing rich media ads, but don't know the best format to match your objectives? Continue reading to learn the top 7 rich media ads that you can use today to drive traffic and generate new leads.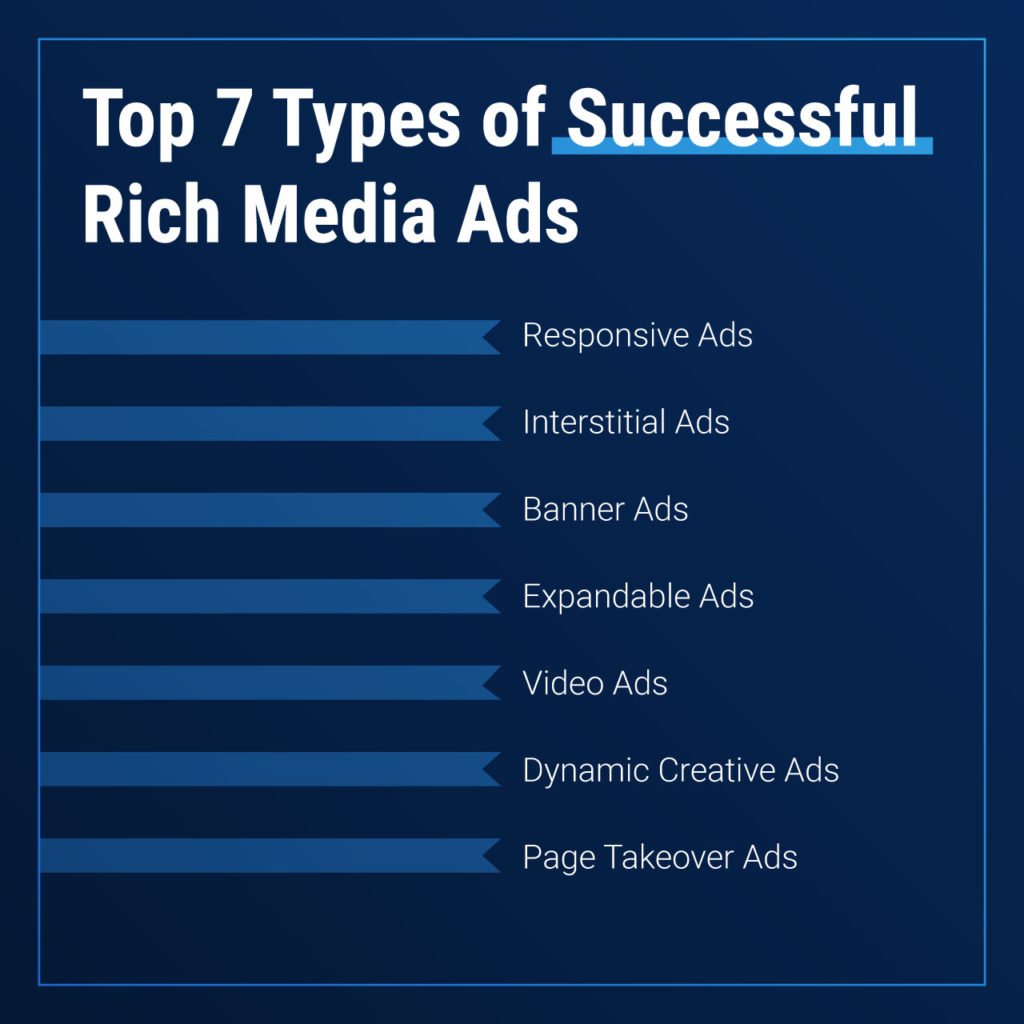 1. Responsive Ads
Responsive ads adapt to the screen size and device, which allows the viewers to enjoy a consistent experience. It means advertisers can make their ads look visually appealing on desktop and mobile platforms. This ads type can include 360-degree video, 80-degree images, surveys and quizzes, and carousels.
Up to 72% of ads are responsive, which means most advertisers are utilizing this format. If you aren't using responsive ads to cater to all audiences, then you are missing out. That's especially true nowadays since most internet traffic is mobile-based. Other advantages of responsive ads include easy to load, highly flexible and excellent compatibility with remarketing.
2. Interstitial Ads
Interstitial ads have a lot of power to hook audiences in because they appear in full screen, which is their unique feature. You might be thinking – isn't that too intrusive? However, this ad type works because they are strategically placed at transition points.
Up to 57% of publishers use interstitial ads, which makes them a popular choice. Advertisers using this ad type can expect to get good market coverage and many ad views per day if they have the budget.
The interactive elements included with interstitial ads are video walls, gyroscopes, flash sales, puzzles, and sign-up forms. Other advantages include higher ROI, more impressions, enhanced viewability, and improved conversion rates.
3. Banner Ads
Banner ads are arguably the most popular digital real estate marketing form because they have a defined size. It allows marketers to figure out how much space they have to work with and publishers to choose the size that is appropriate for their websites.
Rich media banner ads are a twist on the traditional formula because attention-drawing elements are added to hook the audience in. The type of elements you might find in banner ads include carousels, hotspots, 3D, reveals and quizzes.
The advantages of rich media banner ads include easy to load, low creation cost and long-term flexible solution.
4. Expandable Ads
Expandable ads are used on the Google Display Network with customizability to determine how big they get once enlarged. The ads increase in size once a user hovers over them. This minimal amount of interactivity means they are quickly accessible for viewers.
Overcoming ad blindness is one of the benefits of expandable ads. Once they blow up in size the viewers are much more likely to notice the content. Expandable ads differ based on what interaction is required to expand them. The added digital real estate gives ad designers more room to work with, which means the desired message can be conveyed.
5. Video Ads
One of the more popular rich media examples are video ads. 54% of consumers want to see more video ads from the brands they support. It means that the right videos are a great way to convey marketing messages and grab attention.
You might have heard of the saying, "a picture can tell a thousand words". Well, by that logic you could argue that a video shares what a thousand images can. The power of video can quickly convey product benefits and relay brand messaging, which makes them a vital part of any marketing campaign.
Video ads can be displayed in reveal ads, video carousels, picture in picture ads and pop-up banners.
6. Dynamic Creative Ads
Want to target multiple audiences with one ad? The best way to achieve that is by customizing the ad to match the user. Dynamic creative ads allow the advertiser to change parameters based on the viewer. The parameters that can be changed include date/time, weather, online activity, language and location.
Up to 88% of US based marketers have reported marketing improvements due to personalization. It's a strategy that enables services to match the audience, which means viewers might be genuinely interested in the ad. The interactive elements that can be added to this ad type include in-banner video, display shelf, vote, Likert Scale, theater and ripple.
7. Page Takeover Ads
Page takeover ads take up a large portion of the page without getting in the way of content. The ads can appear in the background or on both sides of the page. The large size of the ad means that viewers are unlikely to miss them.
Combining page takeover ads with interactivity increases the chances that users will take the desired action. Special effects and animation bring life to the ads, which makes them stand out. The top ad builders understand that matching the ads with the website brings the best results.
Page takeover ads are great for building brand awareness, driving more traffic and increasing the ad CTR.
Rich Media Examples: The Best of the Best
This section will show you a few case studies of how rich media ads can be successfully used. These rich media examples can be a great source of inspiration and will help you generate ideas of your own. Here are 3 rich media case studies that you can learn from:
1. Crate & Barrel sent 34,500 users to their website
One of the mist inspiring rich media examples is that of Crate & Barrel. The US homewares retailer used AdMob's rich media to bring in 34,500 users. It was achieved through a mixture of banner ads, full screen expandable ads and interactive interstitials. The campaign enjoyed a CTR of 3.48% and an amazing 15% CTR on iPad ads. The CTR is significantly higher than what you can expect with the average display ad campaign.
Multi-panel banner ads were used to provide several ads in a single impression. This offered more information and it was eye-catching because the ads rotated automatically. The expandable ads allowed the retailer to fully showcase their furniture once users clicked on the ad. The product features and benefits were more evident, which meant users were intrigued by what's on offer and continued to the online store.
2. Despicable Me YouTube takeover
Universal promoted their movie, Despicable Me, by making use of YouTube's homepage banners. The campaign utilized YouTube's homepage in several international markets, which included Australia, Netherlands, Italy, Spain, France, Germany and the UK.
The average CTR for the campaign was 0.44%. Doesn't sound like much, but it's significantly higher than the average for entertainment verticals. Also, the time spent interacting with ads was 90.40 seconds, which is 1.6 times higher than the industry benchmark.
3. Sony promoted Smurf's film
Sony Pictures promoted their film Smurfs in Malaysia by using rich media advertising on MSN and MSN Messenger. The campaign was a success because the creative ads could convey a tone that was entertaining and fun. This was inline with the tone of the movie, which is part of the reason for the advertisement's success.
The average time spent on the ads was 146.36 seconds and the dwell rate was 8.62%. These figures are significantly better than the average in Malaysia. The target audience for the campaign was teens and young adults.
A movie trailer was also provided to give the audience a sneak peek of the movie. This provided genuine content that gave users a reason to interact with the advertisement. Rich media ads that provide interesting content leads to the most impressive metrics.
Final Thoughts
In conclusion, there are a lot of rich media ad examples and formats to choose (and steal inspiration) from. It means you can get creative and match the tone of the ads with what you're promoting. We provided a few rich media examples to better understand their power to captivate audiences. With the right approach rich media ads can reliably beat traditional static ones.
In the next article of this series we share the process of creating rich media ads. We encourage you to check out the article titled "How to Create Rich Media Ads that Work". You'll also learn about the best practices to steer you in the right direction.